M A I N N E W S
Missing Flight MH370

Malaysia confirms plane crashed


PM says no survivors as jet plunged into Indian Ocean


Passengers' kin have been informed
Kuala Lumpur, March 24
The missing Malaysia Airlines plane with 239 persons on board, including five Indians, crashed in remote southern Indian Ocean with no survivors and their families have been informed, Prime Minister Najib Razak announced today, 17 days after the jet vanished mysteriously.
"With deep sadness and regret I must inform you that, according to new (satellite) data, flight MH370 ended in the southern Indian Ocean," a grim-faced Najib, dressed in a symbolic black suit told a specially convened press conference held at 10 pm. "For [families] the past few weeks have been heartbreaking. I know this must be the most heartbreaking of all," he said.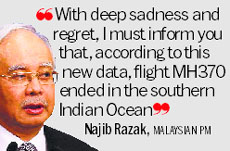 Malaysia Airlines in a separate statement offered prayers and condolences to everyone affected by the tragedy. There is no official word yet on the wreckage of the Malaysia Airlines Boeing 777-200 that went missing on March 8.
Questions on the exact location of the plane and what brought it down remain to be answered.
Najib's announcement came on the fifth day of a multi-nation search effort in the southern Indian Ocean, with Australian and Chinese planes reporting spotting of several floating objects, about 2,500 km west of Perth.
There is no official word yet on the wreckage of the Malaysia Airlines Boeing 777-200 that went missing on March 8. Najib said he will hold a press conference tomorrow, indicating that he will then come out with more information on MH370.
"Based on new analysis UK's Air Accidents Investigation Branch (AAIB) and Inmarsat, the British company that provided satellite data, we have concluded that MH370 flew along the southern corridor, and that its last position was in the middle of the Indian Ocean, west of Perth," he said.
"This is a remote location, far from any possible landing sites." "We share this information out of a commitment to openness and respect for the families, two principles guiding this investigation," he said.
Najib said Malaysia Airlines officials have already spoken to the families of the passengers and crew to inform them of the new development.
Many family members were informed by text message before today's briefing by Malaysian Premier began. In Beijing, paramedics rushed to help relatives of Chinese passengers, who had been waiting at a hotel for the last two weeks. Wailing was heard as the families were informed of the news.
Malaysia's Defence and Acting Transport Minister Hishammuddin Hussein, said on Twitter that words could not describe how he felt, and promised the families in particular that "the search continue[d]". Najib asked the media to respect privacy of relatives and allow them the space "they need at this difficult time".
Najib's announcement came 17 days after the Beijing-bound plane with 239 people, including five Indians, on board disappeared mysteriously from radar screens, one hour after taking off from Kuala Lumpur.
The list of passengers on board included 154 Chinese, 38 Malaysians, 7 Indonesians, 6 Australians, 5 Indians, 4 Americans and 2 Canadians. Indians, including three from one family, were identified as Chetna Kolekar, 55, Swanand Kolekar, 23, Vinod Kolekar, 59, Chandrika Sharma, 51, and Kranti Shirsatha, 44.
Malaysia Airlines said, "On behalf of all of us at Malaysia Airlines and all Malaysians, our prayers go out to all the loved ones of the 226 passengers and of our 13 friends and colleagues at this enormously painful time. We know there are no words that we or anyone else can say which can ease your pain."— PTI
Black box hunt
* The US Navy is rushing a 'black box detector' to the Indian Ocean to find the crucial device from the missing Malaysian airliner
* The Towed Pinger Locator 25 of the US Navy has the capacity to locate black boxes up to a maximum depth of 20,000 feet, but it is essential to locate the debris area