M A I N N E W S
campaign trail

Hooda misses tennis but sees advantage with Sonia on his side
Naveen S Garewal
Tribune News Service
Jind, March 28
After 40 meetings and over 200-km ride across the Sonepat parliamentary constituency in his Swaraj Mazda converted into a 'rath', it's time for Congress star campaigner and Haryana Chief Minister Bhupinder Singh Hooda to call it a day. But the next day's plan for the Karnal parliamentary segment is not yet final, so he has a short meeting with his core team to chalk out a route plan before he goes to bed.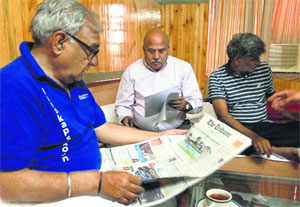 Haryana CM Bhupinder Singh Hooda reads The Tribune.
It's 6.30 am and after a short sleep, he is up again for yet another day of campaigning. Utsav Palace, a motel of sorts, is still calm. There is a knock at the door. Dressed in his traditional Haryanvi "dhoti" and blue t-shirt, he wraps a white sheet to cut the draft from the air-conditioner.
Even before he can ask for his glasses, his chef and personal attendant seeks out for his left hand and pricks his finger to get a drop of blood to check his blood sugar level.
Hooda has type-II diabetes. Hundred on the glucose meter is good control considering the fact that he was forced to have "moong ka halwa" and "keser ki kheer" at dinner the previous night.
"Election campaigns require a lot of planning and regular campaigning takes a toll on health," he says, sipping from his first glass of water with five soaked almonds. "I miss my game of tennis when I am on a tour. Since there is no tennis facility here at Jind, I go and play badminton, but today I have cold, so I will skip the game," he says.
Feeding a cow is something he misses while away from home. But all this is not on his mind today. He is already planning his visit to Karnal and asks for the schedule to see if it is as per the plan that was finalised the last night.
About his assessment of the poll scenario, he says, "I have been in politics for long enough, but it is the first time I see there is not much of anti-incumbency despite the Congress being in power here since 2004. This augurs well for a favourable outcome."
He feels the Congress will repeat its past performance in the state. But then he says, "There are two or three seats where the contest is tough, but I am hopeful that Congress candidates will prevail." Rahul and Sonia Gandhi have promised to visit the state to help improve prospects of candidates who need some consolidation.
"Planning has become difficult due to unpredictable weather. It was bright and clear here in Jind yesterday, while we could not take off from Delhi due to rain," he says. The selection of candidates has also been very different from the past. "Some Congress nominees were unexpected. But at least the Congress gave ticket to its own candidates. The BJP has mostly fielded rebel Congress men. This will be their biggest folly. The BJP is seeking votes on the issue of corruption and is fielding people from a party that it has been targeting all along. They cannot find even eight persons in their own party who, they can say, are not corrupt. This has left the voters baffled. People will stay with the Congress."
Listing achievements of his government, he says he is satisfied with himself over sorting out power shortage in the state. His favourite conversation remains trashing the Gujarat model of development. He dwells on how Haryana has shown an improved performance over Gujarat in every sense.
He, however, refuses to talk about his friend Venod Sharma who left the party just before elections. By now, his sixth cup of black tea is over and he has scanned all newspapers to see the election coverage, looking at The Tribune in the greatest detail.
It's time now to address a hurriedly convened press conference and take off for Karnal, where he will spend a day travelling on his 'rath' to garner as many votes as he can for his party.
Hooda's optimism
* There is not much anti-incumbency despite the Congress being in power here since 2004. This augurs well for a favourable outcome
* There are two or three seats where the contest is tough, but I am hopeful Congress candidates will prevail
.