Gadgets that help you get, set, go...
Revolutionary new-age fitness gadgets and activity-tracking devices are taking health and fitness to a new level
Subodh Samuel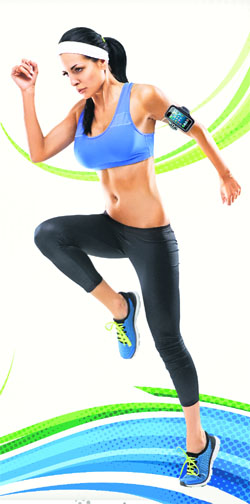 How long do you have to walk every week to keep a stroke away? Thirty minutes of brisk walk four times a week. How many minutes do you have to swim a week to lose two kilos? Again, 30 minutes of swimming four times a week for 20 weeks. What is the best way to improve glucose control in diabetes? Doing 20 minutes of weight-training each day.
A fit body increases your potential to live healthy and is a tonic for a stress-free life. It is an energy booster and scares away a host of diseases. It is the best anti-aging antidote and the secret of feeling happy all the time.
New-age gizmos
Helping you keep fit and active are a host of revolutionary new-age fitness gadgets that promise to tone up every part of your body without regular visits to a gym or punishing exercising regimens. Thanks to companies like Reebok, Nike, Adidas, Withings and others, the fitness market is seeing a flood of new devices which promise to build your abs, biceps, triceps and tone up every muscle of the body.
Keeping pace with the all-round boom in fitness appliances are a multitude of activity-tracking devices that keep tabs on your body vitals so that you remain in top shape. These are being worn on wrists, arms, collars, belts or mounted on sports glasses or headgear to record your activity levels and make on-course corrections or send out motivational messages egging you to get up and move more.
All of these wearable devices work with an online programme or a smartphone app. While some track your sleep pattern, eating habits and amount of exercises you do, others come with coaching plans that deliver daily progress reports and set regular goals. These measure an enormous number of body activities, including blood pressure, carbon dioxide levels, movement, steps taken, miles ridden and body fat levels and help you get fitter by making smarter choices in terms of food and workouts.
Body toning
Leading companies dealing in fitness devices say these tools have been developed after extensive research and have been tested for their valuable contribution to general fitness. These are not just beneficial for body toning and strength building but have a positive cardiovascular impact. Used extensively in the West, these are now clocking brisk sales in India as well.
Take, for example, the exercise ball. This giant ball can tone up any part of the body. You can work your abs, do push-ups, squats and a number of other exercises to keep you in top form. Then there is the lightweight tubing which is a simple elastic band that helps you develop muscles, firm up legs and flatten the stomach. Most of these devices allow you to perform hundreds of exercises for all muscle groups with the same piece of equipment to tone up practically every part of the body.
There are other low-cost devices like balance trainers that help you strengthen and coordinate several major muscle groups, including those you don't see. Devices like the foam roller massage your lats, quads, lower back and other large muscle groups to achieve that killer body look. Other gadgets like the rowing machine makes you simulate the action of rowing and measures time, strokes, speed of strokes and distance covered per session, energy consumption as also pulse and heart rate.
If these exercising gadgets are vital for keeping fit, monitoring devices are as important for measuring body parameters. Says Delhi-based gym trainer Gagan Sehgal, "When you exercise, it is important to keep track of your body vitals. For example, those who want to lose weight must know the compositions of his or her body's fat percentage. Studies reveal that for men, the ideal fat percentage should be between 15 and 18 per cent, whereas for women it should be between 18 and 25 per cent."
Calorie counters
Then there are the calorie-counting metres that come with built in watches and chest wraps. These are very handy as these help monitor data concerning calories burnt during the workout. The Hapifork, for example, is an ingenious device that monitors and slows down your eating by alerting you with flashing lights if you are gobbling down the food too fast. The idea is to encourage you to chew more and eat less, thereby reducing your calorie intake.
Interestingly, music too forms an integral part of the fitness industry. Sweat and weather-resistant headphones and earplugs form a part of the gear of people who are serious about their workouts. There are special straps that can be tied to the arm to secure the smartphone or iPod or any other device from which the music emanates.
Fitness equipment and wearable fitness devices are igniting an explosion of creativity that is engaging both start-ups and big conglomerates like Samsung, Sony, LG and others into making more and more gadgets that not just produce amazing results but also infuse both a sense of achievement and fun for the fitness aficionados.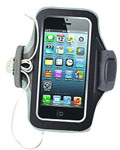 Phone on your arm
If you are using your smartphone while exercising to track your activity or listen to music, it's worth getting the Griffin Adidas Micoach armband. Having a phone strapped to your arm makes it easy for you to see the screen, change songs or check your exercise statistics without fumbling for it in your pocket.
Price: Rs 2,000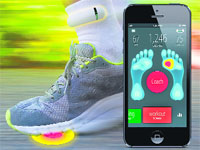 Smart Socks
Move over smartphones, American sensor-integrated clothing company Heapsylon has developed socks that count steps, calculate speed, calories, altitude and distance travelled. These also examine foot landing technique and weight distribution on the foot of a runner and help identify injury-prone styles.
Price: Rs 12,000
Bicycle computer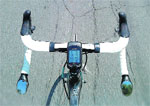 The Garmin Edge 800 wireless bike computer is a GPS-enabled cycling device that provides valuable data for any type of cycling, training, touring, commuting, and even mountain biking, thanks to its rugged waterproof design. Its touch-screen provides easy navigation and access even with gloves on.
Price: Rs 26,300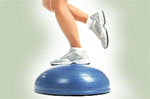 Get your balance
A great fitness device both for elite athletes and normal people trying to stay in shape, the Bosu balance trainer helps you strengthen and coordinate several major muscle groups, including those you don't see. It helps you not only to gain strength, trim and tone but also improve your balance and coordination.
Price: Rs 6,600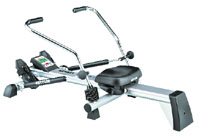 Rowing Machine
This rowing machine is ideal for training at home. It has an adjustable tilt from flat to 45-degree, folding oar levers and a smooth operating seat rollers mounted on rails. A battery-powered computer measures time, strokes, speed of strokes and distance covered per session, energy consumption and pulse and heart rate.
Price: Rs 24,000

Training Watch
The Polar multi-sport watch is for the hardcore athlete who does more than one activity like running, cycling and swimming in one session. The watch switches swiftly from one activity to another and measures each activity accordingly. In the end, it comes up with combined results for all exercises.
Price: Rs 31,600
Tracking bracelet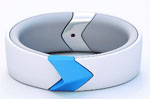 The new entrant in the family of fitness trackers, the Amiigo Bracelet is for people who are obsessively serious about their exercising and healthy lifestyle. The bracelet recognises all physical activities like running, swimming, cycling, weight training and tracks your heart rate, temperature and calories burned.
Price: Rs 5,400
Grid foam roller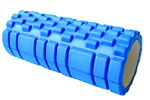 Whether you're looking to massage your lats, quads, lower back or any other large muscle group or trying to achieve a killer core body workout, the grid foam roller is certain to suit your needs. It is also designed give intensive and targeted trigger point massage experience for any sort of sore muscles.
Price: Rs 2,400

Gym Ball
The Reebok gym ball is a piece of essential fitness equipment. It helps athletes to strengthen and stretch the body, improve core stability and enhance balance. The ball is ideal for sit-ups, squats, push-ups, back exercises and for general fitness and helps the users reshape the body and tone specific muscle groups.
Price: Rs 2,600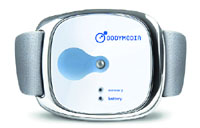 Armband to keep track
The BodyMedia Fit Armband provides an analysis of your daily activities, calories burned and weight-loss goals. If you are behind target, it provides you with personalised feedback on how to achieve it. The device also has motivational content, timely reminders if you are falling off-track and health and fitness tips.
Price: Rs 6,000
Gear Fit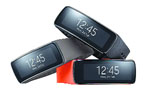 Most smartwatch devices either focus on fitness or productivity. But the Samsung gear fit being introduced soon is both. It offers a pedometer, movement tracking, heart rate and sleep monitoring. It connects to the smartphone via bluetooth, giving you text, call, Email, and app notifications.
Price: Yet to be announced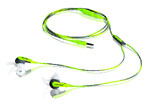 Sporty headphones
If music is your motivation during workouts, then the Bose SIE2i sport headphones are just what you need. These are sweat and weather-resistant, the earbuds stay securely in place and deliver robust sound to keep you energised. An armband holds the smartphone, iPod or any other source of music.
Price: Rs 9,700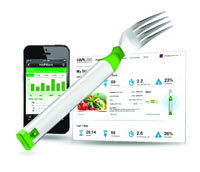 Fork it
You would hardly associate a fork with keeping fit. But the bluetooth-enabled Hapifork is different. It is an electronic fork that monitors and slows down your eating. It also alerts you with lights and vibrations when you are eating too fast. This information is then uploaded to a smartphone to track your progress.
Price: Rs 6,000
body analyser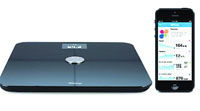 The Withings smart body analyser measures, tracks and helps you master your body's weight by giving you the data needed to monitor and adapt lifestyle changes. It takes your pulse (through your feet) while you weigh yourself and it breaks down your goals into achievable targets while keeping you focused.
Price: Rs 7,800
Jawbone-up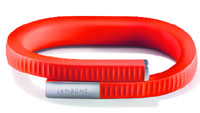 One of the most popular fitness tracking armbands in the world, the Jawbone-Up is an integrated system built around you. It tracks your sleep pattern, activity level, eating habits and helps you make smarter choices. It delivers motivational messages, celebrates milestones and challenges you to make each day better.
Price: Rs 9,000
wear this Activity Tracker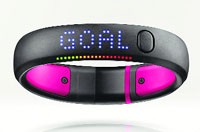 A trusted activity tracker, the Nike Fuelband is a wearable wristband that tracks the wearer's physical activity, steps taken and calories burned. It calculates if your activity level is on the right track and gives you points for it. The device also connects you to the Nike community for motivation and exchanging notes
Price: Rs 9,000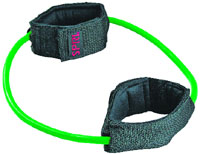 resistance Tube
This simple rubber resistance tube from Xercuff Tubing is an amazing tool for conditioning all the muscles of the lower body. It helps develop lower body strength, endurance, agility and balance and is a cost-effective way of strength building at home. Its small size makes it an ideal travel companion for people who are on the move.
Price: Rs1,200
Music in water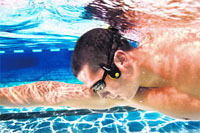 Neptune is a waterproof MP3 player that provides high-quality sound to aquatic athletes underwater without the use of ear buds. It uses bone conduction audio to transmit music directly into the ears. It attaches to goggle straps and rests on the cheekbones so as to not interfere with the swimming technique.
Price: Rs 7,800
Sportiiiis 4iiii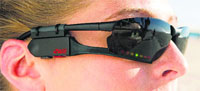 The Sportiiiis 4iiii is a heads-up display and audio system that gives feedback on performance data. It enables runners and walkers to maintain form and keep eyes firmly on the road. Colour LEDs and voice-prompts guide you to personal targets. It attaches to any pair of glasses and also includes a heart rate monitor.
Price: Rs 9,000