Politically correct
One young politician taking a dig at a fellow contestant's age, only to get a fitting reply - social media has sure become the new battleground in the game of power. Personal, professional or politics, social media has permeated every fibre of our living. No wonder then, the young brigade is welcoming the move.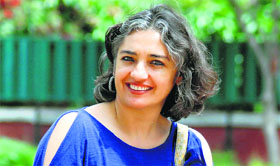 Write way
For Samina Mishra, it's the perspective that matters. In Chandigarh, for the three-day Chandigarh Children's Literature Festival, Samina is happy that there is so much for kids to read today. "It's a good time for children's literature in India."



word power: Samina Mishra Photos: Manoj Mahajan
gyan zone
Blinded by bling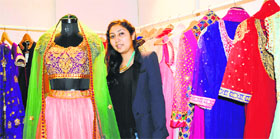 An overdose of bling can leave you feeling nauseated. Something you desperately want to get rid of, but you can't because it's there everywhere, on suits, kurtis, sarees, jackets, one piece dresses, ballerinas, peep toes.



CUT TO CUT: Swati Rastogi with her creations

punjabi scope
No sense, no sensibility

Let's get down to the good thing about the Punjabi film, Marriage Da Garriage… First, if you are not happy with someone, your friend, boyfriend, relative, then you should definitely send them tickets of this movie! Second, if you want to learn Punjabi idioms or if you hadn't taken Punjabi as an optional subject

Navraj hans (L) in Marriage Da Garriage.
first-day-first show
Comedy without content
O Teri: Produced by Atul Agnihotri, O Teri features Pulkit Samrat, Bilal Amrohi, Sarah-Jane Dias, Sara Loren, and Mandira Bedi.
star track


Neeti's dream


No stars for Nagesh Kukunoor


Blessings with condition


An emotional journey
chatter box


Shilpa on Star Verdict


Sports & glamour


Creating awareness