Name game a la Bollywood
Film titles have never been as innovative or controversial as in the present times
Nirupama Dutt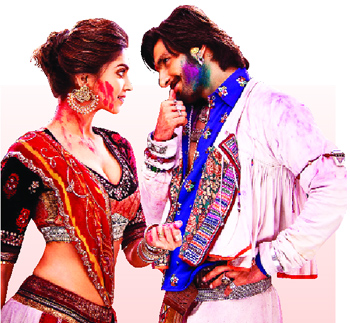 Deepika Padukone and Ranveer Singh in Goliyon Ki Raasleela Ram-Leela

Catchy and crazy are the two adjectives that can best describe the titles today of Bollywood films with filmmakers in a race to come out with names that will act as teasers and embed themselves in the memory of the people. What is interesting is that these titles are working and working out very well. The mood of the masses is for smart titles and the wackier the better. And the mood is being catered to with one name outdoing the other. If the cinema buffs were intrigued with Vishal Bhardwaj's Matru ki Bijli ka Mandola, amused with Raj Kumar Santoshi's Phata Poster Nikla Hero, won over by Imtiaz Ali's Jab We Met, they are positively invigorated by Sanamjit Singh's Dishkiayaon.
Compared to these wacky new titles, old fare of the 1960s and 1970s seems dreary like Dil Apna Aur Preet Parayi, Mehndi Lagi Mere Haath, Suhagan, Ek Phool Do Maali, Haryali aur Rasta, Aan Milo Sajna and ever so many others. Of course, there were odd offbeat titles as far back as the 1950s but of not the front row films like Shin Shinaki Boobla Boo and Ha Ha, Hee Hee, Ho Ho. But today, it is the order to have unusual names that the cinegoers relate to very well. So there is a long list of bilingual or English names like Gulaab Gang, Revolver Rani, Bullett Raja, Babloo Happy Hai, Gang of Ghosts, Total Siyapaa or Shaadi ke Side Effects.
Every age has its new trends but now it seems we are as trendy as we can get. Kamal Tewari, the dear daddy in many films, including Jab We Met, says, "We are in an age when the young are speaking a mixture of languages and relating very well to the thrill of the words combining with the visuals. These titles also reflect the changed mood from sob-sob romance to the go and get age." It is interesting to note that the reverence of times gone to the spirit of the new-age of total irreverence.

A still from Dishkiyaon



The title of Vishal Bhardwaj's film Matru Ki Bijli
Ka Mandola amused cine buffs

If it was Shiri aur Farhad of the love legend fame in the yore, it is Shirin aur Farhad ki Toh Nikal Padi. Gone are the doomed days of Guru Dutt's Sahib Bibi aur Ghulam, now the interest lies more with Sahib Bibi aur Gangster. Away from the eastern tradition of sexual comedies, we are now on to the western penchant with sexual comedies. Well, when the disposition is Westwards Ho! Then why not go the whole hog. Art after all mirrors society.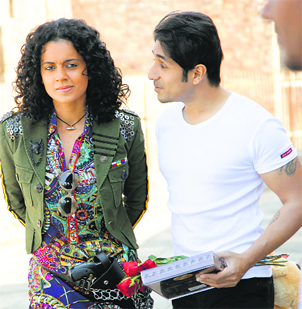 Kangna Ranaut and Vir Das in Revolver Rani

Many film titles have been at the centre of controversy and thus their destiny has changed. The most recent case is of Sanjay Leela Bhansali's proposed Ram Leela when some petitioners confused it with the Hindu deity even when the director kept crying out that it had no connection with the Lord of Ayodhya. It was the story of a character named Ram but the mighty mystification almost led to the Deepika Padukone and Ranveer Singh film being banned till the new and weird namakaran came: Goliyon Ki Raasleela Ram-Leela!
In the past too, we have had characters with names of deities. Remember Dilip Kumar in the double role of Ram or Shyam singing 'Ram ki Leela rang layi, Shyam ne bansi bajai'.
Film title disputes are also gathering momentum and Kunal Kohli and Saahil Chadha are squabbling over closely resembling titles of their respective films: Thoda Pyaar Thoda Magic and Thoda Life Thodi Magic. Venus Music Company's Kushti featuring Khali is also in the wrestling ring with Anoop Srivastava raising claim on the title first as he had registered it with the Indian Motion Picture Producers Association. However, legal experts are now suggesting that film producers need to get more copyright wise and register films with the Copyright Board in case a legal battle ensues. So there is much to the name game now but with many creative whiz kids around, the problem can be sorted by thinking yet another wacky one.