M A I N N E W S
Now, Badal's photographs appear in school board textbook
Archit Watts
Tribune News Service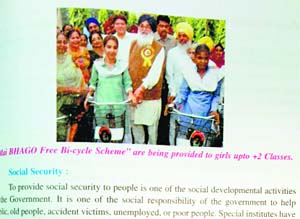 CM Parkash Singh Badal's picture in a PSEB class VIII book.
Muktsar, April 7
In this academic session, students in the schools affiliated with the Punjab School Education Board (PSEB) will learn about the SAD-BJP state government's populist schemes as these have been made part of the syllabus.
Questions on various Punjab Government schemes like the Shagun scheme will feature in their examinations.
In the recently published social science textbook for class VIII, the last chapter "Efforts of the government in social circles and its effects on the people" throws light on the state's populist schemes under the title "Efforts made by the Punjab Government to uplift the social status of women".
It includes the Mai Bhago scheme, Shagun scheme and Nanhi Chhaan project of Bathinda MP and Badal 'bahu' (daughter-in-law) Harsimrat Kaur Badal.
Two pictures of Chief Minister Parkash Singh Badal have been published -- showing him distributing bicycles and the shagun amount among the beneficiaries -- and an illustration of the Nanhi Chhaan project on three pages (270, 271, 272) in the English medium textbook.
Though the chapter is not new to the textbook, the state government's populist schemes have been added this year, say government teachers.
This textbook has already reached the schools in three languages English, Punjabi and Hindi and has been distributed among the students. This is also available at book stores for the students of private schools.
Not only the state's populist schemes, but also some central schemes like the mid-day meal scheme and villages' road-linking schemes too have been described in the chapter. But no Union minister's name or photo has been able to carve out any space, unlike Badal.
Earlier, Badal's photographs had appeared on ambulances, ration cards, bicycles under the Mai Bhago scheme, sports kits, Bhagat Puran Singh health insurance scheme cards and RO water treatment plants.
The Congress had raised its voice time and again for their removal. PPCC leaders had approached the Election Commission of India this month seeking the removal of Badal's photos from '108' ambulances.
Kuldeep Chand Agnihotri, Vice-Chairman, PSEB said, "There is nothing wrong in publishing material related to social science. We have published the pictures of the CM doing social work to tell the students about the state government's social schemes."
Nothing wrong, says PSEB vice-chief
There is nothing wrong in publishing any material related to social science. We have published the pictures of the Chief Minister doing social work to tell the students about the state government's social schemes. Central government's schemes too have been mentioned in the same chapter. Other states also put the social activities being carried out there in their textbooks
—Kuldeep Chand Agnihotri, vice-chairman, pseb