M A I N N E W S
Chandigarh leads big voter rush
Sees highest turnout of 74% in Phase 3 * People out in droves in Delhi, Haryana, J-K, UP
Tribune News Service
New Delhi, April 10
The crucial third phase of the General Election today saw an impressive turnout across 91 segments with Chandigarh witnessing the highest polling percentage of 74.
Chhattisgarh, Odisha and Bihar witnessed Maoist-related violence which left 2 CRPF jawans and a state police personnel dead. Sporadic clashes were reported in Jammu-Poonch segment, which saw 68% polling.
Apart from some stray incidents, polling remained largely peaceful in all 10 Lok Sabha seats in Haryana which witnessed a heavy turnout of over 73%. Long queues were seen outside most booths in the state.
The national capital recorded around 64.5% polling bypassing 2009 turnout by an impressive 12% in the mega battle for seven parliamentary seats. Vice-President Hamid Ansari, Congress chief Sonia Gandhi, Congress Vice- President Rahul Gandhi, Priyanka Gandhi, Delhi Lt Governor Najeeb Jung and AAP leader Arvind Kejriwal were among the early voters. The election results are likely to set the stage for possible Assembly polls in the next few months.
Voter enthusiasm was high in both working and middle class areas in Delhi. In a few places, brisk polling was reported even in affluent areas — where election enthusiasm used to be tepid.
The Chandigarh constituency recorded the highest turnout of 74%, against 64% in 2009.
Nearly 65% voting was recorded in the 10 Lok Sabha constituencies of 'communally sensitive' western Uttar Pradesh, including riot-hit Muzaffarnagar, polling for which passed off peacefully. The polling percentage in 2009 was 51.30%.
In Bihar, two CRPF personnel were killed when Maoists exploded a concealed land mine in Munger district when they were on their way to neighbouring Jamui where polling was on. Maoists also blasted a school in Bihar's Lakhisarai district. In Odisha, Maoists snatched EVMs and took away the battery of one voting machine.
Chhattisgarh's Bastar seat witnessed the lowest voter turnout among the 91 seats of 51.4%. But it was higher as compared to 47.33% recorded in the last LS polls.
The Election Commission maintained that the turnout could be "much higher" in all seats as final reports were yet to pour in.
Although the staggered nine-phase balloting began on April 7, the first two rounds involved only 13 constituencies from the North-East.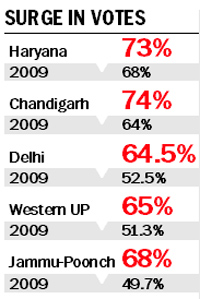 Elections were also today conducted on all 20 seats in Kerala, 10 seats each in Maharashtra and Odisha, nine in Madhya Pradesh, six in Bihar, four in Jharkhand and one each in Chhattisgarh, Lakshwadeep and Andaman and Nicobar Islands.
(With PTI inputs)
Naxal violence: Chhattisgarh, Odisha and Bihar witnessed Maoist-related violence which left two CRPF jawans and a state policeman dead
Western UP: Muzaffarnagar and Shamli in UP, which had witnessed riots in Aug 2013, recorded "above average" turnout of 67.78% and 70.85%
Lowest turnout: Chhattisgarh's Bastar seat saw the lowest turnout of 52% among 91 seats. But it was higher than 47.33% in last LS polls