Making a record comeback
Vinyl records are making a dramatic comeback. Leading music companies are tapping in to a demand laced with nostalgia
Nutan Sehgal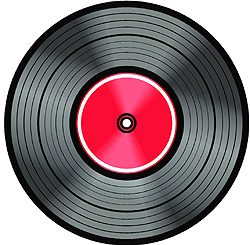 The last Sunday of the month is very special for a handful of music lovers who gather at retired Brigadier Praveen Sharma's Delhi house and spend a blissful evening together. These are not your run-of-the-mill music aficionados. Among them, they have a large collection of 78, 45 and 33½ rpm records which they rotate on gleaming gramophones and turntables. No, this is not the 1950s decade. This group of people ranging in ages from 25 to 70 years comprises music buffs who, like an increasing number of people around the world, are bringing back the old-world charm of vinyl records, gramophones and turntables, which were all-pervasive till the 1970s.
Music box
Today the nostalgia of music on records and music boxes is being revived like never before. For some, these make a great adornment in the drawing room as curios and decoration pieces. But for the more serious collectors, these are a hark back to the days when CDs and digital music had not blasted the ears and the senses. Till the turn of the new millennium, music lovers with a penchant for the retro stuff would scour shops in different parts of the country to procure records whose life was cut off after the emergence of cassettes and CDs followed by digital music stores like Apple's iTunes and Google Play Music.
"We have collected these records from various parts of the country. I procured my Elvis Presley vinyl collection from a specialty music shop in London," says Brigadier Sharma. But now, music aficionados like him will not have to go to such lengths. Much like the fountain pen, vinyl phonograph records are making a dramatic comeback. Every new release is being offered in CDs, digital formats and in record versions which are finding passionate buyers. The burgeoning interest in records is backed by numbers. Last year, more than 10 million vinyl records were sold worldwide with the highest sales of 5.8 million came from America alone. Estimates say that the demand is likely to grow by a million every year. Ironically, even as overall music sales have registered a sharp drop by more than 50 per cent in the last one decade, sale of vinyl records has jumped by more than 250 per cent.
Business sense
In today's scenario, no musician or record label can afford not to release songs and albums on vinyl. And though the sales may be just around three per cent of the total music business, records are making their presence felt all over again and in no uncertain terms. In many western countries, there are speciality shops catering to the old-fashioned way music was heard. It is not just the older singers and bands who are releasing on vinyl. Today all artists — even those born after the era of the records — are putting their new releases on vinyl apart from CDs and digital downloads even as the market for the retro steadily grows year after year.
The buyers, too, are not just music-loving senior citizens seeking to rekindle their younger days. Even Gen Y is getting hooked to records with many preferring these to newer versions. Such is the demand that there is a severe capacity shortage for pressing records. Apart from the established ones, a number of new companies like Gotta Groove Records and RIP-V have cropped up who are working round the clock in a bid to meet the ever-increasing requirement. Unlike olden times when most records came in black, these companies are offering these in rainbow hues.
Along with the records, gramophones and turntables, too, are making a comeback. There is an incredible array of options available in the market of turntables that are under Rs 25,000. The sound choices on offer include names like Audio Technica, Stanton, Pro-Ject Debut Carbon, Soundwagon, Crosley, VPI Classic and many more.
LPs revisited
Many music enthusiasts are attributing the vinyl renaissance to the fact that records yield warmth and depth which CDs and downloaded music does not. Fans are particularly excited about the re-release of classic albums like the complete Beatles and Rolling Stones repertoires and are willing to pay big bucks for these. "In the West, many record labels are working overtime to produce records. Indian music companies should also follow suit as there's a growing demand for old songs of K. L. Saigal, Talat Mehmood, Mukesh, Mohammad Rafi, Manna De, Lata Mangeshkar and Asha Bhosle in vinyl versions. As of now, all one can get are second-hand records many of which are not in a great condition," says Brigadier Sharma. Indeed, it is a business opportunity waiting to happen. Records, which are a part of musical history, are suddenly back in vogue mainly among the trendy music connoisseurs. In this age of digital downloads, they are holding out their magic again all over again.
Amy's posthumous success

One of the most brilliant singers of the current generation, Amy Winehouse died tragically in 2011 at the age of 28 of substance abuse that included alcohol and drugs. Posthumously, her albums like Back to Black, Love Is a Losing Game and Back to Rehab have gone platinum in all formats, especially on vinyl.
Price: Rs 900 per record
Rolling Stones roll on

In 2012 when Rolling Stones celebrated their half century as a band, the music world exploded in celebrations. The Stones started off in 1962 when the 78 rpm was supreme. The highlight of their 50th birthday bash was the re-release of all their greatest hits in vinyl version, which are now clocking brisk sales.
Price: Rs 1,500
Led Zeppelin's Déjà Vu

Almost half a century ago when this band was formed, the 78 rpm records were giving way to LPs and gramophones were going out of fashion giving way to electronic players. The era has come full circle for Led Zeppelin as vinyl records of their old hits and new collections flood the market.
Price: Between Rs 600 and Rs 900
Kanye West's record demand

America's top-of-the-line hip-hop singer and songwriter Kanye West has released most of his smash hits like The College Dropout, Jesus Walks and Stronger on all formats. Interestingly, his vinyl records sell out so fast that his record labels are constantly deluged with orders that they find hard to fulfil.
Price: Between Rs 1,200 and Rs 1,500
Lady goes gaga
What can one say about Lady Gaga that has not already been said or written before? The American singer and songwriter shot to fame in 2008 with her debut album The Fame, which was released both on CDs and record formats. Today most of her hit singles and albums are hot sellers in vinyl version.
Price: Between Rs 900 and Rs 1,500
Madonna on vinyl again

For a singer who has been one of the most prominent cultural icons for more than 30 years, Madonna has seen the world of music changing in different ways. Her popularity was at its peek when records gave way to cassettes and CDs. Two decades later, music companies are again releasing vinyl versions of her hits.
Price: Between Rs 900 and Rs 1,500
Michel Jackson for the records

A modern-day music God, Michael Jackson's huge hits in the 1970s and 1980s like Thriller, Beat It and Off the Wall came when records were the rage. He rode the transition to cassettes and CDs. After his death, companies are re-issuing vinyl records to meet the burgeoning demand for this new trend.
Price: Rs 1,200 per record
Beyonce spurs turntable sales

In February when top American singer Beyonce released her eponymous fifth album as an LP, it was proof — if any was required — about the re-emergence of music in the Long Playing Record version. Such was the craze for the 'new' format that many fans actually invested in turntables to enjoy the music.
Price: Rs 2,500 per record
Bieber basics

A youth pop icon of the new generation, the 20-year-old Canadian musician, song writer and dancer, Justin Bieber has some of the biggest monster hits to his name. Though most of his music is in CD version, he was signed by Island Records in 2009 to release his chart-toppers like My World on vinyl records.
Price: Rs 1,800 per record
Shakira's record breaking feat

Though she's had a string of hits in her career, Columbian singer Shakira shot to universal fame in 2010 when she sang Waka Waka This Time for Africa, which became an instant worldwide number one hit on CDs and records. Since then, her chartbusters are appearing in record format and flying off the shelves.
Price: Between Rs 1,800 and Rs 2,500
Adele's record

One of the most successful singers of our times, Adele has won a record 10 Grammys and the Oscar for the lead song of the James Bond movie Skyfall and countless other awards. Most of her hit albums and singles, including Someone Like You, Set Fire to the Rain and Skyfall are now also available in vinyl format.
Price:Rs 1,200 per record
Ageless David Bowie

At 68, most musicians walk into their golden sunset. But not David Bowie. He has as big a fan-following today that he enjoyed in the 1970s and he keeps churning out hit after hit. The new millennium saw most his music being released on CDs and vinyl records, including his new album The Next Day.
Price: Rs 1,500 per record
Beatles once again

Back in the 1960s, the Fab Four wowed the world by releasing one chartbusting record after another. These came in all sizes — 78 rpm, 45 rpm and the 33½ rpm and listeners lapped them up. The record version of their hits has staged a comeback once again and Beatles fans are making a beeline for them.
Price:Rs 1,000 to Rs 2,400 per record
Britney's new LPs

Time was, just a year ago, when it was almost impossible to find a single song by Britney Spears on vinyl. Today, the market is flooded with all her singles and albums in record format. And ever since these records appeared in the market, Spears has a new fanatical following of fans who groove to the vinyl music.
Price: Between Rs 600 and Rs 900
Rihanna re-loaded

At 25, Barbadian singer Rihanna has had more top-of-the-charts hits than her age. Many of her songs like Take A Bow and We Found Love are in the list of the Best Selling Singles of all times. Though these were available only on CDs and iTunes, now their record versions have been released to amazing response.
Price: Between Rs 1,200 and Rs 1,500