Walk up these garden paths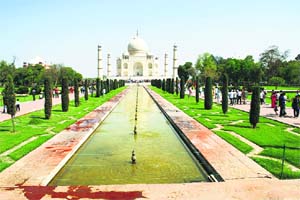 By the play of terraces, trees & waterscapes, the Mughals created paradisiacal landscapes upon earth
Rajnish Wattas
Three things oppressed us in the land of Hind – its heat, its violent winds, its dust". Such was the lament of Babur, the first Mughal emperor when he reached India. Brought up in the traditional cool shady and luxuriant "Paradise Gardens" of Persia and Samarkand, he found the dry plains of North India colourless and visually dull.
---
'ART & SOUL
A conclave unlike any other
In the paintings of sufis, saintly men from various centuries are juxtaposed. These saints seem to belong to all time and all space
B. N. Goswamy
Not infrequently, in Indian painting, one comes upon images of small groups of saintly men — sufis is how one generally sees them — seated in a circle at the centre of which there might be a low chauki-like table on which a small pile of books rests.

Broad brush
---
FITNESS
good health
A bellyful of fat
Abdominal obesity can cause many health complications
Mickey Mehta
Variety is the spice of life. We Indians strongly believe in this saying and gorge on all kind of dishes from different cuisines, relish large helpings of dishes we like till we are more than satiated. Obesity in India has been on the rise since the past eight to 10 years. Every one person out of four is obese.
Need for awareness about cancer
Dr Jai Gopal Sharma and Dr Indu Aggarwal
There are about 315 million young people aged 10-24 years in India, approximately 30 per cent of the country's population. The healthy habits and attitudes formed during young age lay a strong foundation for lifetime of health-related behavioural patterns.
---
Society
Spring's celebration of fertility
Spring spells rejuvenation for the earth as well as people, lending them, literally, a spring in their walk
Ranjita Biswas
Celebrating the advent of spring in various forms has been prevalent among communities across the world for centuries. Whether it is Bihu in Assam, Baisakhi in Punjab or May Queen celebration in the West, the focus is on the awakening of the earth from the hibernation of the winter months.
---
Travel
Of wine trails and water cruises
From watersports to wineries, the Finger Lakes region of New York State has unlimited appeal
Niku Sidhu
Come summer and thoughts of serene cool waters bombard our mind space; the enthusiasm to reach this serenity increase proportionately to the rise in temperature. Lakes provide the ideal combination of inviting waters to wade in, calm enough to canoe and clean enough for a midnight dip.

Globetrotting
---
Entertainment
Reimagining the real, Bollywood ishtyle
In the first quarter of the year, Hindi cinema sought inspiration from the social and political woes that plague India
Saibal Chatterjee
For the Bollywood movie watcher, the first quarter of 2014 was extraordinarily remarkable. Not that the industry produced much that could be regarded as qualitatively exceptional but it certainly delivered interestingly diverse stories inspired by the real world and its concerns.
Chip off the Bhatt block
Her first film was an unqualified success, the second won her critical acclaim and now Alia Bhatt is all set to rock with 2 States. But she won't let success go to her head and fully understands that audiences' love is not unqualified
Nonika Singh
she could well be like any 21-year-old girl who wants to be taken seriously yet doesn't mind the 'very cute' tag. Only extraordinarily pretty, exceptionally talented and daughter of the Mahesh Bhatt, Alia Bhatt is not just any other girl but so unlike a regular new entrant in the filmdom struggling to find her feet.
---