GOOD MOTORING
On decongesting Uttar Marg
H. Kishie Singh

a long-standing need of Chandigarh motorists was fulfilled recently when a roundabout was built at the junction of Uttar Marg and Udian Path. There is another junction on Uttar Marg which is a hundred times more crowded and making it far more dangerous. It needs immediate attention.
This point is on Uttar Marg and the entry and exit points to the High Court. The entry-exit to the Rock Garden is only a few metres away. The pedestrian entry, again, a few metres away has taxis, three-wheelers, street hawkers, ice-cream sellers and balloonwallas parked there. It is crowded all day with tourists and buses make illegal stops. The chaos peaks between 9.20 am and 10 am, when the lawyers coming from the Sukhna Lake side are in a blazing rush to get to office.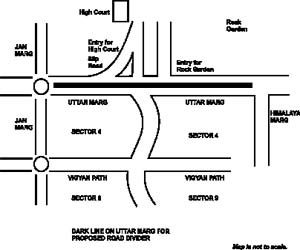 The yellow line in the centre of the road is ignored. Does anyone in Chandigarh know what a yellow line is for? If you are going along Uttar Marg to Sukhna Lake during lawyer rush hour you are faced with a wall of cars. Lawyers coming from the Sukhna Lake side could be four or five abreast. An overtaker, overtaking a car who is also overtaking an overtaker! All aiming at the entry road which is two- lanes wide. There could be a car wanting to exit. The entry road is now a single lane. Traffic snarl!
The only solution to the traffic jams and confusion is to build a concrete road divider from the Jan Marg-Uttar Marg roundabout, along the yellow line till Himalaya Marg. This will ensure that traffic from the Sukhna Lake stays on the southern side of Uttar Marg and will have no access to the High Court entry point. The cars will be obliged to go to the Jan Marg roundabout and do an about turn. They can use the slip road entry point, no crossing of the road, no causing traffic jams. If Uttar Marg proves to be over crowded, approaching from the east end and taking Vigyan Path all the way to Jan Marg and a right turn towards Uttar Marg will give easy access to the slip road for entry to the High Court.
Uttar Marg is the area around the Lake Club and it is Chandigarh's No. 1 tourist spot. There are thousands of visitors but it is neither tourist nor pedestrian friendly. The problem these people face is crossing the road. Ideally there should be an underpass but this has not happened in decades. There is a zebra crossing at this point where the underpass should have been. No motorist pays attention to a zebra crossing. So, a couple of weeks ago traffic lights were installed there. Does anyone heed a red light? Of course not. It is a totally counter-productive move, a waste of time, money, effort and energy. And since Indian drivers don't observe rules, no one will even notice that the lights are installed in the wrong lane. Happy Motoring!