M A I N N E W S
Sonia to take centrestage as Cong goes for jugular
Aditi Tandon
Tribune News Service
New Delhi, April 15
With opinion polls writing off the Congress, party president Sonia Gandhi is all set to take centre stage in the election canvassing of the candidates.
The beginning was made yesterday with Sonia going public with her first-ever televised appeal to the voters asking them to reject the BJP and its PM nominee Narendra Modi's 'divisive' and 'autocratic ideology' which she said would ruin "Bharatiyata".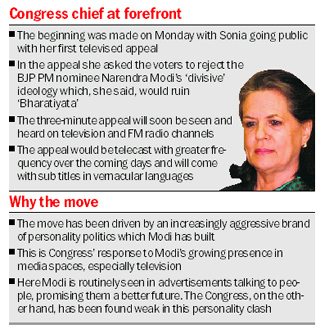 The three-minute appeal, in the making for over a fortnight, will soon be seen and heard on television and FM radio channels to target India's 80 crore voters.
The Congress' campaign managers today told The Tribune that the appeal would be telecast with greater frequency over the coming days and will come with sub titles in vernacular languages depending on the location of the telecast.
The move has been driven by an increasingly aggressive brand of personality politics which Modi has built, said a party leader. Sources admitted that Sonia's firm entry on the campaign scene through her latest appeal, is Congress' response to Modi's growing presence in media spaces, especially television, where he is routinely seen in advertisements talking to people, promising them a future (with the slogan Achhe din aane waale hain…).
The Congress, on the other hand, has been found weak in this personality clash, with party vice-president Rahul Gandhi appearing in advertisements but not quite managing the presence of Modi. Congress' internal campaign impact surveys are on to judge the impact.
Sonia's maiden TV appeal comes in the midst of polls (three phases over) and is a reflection of the fact that it was considered necessary by the Congress to counter Modi amid a sense of anti-Congress-ism being projected by poll surveys. The appeal, a last-ditch effort to woo voters in the name of unity, is in line with Congress' latest strategy to pull UPA's numbers to 140 somehow and restrict the BJP at less than 270. "We have to stop Modi in the national interest," said a senior Congress leader.
Akay Maken, Congress general secretary in charge of communications, rejected BJP's charge that the appeal is a desperate attempt by the Congress when "staring at defeat". Maken slammed BJP's Arun Jaitley who today took a swipe at Rahul Gandhi saying Congress' election slogans should be, "Main nahi Mom". "We are sure Jaitley would be remembering the slogan - Main nahi Papa as Punjab Chief Minister Parkash Singh Badal is helping him more than his son Sukhbir in Amritsar."
Congress leaders admit Sonia's election appeal could have been released much earlier or at least before the three phases concluded (polling on 91 seats is over).
"We admit the appeal has come rather late but we still believe we will make huge gains as the appeal is telecast on the eve of all pending voting days," said a leader.