M A I N N E W S
I never remained silent on Gujarat riots, says Modi


Asserts conflict with Pak not in India's interest


Favours debate on Art 370
Ashok Tuteja
Tribune News Service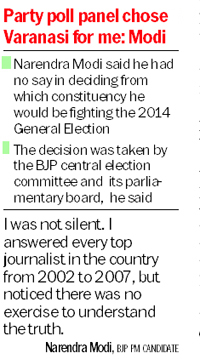 New Delhi, April 16
BJP prime ministerial candidate Narendra Modi today denied that he had always preferred to remain silent on the 2002 riots in his Gujarat, saying no one ever tried to "understand the truth."
"I was not silent. I have said what I had to on the riots. I answered every top journalist in the country from 2002 to 2007, but noticed there was no exercise to understand the truth. It was an unknown entity causing conspiracies," he told news agency ANI. Modi said he "felt very hurt" by allegations against him, but had gradually learned how to cope with them.
On the BJP's demand for the repeal of Article 370 in Jammu and Kashmir, he said: "We only talk of this (repeal of Article 370) so that development reaches the border state." Responding to a question, he stated that a conflict with Pakistan or any other country was not in India's interest. The country would have to give top priority to the welfare of the people, he said. Modi asserted that India's foreign policy vis-a-vis the US would not be influenced by Washington's refusal to give him visa over the Gujarat riots should he become the country's PM after the Lok Sabha elections.
On a day when images of BJP chief Rajnath Singh wearing the traditional Muslim cap at a shrine in Lucknow triggered a debate in political circles, Modi made it clear that this was something he would never do. "I will not wear any symbol of appeasement for a photo op. Does Sonia Gandhi wear a skull cap?" he asked.
Modi said he had nothing but love for the people of India, and that his aim was to win their hearts. He appeared to reject outright the notion that 'Hindutva' could be thrust upon the Muslims if he were to become the PM.
He predicted a historic victory for his party. "As far as election results are concerned, I worked as a backroom boy for the party for many years. I have never measured elections in numbers, but after looking at poll strategies, I can say it will be the worst performance by the Congress and ours (BJP and NDA) the best," he said.
On reports that there was no 'Modi wave' in southern India, and whether this was because of a mistake in the pre-poll alliance, he said : "There is a wrong perception in our country, and I want political pundits and media persons, to come out of this thought process."
He also rejected the notion of there being any kind of bitter criticism from Tamil Nadu Chief Minister J. Jayalalithaa. "First, there has been no bitter criticism. In a democracy, everybody has a right to put forth their views in their own language. The BJP and all other parties have this right. In politics, I don't believe an inch in untouchability."