M A I N N E W S
Voter surge continues; 12 states see high turnout in fifth phase
New Delhi, April 17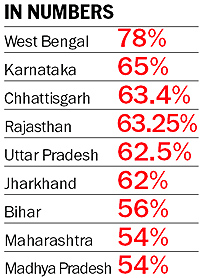 High turnout was witnessed in 121 constituencies which went to polls across 12 states in the fifth phase of Lok Sabha elections today in which the political fate of leaders like Nandan Nilekani, Maneka Gandhi, M Veerappa Moily and Jaswant Singh is at stake.
There were a few incidents of violence, including blasts, in Bihar, Jharkhand, Odisha and Uttar Pradesh in which four people, including three security personnel, were injured. Four constituencies of West Bengal, which went to polls, recorded the highest turnout among the 12 states. The voter turnout was recorded at 78.89% but was likely to go up as final figures were still being computed.
In Manipur Inner constituency, the turnout was an impressive 74% and it was likely to go up further. In the 2009 Lok Sabha polls, the turnout was much higher at 77%.
In Bihar's seven constituencies, the turnout was 56% as compared to 39.3% recorded in the last General Election. The three constituencies of Chhattisgarh which weren't to poll in the fifth phase, the turnout was an impressive 63.44%. In the last Lok Sabha elections, the turnout in these constituencies was 57.60%.
An electorate of 16.61 crore was eligible to exercise their franchise today in 28 seats of Karnataka, 20 of Rajasthan, 19 of Maharashtra, 11 each of Uttar Pradesh and Odisha, 10 of Madhya Pradesh, 7 of Bihar, 6 of Jharkhand, four of West Bengal, three of Chhattisgarh and one each of Jammu and Kashmir and Manipur.
Of the total seats, the Congress has 36 seats while its main challenger BJP has 40 seats. J-K's Udhampur constituency recorded a turnout of 69.08% which was 24% higher than the 45.15% recorded in the previous LS polls.
Karnataka, which went for a single-phased poll today, also recorded a high turnout of 68%, nearly 10% higher than last elections' 58.88%.
In 10 constituencies of Madhya Pradesh, though the turnout was not impressive as compared to other states, it was higher than the last polls. It recorded a turnout of 54.41%, while in the last polls, it was 46.2%.
The 19 constituencies of Maharashtra witnessed a turnout of 54.67% as against 54.14% last time.
A total of 11 Lok Sabha seats went to polls in Odisha and recorded voter turnout of 70%. It was 66.28% in the 2009 General Election.
Rajasthan's 20 constituencies also recorded an impressive turnout of 63.25% as compared to 48.09% in the last polls.
Voters turned out in large numbers in Uttar Pradesh's 11 constituencies which recorded a turnout of 62.52% as compared to 55.09% in the last LS polls.
In Jharkhand's 6 constituencies, 62% voters came out to exercise their right to franchise. While in the last LS elections, the turnout was 58%. — PTI
High stakes: 1,769 candidates' fate sealed
In the fifth phase, electoral fate of 1,769 candidates were sealed. They include Nandan Nilekani (Cong), Maneka Gandhi, former PM HD Deve Gowda (JD-S), Union Ministers Veerappa Moily (Cong) and Srikant Jena and Supriya Sule
Maoists trigger landmine blast in J'khand
A landmine blast and subsequent ambush by Maoists on a CRPF patrol left four people, including three securitymen, injured in Bokaro district of Jharkhand
FIR against Lalu's daughter
An FIR has been registered against RJD chief Lalu Prasad's daughter Misa Bharti for entering a polling compartment in a Patlipura constituency polling booth though she is not a voter there