A drive back in time
Automobile buffs have had a long and enduring affair with vintage cars. Many of these were bought as junk but have been lovingly restored to their original glory
Subodh Samuel
It was a race to beat all races. The oldest participant was a sturdy 88-year-old and the youngest, a 45-year-old beauty. Many contestants had done cameos in Bollywood period films. The 600-km race was nothing daunting for the participants as, in their prime, they had covered bigger distances without a trace of exhaustion. Originally hailing from countries like England, America, Belgium and Germany, these have made India their home for years now.
Classic beauties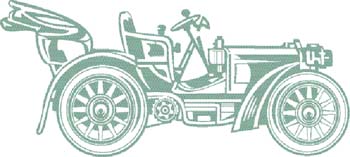 The vintage and classic beauties included Minervas, Studebakers, Plymouths, Fords, Chevrolets, Chryslers and more. They all lined up near India Gate on a recent windswept morning to participate in a rally stretching from Delhi to Jaipur and back.
For the people behind the wheel, it has been a long and enduring love story with their cars which they have lovingly restored back from ruins. Take, for example, 56-year-old rally participant Vishal Sareen whose passion — and knowledge — of old cars brims over when he speaks about how he made his 1954 Hilman Minx roadworthy.
"When I bought the car from a family in Agra, it was fit for a dumpyard. Over the years, it had fallen to pieces and nothing was working. I began work on it, not even sure if I would find the spare parts for this 60-year-old lady," says Sareen caressing his car proudly.
It took him almost two years to put it back to life piece-by-piece. Sourcing some spare parts from junk dealers and others even from England, he managed to completely overhaul the engine. He then did the windowpanes, seat covers, retro dashboard switches and all other interiors like floor mats and roof upholstery that needed restoring.
After this, the car was sand-scraped and primed of all dents and bumps. Then, it was the turn of painting and polishing and finally of replacing door handles, mirrors, windshield, headlights, taillights, bumpers and hood latches to bring it back to its old glory.
Restoration costs
Owners of vintage cars spare neither money nor time and effort when it comes to restoring these to their original look. Though they may have bought a rundown car by its weight from a junkyard, the final cost can exceed that of any modern sedan. Take for example, Sareen's Hilman Minx. He paid Rs 15,000 for the car but ended up spending almost 30 times that amount on restoration.
"The spare parts that had to be sourced from England accounted for nearly 70 per cent of the cost," he says.
Though some people cut corners by compromising on spare parts, a true connoisseur would never do that. For him or her, everything has to be original — fuel pumps, carburetors, cylinder heads, compressors, and even the bumpers and lights.
Aficionados say if an old Chevrolet is fitted with an Ambassador door handles or a Maruti steering wheel, then it is not really a vintage car. It's simply an old car which has been made functional. If you equip a car with spare parts from other cars, you simply kill its vintage value.
The true appeal — and worth — of a vintage car emerges with real spare parts. The only modern element in restoration is the paint. To make these beauties gleam and glitter, restorers usually give them a coat of urethane paint for that amazing sparkle.
Though there is no dearth of old cars that have been restored to mint condition, the real collectors usually go after certain models of different vintages which come up for auction from time to time. Here, too, there are gradations. Some are snapped up for their head-turning beauty, others attract collectors for their rarity.
Collector's delight
Some of the popular cars that get bought at auctions around the world include Rolls Royce, Mercedes Benz, BMWs, Aston Martin, Ferrari, Jaguar, Pontiacs, Oldsmobile, Bugatti and many more. These are a delight of collectors who are constantly on the lookout for cars which come up for auction either in glimmering condition or as rundown vintages that need restoration to bring them back to life again.
However, it is the rare ones that attract intense bidding. For example, there is only one surviving Wilson-Pilcher car that was made in England at the turn of the 20th century. The 1904 vintage car attracts collectors from all over the world whenever it comes up for auction and there is no-holds barred bidding for this car.
But Wilson-Pilcher is not alone. Other single-surviving cars include the 1954 Oldsmobile F-88, the 1931 Bugatti Royale Kellner Coupe, the 1913 French car Helica, the 1937 Packard 833 Sport Phaeton and a few more. These cars can fetch Prices in millions
Price is obviously a sensitive issue with most collectors. A car can cost anything from a few thousands to millions if it is a custom-made Rolls Royce or Bentley. If everything in the car is intact and in mint condition, then sky is the limit for a vintage car.
The Price of the vintage car is determined by its age, condition and rarity. In normal life, you would be lucky to get 50 per cent of the purchase value of your three-year-old car. But if you wait for five or six decades, you could end up making a fortune from the same car!