M A I N N E W S
After Giriraj, Togadia 'hate speech' puts BJP on back foot
Cong, parties flay VHP leader

Police start probe
Vibha Sharma
Tribune News Service
New Delhi, April 21
The BJP today found itself on the back foot as VHP leader Pravin Togadia's alleged anti-Muslim remarks triggered a political storm. With the Congress and other parties coming down heavily on Togadia and accusing him of "spreading venom", the police started an inquiry into the alleged hate speech given by the VHP leader at Bhavnagar on Saturday.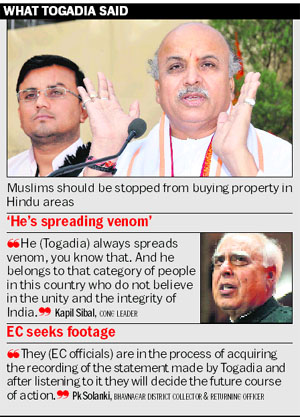 The police swung into action after the Election Commission sought the recording of Togadia's speech and directed the police to probe the matter. Togadia had reportedly said that Muslims should be stopped from buying property in Hindu areas.

The Togadia episode has come at a time for the BJP when it is reeling under strong comments from its Bihar leader Giriraj Singh, who reportedly said "all people opposed to Modi should migrate to Pakistan, as they have no place in India." Though the party has distanced itself from the Bihar leader's remarks, Giriraj has remained unapologetic, saying he had said nothing wrong.

Officially, the saffron party backed Togadia. "He did not make any such statement and we would take legal action (against the concerned publication)," said BJP spokesperson Meenakshi Lekhi. RSS leader Ram Madhav, too, said: "Pravinbhai had not said anything that was attributed to him. It was a fabricated news. No Swayamsevak thinks on those lines." Adding to BJP's worries, party's key ally — the Shiromani Akali Dal (SAD) — openly criticised the "anti-Muslim" tirade. "Such comments are unacceptable. They (leaders making such comments) should be expelled," said Akali leader Naresh Gujral.

Slamming the statement, JD-U leader KC Tyagi said: "Togadia seems to be influenced by Taliban mentality....No action has been taken against him due to a weak government". Fatehpuri mosque's Mufti Mukkaram said the VHP leader should be arrested immediately.

The Congress petitioned the EC demanding action against the radical Hindu leader. Terming Togadia's statement anti-national,

provocative, inflammatory and open threat to persons belonging to a particular community, the party sought action against him. Union Minister Kapil Sibal said: "He (Togadia) always spreads venom, you know that. And he belongs to that category of people in this country who do not believe in the unity and the integrity of India.

To counter the attack, the BJP launched an offensive against senior Congress leaders, including former Punjab Chief Minister Amarinder Singh, Abhishek Singhvi and Sibal. Lekhi described Singhvi as the "CD man". "There is a very little difference between shady and CD", she said. The BJP spokesperson flayed Amarinder for giving a clean chit to Congress leader Jagdish Tytler in '84 riots case.

Interestingly, several BJP leaders said there was nothing wrong with Giriraj's remarks. "Giriraj Singh has said what we all feel -- that those batting for Pakistan should go there. He never said that those who don't vote for Modi should go to Pakistan," said a senior party leader, pleading anonymity.

On Togadia comments, the party, however, is feeling cornered. BJP leaders suspect that Togadia's comments were aimed at harming Modi. That there is no love lost between Togadia and Modi is well-known, but coming at a time when an attempt is being made to build an all-inclusive and mellow image for Modi, this is one controversy that the BJP could have very well done without.

Madani backs Modi on skull cap

Supporting Modi for not accepting skull cap, leading Muslim leader Mahmood Madani said such an act amounted to "politics of symbolism". He, however, also urged Modi to take steps to mend relations with the community by ensuring justice to those affected in 2002 riots.

"It is all right for Modi to not accept a skull cap as even I will not sport a tilak," he said.

Ready to migrate to Pak: Omar
Suhail A Shah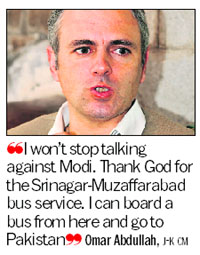 Anantnag, April 21
Jammu and Kashmir Chief Minister Omar Abdullah today said he would prefer to migrate to Pakistan rather than stop talking against BJP prime ministerial candidate Narendra Modi. "Thank God for the Srinagar-Muzaffarabad bus service. I won't even have to go via Delhi; I can board a bus from here." Omar said, while addressing an election rally in Anantnag.
He was referring to a statement made recently by senior Bihar BJP leader Giriraj Singh. Giriraj had reportedly said that all people opposed to Modi should migrate to Pakistan, as they have no place in India. "I won't stop talking against Modi. I will just board the bus and go to Pakistan," said Omar, adding that Modi was responsible for the 'genocide' of Muslims in Gujarat.