M A I N N E W S
High turnout in sixth phase amid violence in J-K, J'khand
Bengal, Puducherry lead voter rush; moderate polling in M'rashtra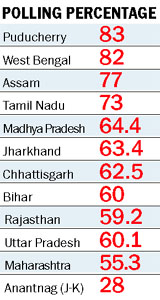 New Delhi, April 24
High voter enthusiasm today marked the sixth phase of polling covering 117 constituencies spread across 11 states and one union territory. The turnout in all states was higher than the previous Lok Sabha elections in 2009.
At least 8 persons, including six polling officials and two policemen, were killed and seven injured when suspected Maoists blew up their vehicle in Dumka district of Jharkhand.
In Kashmir's Shopian district, a polling official died in an attack by militants. A policeman was killed in a clash in Kokrajhar district of Assam.
The highest turnout of 83% was recorded in Puducherry followed by West Bengal (82% for six seats) and Tamil Nadu (735) that saw singled-phased polling for all 39 seats.
While Rajasthan (5 seats) recorded 59.2% polling, the percentage for Maharashtra (19 seats) was 55.33.


Landmine blast kills 8 in Jharkhand
Eight persons, including six polling officials and two policemen, were killed on Thursday when Maoists blew up their vehicle in Dumka district. The landmine was triggered when the team was returning from poll duty in a bus.
Militants target poll party in Shopian, kill one


A polling official was killed and five others, including three security personnel were injured when militants attacked a polling party in Shopian district of south Kashmir on Thursday


Militants opened fire on the polling party when it was leaving the polling station at village Nagbal, about 65 km from Srinagar, around 7 pm, said officials


A teacher, who was on poll duty, was killed and five others, including two policemen and a CRPF jawan, were injured in the attack. Security forces immediately cordoned off the area
J-K's Anantnag constituency, where PDP chief Mehbooba Mufti is in the fray, recorded the lowest turnout of 28% but it was still higher than the 26.9% registered five years ago.
About 18 electors voted in the sixth phase to decide the fate of nearly 2,100 candidates, including heavyweights like External Affairs Minister Salman Khurshid who is in the fray from Farrukhabad, SP chief Mulayam Singh Yadav (Mainpuri) and senior BJP leader Sushma Swaraj (Vidisha).
After the sixth phase, the voting in 347 (total 543) Lok Sabha seats is over. The remaining 216 seats would be covered in the last three phases. Today's was the second biggest phase of the staggered elections after the fourth phase that was held on April 17 and covered 121 seats.
In the previous parliamentary polls in Tamil Nadu, the DMK had won 18 seats and the AIADMK nine.
Finance Minister P Chidambaram's son Karti, DMK's A Raja, the prime accused in 2G spectrum case, and senior Congress leader Mani Shankar Aiyar are among some of the key candidates in Tamil Nadu. — PTI