Legends never die
A scholar with leanings to the Left, especially his close links with Fidel Castro, he remained far-sighted to the end. He inspired the freedom loving to participate in resistance to imperialism and not become a "pawn without a will of its own"
Reviewed by Shelley Walia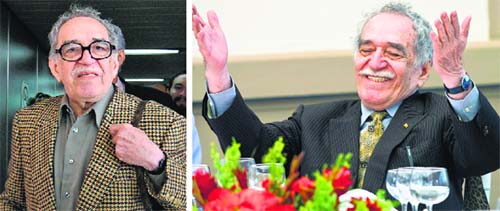 Gabriel Garcia Marquez inspired many to join him in the dance of joy and pain that fills our shared human experience
AFTER the death of Borges, Gabriel Garcia Marquez became the lone voice of the marvellous and the mundane in Latin American history and culture. Together with Jorge Luis Borges, Julio Cortázar, Carlos Fuentes, and Vargas Llosa, Marquez stood at the forefront, an artist whose quest coincided with his political disquiet.
And now 'Gabo' is no more. The Nobel Prize-winning Colombian died recently in Mexico, aged 87, of Alzheimer's, cancer and urinary infection. We who began to read him in the late 1960s had begun to feel that he would always be there. His death will be mourned not only in Colombia and Mexico, where he lived for over 30 years, but also across the world considering his wide reach, for more than 30 million copies of One Hundred Years of Solitude, translated into 37 languages, have been sold over the years.
His work, in the words of Julio Ortega, contained "its own deconstructive force — a literary power capable of reshaping natural order and rhetorical tradition in order to carnivalise the Borges' library and allow us to hear the voices — and laughter — of a culture." The unfolding representation of Latin American politics and history in his novels like One Hundred Years of Solitude, No one Writes to the Colonel, In Evil Hour, The Autumn of the Patriarch, Chronicle Of a Death Foretold, and Love in the Time of Cholera, and in his fascinating short stories and journalistic writings brought to us the bold, innovative and profoundly imaginative work of one of the most original writers of our time. His ways with words are a wonder, coherent as they are with his social conscience, of mortal and divine love, and of reflection that inspired many to join him in the dance of joy and pain that fills our shared human experience. Indeed, his art made the extraordinary seem integral to everyday life. Marquez's powerful satire on the myth, legend and indigenous traditions of Colombia, especially pertaining to the region around Aracataca, a small town on the Caribbean coast where he was born, sets him somewhat apart from his other fellow writers. One Hundred Years of Solitude remains his finest book, a monumentally gripping novel which in the words of the Chilean poet Pablo Neruda is "the greatest revelation in the Spanish language since Don Quixote", a passionate view of reality that moves beyond the commonplace. In a sincere quest for authenticity in artistic portrayal of Latin American mores, fable and society, Marquez rejects the derogatory label of "magic realism" given to his fiction by Western critics; he would often argue that he wrote what he experienced and that the cosmography of his countrymen finds no distinction between myth and reality owing to their inherent mythical imagination that is more fabulous than magical.
A scholar with leanings to the Left, especially his close links with Fidel Castro, he remained far-sighted to the end, inspiring the freedom loving to participate in resistance to imperialism and not become "a pawn without a will of its own". Speaking about the possibilities of a cataclysmic end to man, he said in the concluding remarks of his Nobel Lecture in 1982: "On a day like today, my master William Faulkner said, 'I decline to accept the end of man.' I would feel unworthy of standing in this place that was his, if I were not fully aware that the colossal tragedy he refused to recognise thirty-two years ago is now, for the first time since the beginning of humanity, nothing more than simple scientific possibility.
Faced with this awesome reality… we, the inventors of tales, who will believe anything, feel entitled to believe that it is not yet too late to engage in the creation of the opposite utopia.
A new sweeping utopia of life, where no one will be able to decide for others how they live, where love will prove true and happiness be possible, and where the races condemned to one hundred years of solitude will have, at last and forever, a second opportunity on earth."
The history of violence, of unquenchable thirst for power of destruction, of uncalled for attacks on the sovereignty of other nations is here reprimanded. The nightmare which is contemporary history is replaced by a future of hope, peace and equality. This message comes to us on the passing of a visionary who responded in his "chronicles of memory" to oppression and plundering with his assertion of the victory of life over death. In the words of Arundhati Roy, "Another world is not only possible, she is on its way." In this great bright future, we cannot ignore the past.