ENTERTAINMENT
Actors by chance
In an industry where today every second actor belongs to a film family, there are many who have made it big as a result of their grit
Shoma A. Chatterji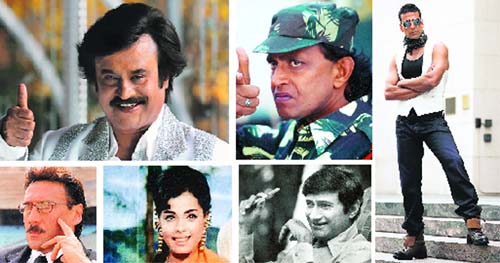 (Clockwise) Rajnikanth; Mithun; Akshay Kumar; Dev Anand; Mumtaz; Jackie Shroff
ONCE, birth into a film family was no way to attain stardom in Bollywood. It was a long, struggle to come up the hard way, while for a few, it was accidental. Today, star aspirants without a bloodline have a long and arduous uphill climb if at all they can make and glimpse that elusive rainbow at the end of the dark tunnel. Every second star today from Kareena Kapoor to Ranbir through Shraddha Kapoor and Alia Bhatt belong to film families who have inherited stardom. Beauty contests, modelling and theatre are some bridges that offer a short cut to Bollywood. Excellence in dance brought dancers like Vyjayantimala, Hema Malini and Asha Parekh into stardom. But not all who step in become stars. For every Mehmood who makes it from a driver and poultry keeper to producer, director and actor, you can name a hundred who disappeared into obscurity.
Ashok Kumar had a surprise he considered unpleasant. He was a lab technician at Bombay Talkies. One fine day, the leading lady of the film ran away with the hero. The heroine was brought back because she was the producer's wife but the hero was shown the door. The strapping young lab technician who had never uttered a dialogue in his life was forced to step in the absent hero's shoes. And Bollywood got Ashok Kumar.
Dev Anand could not pursue his post-graduation because his father could afford higher education to only one of the three sons. Chetan, a brilliant student, went to London. Dev Anand came to Bombay to work in the military censor's office and then as an accounts clerk. He happened to watch Ashok Kumar's performance and decided to try his luck. The rest, as the clichéd saying goes, is history. There are hundreds of real-life stories of young men and women rising to become big names in Bollywood. The most-heard story is about one Badruddin Jamaluddin Kazi who worked as a bus conductor till Guru Dutt turned him into an all-time, versatile actor named after a noted alcoholic beverage — Johhny Walker.
Rajnikanth laboured as a coolie before he became a bus conductor till Apoorva Ragangal changed the course of his destiny. Mumtaz was a junior artiste and chorus girl but graduated to become leading lady in C-grade films till she made it to big time with Dilip Kumar, Rajesh Khanna and Sanjeev Kumar. Even Mithun Chakraborty began as an extra in Do Anjaane starring Amitabh Bachchan and Rekha. He is in good company because Jeetendra began his career the same way while Shahid Kapoor was a chorus dancer and Jackie Shroff was a goon among the mafia villain in a Dev Anand film.
Smriti Irani, who is today vice-president of the BJP, reportedly had to scrub floors at McDonalds while struggling to get a footing in films and television.
Nawazuddin Siddiqui now sought after for lead roles in big banners, was one among eight children in a farmer's family who worked as a chemist and then a watchman till he decided to change direction to become an actor through training at the National School of Drama, Delhi.
Amitabh Bachchan worked in a leading ad agency in Kolkata before his brother pushed him to seek a career in films. He banged his head from one producer's door to another for a role and it took him nearly 10 long years to get a break as hero in a film that flopped miserably. Before that, he played bit parts in K. A. Abbas Saat Hindustani and Sunil Dutt's Reshma Aur Shera. When he was waiting in Abbas' office for an audition, filmmaker Mrinal Sen heard his voice and predicted that the young man with the rich baritone would go far.
The Akshay Kumar story of washing dishes and waiting at tables at a Bangkok hotel till he became a chef to fund his martial arts training where the floor was the only bed he could afford is well known. Not so well-known is that he has a close peer in Boman Irani who worked in room service at a five-star hotel while his mother struggled to keep her bakery running and he pitched in when he could.
What is the X-factor that got them where came to be? Is it only determination, patience and hard work? There is much more to be read between the lines. The strugglers must be prepared to pay a heavy price for getting a break from doing the marketing or getting on to the casting couch. But above all, there is that ever-elusive factor called "luck."
Now you have it, now you don't. All said and done however, if Marilyn Monroe, Clint Eastwood, Bruce Willis, Ben Affleck, Matt Damon and Jackie Chan can become internationally famous stars from having made their debuts as extras in films, then who is to stop the one who is determined, focussed and willing to work hard?

Stars of the swinging sixties
Glamour was their forte yet the girls' gang of the 1960s showed amazing female bonding, creating a valuable support structure for themselves. The camaraderie continues even when they are seventy plus
Nirupama Dutt



(From left) Helen; Nanda; Sadhana; Asha Parekh
THEY were young, beautiful, talented in their own way, favourites of their directors and often rumoured to be romantically involved with them. Not only were they the reigning queens of the tinsel world of the Mumbai of the 1960s, each had a distinct identity. They were also the subject of male fantasies and role models for their female fans. They were also the most highly paid heroines through the 1960s. Since many have already guessed the names, so no point keeping mum. They were Waheeda Rehman, Sadhana, late Nanda, Asha Parekh, and of course, the H-Bomb called Helen who danced through some 500 films with great success.
While their older sisters and contemporaries like Nargis, Madhubala, Meena Kumari or Nutan got greater appraisal and the reason for this perhaps lay in the fact that with the exception of Waheeda, who featured in both offbeat and the beaten track, the others belonged to razzle-dazzle of the popular cinema.
Even then, they managed to hold their own as they pouted their lips, fluttered their eye lashes, heaved their bosoms and swung their hips while making style statements.
A few years ago, an ardent fan blogged thus about Sadhana, the Love in Shimla debutante who wore a fringe and the hair style is still called the Sadhana cut, "Today on your 71st birthday, wish you a happy birthday and many more to come, dear Sadhana! Thanks for the beautiful films and moments that you gifted us."
Of late, there has been a growing interest in the these stars and what is most interesting to note that although glamour was their forte yet the girls' gang of the 1960s showed amazing female bonding creating a valuable support structure for themselves and the camaraderie continues even when they are now 70-plus. A year or so ago, a photograph started doing the rounds on the internet in which Nanda, Waheeda, Helen and Sadhana were snapped together when they went out together for the premier of a Marathi film. Old, gray, some of the misshapen, they yet smile as they always did showing a joie de vivre of those who shone brilliantly and then took life as it came.
These were successful stars, sure of their talent and appeal as well as secure in their careers so petty rivalry never came their way. Remembering her best friend Nanda, Waheeda said: "She was like my soul-sister. People wonder how two heroines could be so friendly. But let me tell you there was not an iota of professional insecurity between us. Both of us believed in destiny and that whatever work was meant to come our way would come."
But for Sadhana whose dream was to be an actor, others came to the silver screen to support their families. Waheeda, who was the daughter of a district commissioner, had to abandon her ambition to be a doctor while she was still in her teens. Nanda, lost her father who was a Marathi film director, when she was just eight. She had to fend for the family as Baby Nanda and her uncle V. Shantaram cast her in Diya aur Toofan (1956) and there was no looking back after that. Graduating to kid sister roles she emerged in her glamorous avtar in the 1960s. From a middle class Gujarati family, Baby Asha Parekh returned to school and dance training. When at 17, Nasir Husain cast her with Shammi Kapoor in Dil De Ke Dekho (1959) she arrived as the glamour girl the 1960s seemed to be looking for. Close on heels in 1960 was the grand success of Sadhana's maiden film Love in Shimla. Chandigarh-based bureaucrat, who has penned a book on Sadhana, says "There were many similarities between the two but points of difference too. Sadhana told me that there was no question of rivalry. Roles which required glamour and dance went to Asha and those which required glamour and histrionics came to her."
Midst these leading ladies was Helen who survived on the sheer strength of her dance and oomph and an hour-glass figure. Her Anglo-Indian father died in the Second World was and she came to India with her Burmese mother. She was what we refer to today as an item girl but there was nothing vulgar to her cabaret numbers and she lent them class and grace. All through the 1960s a film was required to have a Helen number to make it big on the boxoffice.
With the glorious careers a thing of the past these stars of the 1960s went through much, exploitative or obsessive director-lovers, major health issues like Sadhna's hyperthyroid, and heartache for the middle aged Nanda in middle-age when her fiancé, director Manmohan Desai, suffered a stroke and died. Marriages followed by demise of their husbands for Sadhana and Waheeda. It was a long single years and a love that could never turn into marriage for Asha. For Helen, it was penury if old admirer writer Salim Khan had not made her his second wife. Yet they continued to live with dignity and doing their bit in character roles with Waheeda dancing a charming number "Sasural Gainda Phool", with the exception of Sadhana, doing charity work or simply getting together at one another's place and cooking meals: A salute to these spirited stars of the 1960s.
The heroines of the 1960s were the subject of male fantasies and role models for their female fans. They were also the most highly paid heroines through the decade. They were Waheeda Rehman, Sadhana, late Nanda, Asha Parekh and of course, the H-Bomb called Helen who danced through some 500 films with great success.