food talk
Sweet & tangy beauty
Pushpesh Pant

Pastries of all kind have been our weakness since childhood. Not only the spongy pineapple or assorted dark gooey or chocolate chip on the shoulders variety but all the muffins and tarts of all kinds visit us in our dreams and make us drool. The ones that give us the least pangs of guilty conscience are the lemon/fruit tarts with a small, crisp pastry casing loaded with light "healthy" fillings. When a friend taught us how easy it is to rustle up these little beauties, we felt like kicking ourselves for not having discovered the joy of baking at home. Essentially two separate skills, have to be mastered: preparing the case and the filling. Once the tarts are done you can improvise much beyond the lemon mousse.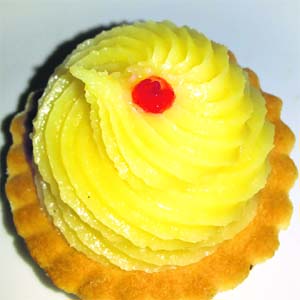 Lemon tart
Ingredients
Plain flour 3/4 cup
Salt a pinch
Butter (at room temperature) 3/4 cup
Method: Pre-heated oven at 200ºc (400ºf).
* Sieve the flour and salt together on a plate. Rub the butter into the flour with your fingertips and mix well. Gradually, add ice-cold water (approximately 3 tbsp) and knead well to obtain stiff dough. Refrigerate for 30 minutes. Knead the dough again and divide it into 10 equal portions.
* Lightly flour the rolling pin and pastry board and roll out a portion of the dough into a 4-inch diameter disc. Place this disc in a 3-inch diameter tart case and pressing the disc gently around the sides of the tart case, repeat with other discs. Prick the tarts all over with the help of a fork. Arrange the tarts on a baking tray and bake for 10 to 15 minutes. Cool the tart cases.
The filling
Lemon juice 3/4 cup
Sugar 1 cup
Eggs (slightly beaten) 2
Butter 120 gm
Method: Melt butter and sugar, together, in a saucepan over low flame. Add lemon juice to this mixture. Pour a little of this to eggs and whisk. Stir over low heat until it thickens. Pour into the tart casings and bake for 15 minutes. Enjoy!