M A I N N E W S
The Tribune investigation: Part-III

Badal govt's 'energy' link with the Majithias
With the renewable energy sector in Punjab becoming a major thrust area of the SAD-BJP government, among the beneficiaries in the Badal extended family were the Majithias. Here is the third in the series of reports.
Devinder Pal
Tribune News Service
Chandigarh, April 27
Besides the Badal and Kairon families, the Majithias, too, have had business dealings with the Punjab Government headed by Parkash Singh Badal. The Badals came closer to the Majithias after Punjab Deputy Chief Minister Sukhbir Singh Badal married Harsimrat Kaur. While Harsimrat Kaur is an MP, her brother, Bikram Singh Majithia, is currently Punjab Minister of Revenue, Information & Public Relations and Renewable Energy.
Among the various companies owned by the Majithias, one of them, Saraya Industries Limited, in which Bikram Majithia is a shareholder, bagged a major contract in 2008-09 to set up co-generation power projects in the state. Apart from Bikram Majithia, the other major shareholders in Saraya Industries are his father Satyajit Singh Majithia and brother Gurmehar Singh Majithia.
Though incorporated in 1980, Saraya Industries signed an agreement with the Punjab Government on December 12, 2008 -- less than a year after the SAD-BJP government came to power. The agreement, which was followed up with an MoU on January 12, 2009, with the eight sugar mills was for a much-publicised project for producing electricity from agricultural waste, especially sugarcane residue. The project was to collectively yield around 150 MW electricity.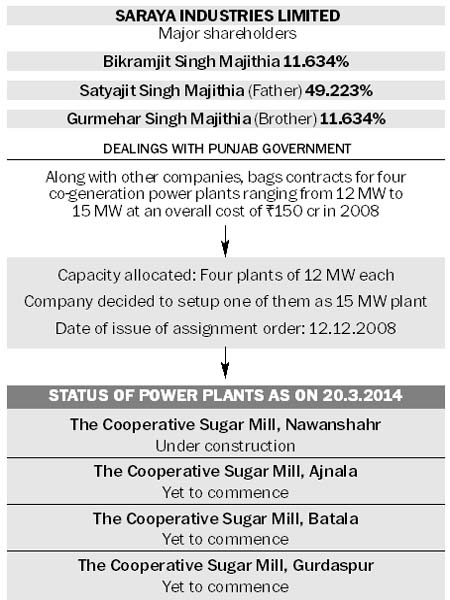 Reviving sugar mills
The co-generation concept was floated not only to revive sugar mills in the cooperative sector, but also to meet the mills' power demand and, of course, to generate revenue. The companies were mandated to set up co-generation plants besides modernising and upgrading the eight-odd sugar mills on a build-operate-transfer (BOT) basis.
As per the agreement signed with Sugarfed, the cooperative sugar mills of Nawanshahr, Ajnala, Batala and Gurdaspur were to be provided with co-generation energy plants by Saraya Industries. Apart from Saraya Industries, there were several other companies that bagged similar projects. It was estimated that setting up a co-generation plant of 1 MW would cost Rs 3 to 5 crore. Each mill was to have a power generation capacity of at least 12 MW. Saraya Industries had, however, in at least one place offered to set up a 15-MW plant. In all, Saraya Industries would have to invest around Rs 150 crore to set up these plants.
PEDA as facilitator
Sources in the Punjab Energy Development Agency (PEDA) confirmed that though the agreement was signed by the Punjab Cooperation Department, its facilitator was PEDA. The Implementation Agreement for co-generation was to be signed with PEDA, which included sale of electricity and import of machinery. This is one of the departments reporting to Bikram Majithia and may lead to a conflict of interest. When The Tribune contacted Bikram Majithia, he denied anything amiss and said, "I have done no wrong and anybody can inquire anything anytime."
The Tribune spoke to Saraya Industries director Pradeep Ahuja and he stated: "The agreements were signed through open tendering in which there were five bidders. Saraya Industries got the tender on merit for four mills. We started in Nawanshahr, but did not do so in other places as we felt it was not viable. We got no work due to Mr Bikram Singh Majithia. Though he is a shareholder, he has nothing to do with the company's day-to-day working."
Sale of extra power
Such a large investment made by companies such as Saraya for these projects was to be recovered by selling the extra power generated to the state power corporation grid. As per the agreement, the co-generation contractors were to share their revenue from total sale of electricity — ranging from 5.5 per cent to 10.25 per cent — with the mills.
However, a minimum income of Rs 25 lakh per annum for smaller mills such as Batala and Rs 50 lakh for bigger mills such as Nawanshahr, Ajnala, and Gurdaspur was to be paid by the contractors. In addition, steam and power for in-house consumption in the sugar mill was to be provided by contractors free of cost.
Delay in completion
The agreement stipulated that the co-generation plants would be completed by August 31, 2010. However, in the case of Ajnala, Gurdaspur, Nawanshahr and Batala mills, Saraya Industries gave January 31, 2012 as its date of completion. But, according to the status sheet prepared by PEDA, as of March 20, 2014, while the Nawanshahr project is under construction, work on others in Ajnala, Batala and Gurdaspur is yet to commence.
Apart from Saraya Industries, companies that bagged similar contracts for setting up power plants - such as A2Z Maintenance and Engineering Services Ltd, Gurgaon and Purb Infrastructure Projects Limited -- have also had issues in setting up the projects according to the agreed time schedule.
The Sugarfed response
Sugarfed managing director MP Arora, when contacted, refused to comment saying he was unaware of the federation's business dealings with any company belonging to the Renewable Energy Minister. He said all four mills were in working condition though timely start of co-generation plants would have fetched the desired revenue.
On delay in commencement of works, Sugarfed general manager HS Sarangal said while some companies, including Saraya Industries, had started work at the Nawanshahr mill, it was yet to start in other places. "I can tell you the reasons only when I go into details," he said.
The blame-game
The laggard companies, however, maintain that the reason for the delay in the execution of work was delay in clearances from the Union Ministry of Environment & Forests and the State Pollution Control Board.
Official documents also suggest that in some cases, the work on co-generation plants could not start due to delay in financial arrangements by the concerned contractors.
Also, there was a delay in signing the land lease deed with the mills, as the contractor failed to deposit the agreed amount of Rs 2 crore each for modernisation of the mills in the mandated period. The delay caused a loss to the mills in sharing of the revenue from sale of power, as per the agreement.
More power to PEDA
In December, 2012, the Punjab Government formulated its 'New and Renewable Sources of Energy (NRSE) Policy' wherein PEDA is to be the nodal agency for the implementation of the policy on behalf of the state government. According to this policy, PEDA will be responsible for laying down the procedure for inviting proposals from NRSE project developers i.e. preparing bid documents, managing the bid process, evaluation of project proposals and its award to successful bidder, project approvals and scrutiny of DPR, project implementation and monitoring.
All NRSE project developers in the state (including captive, cogeneration, IPP and merchant power developers) will be required to submit their project proposals with PEDA for approval and validation for sale of power in or outside the state.
Tomorrow: transport