Ceramic engineering

Ceramic strength
With a lot of research potential and a widening spectrum, this branch of engineering offers exciting career prospects
Every year thousands of students apply for engineering programmes without even a faintest idea of which field of engineering they wish to get into, or the kind of work they wish to do after getting an engineering degree. Engineering is not so much one career, but is more of an expertise that opens doors to a vast range of jobs. Engineers design and manufacture the hardware of life. They also repair, modify and construct efficient and economical products, by applying scientific principles to a variety of solutions.

Career Hotline
Which universities offer GIS courses?
Q. I am a student of geography and will complete my bachelor's degree next year. I am very keen to enter the field of remote sensing and GIS. But I don't know which universities offer this course. Please help. — Shweta Tiwari

news board
Finishing school in production engineering
The Indian Machine Tool Manufacturers' Association (IMTMA) is organising an exclusive hands on course "Finishing school in Production Engineering" at IMTMA Technology Centre, Bangalore to enhance skill sets of engineers and supervisors from manufacturing industries.

CareerCature
SANDEEP JOSHI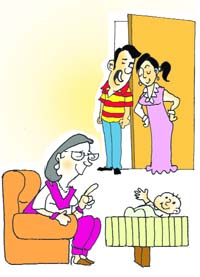 She is getting her first lesson for success in competitive exams.
course chat
BSc in Sports Technology
The School of Mechanical and Manufacturing Engineering at UK's Loughborough University is offering BSc in Sports Technology course.
scholarship roundup
Australian Endeavour
Australian Government is inviting applications for its Endeavour Postgraduate Scholarship for international students. These are internationally competitive, merit-based scholarships offered to undertake a postgraduate qualification at a master's or PhD level either by coursework or research in any field of study.
online content writing
Moms in business
Almost every housewife, however happy and satisfied she may sound, inwardly struggles with a single question as she wakes up in the morning, does the household chores, makes the beds, shops for groceries, feeds the children and lies beside her husband at night: "Is this all?" If the same question nags your mind and you do not want to trade off your family responsibilities also, you can think of other alternatives that do not involve dressing up in the morning and commuting to the office, but would provide you moolah as well as satisfaction that economic independence brings.
First person
Vandana Kapoor, a mother of two, who started her business from her kitchen, and today has a mid-size catering business to her credit shares her experience.
subject matter: virology
Where each day is a new challenge
Virology is the study of viruses and virus-like agents; their structure, classification and evolution, their ways to infect and exploit cells for virus reproduction, the diseases they cause, the techniques to isolate and culture them, and their use in research and therapy. Virology is often considered a part of microbiology or of pathology. A major branch of virology is virus classification.
course cruising
PG Diploma in Sports Medicine
Applications are invited by Netaji Subhas National Institute of Sports, Patiala, from qualified candidates in AIPGMEE- 2014 for admission to PG Diploma in Sports Medicine 2014-16 session.
campus notes
Pt B.D.Sharma University of Health Sciences, Rohtak
National CME-workshop on TB, critical care
The Departments of Pulmonary and Critical Care Medicine (PCCM) and Tuberculosis and Respiratory Diseases, Medicine and Rheumatology at PGIMS under Pt B.D.Sharma University of Health Sciences organised a national CME-workshop on Critical Care and Tuberculosis: Challenges in Diagnosis and Management here recently.
in conversation
Nurture talent to stem attrition
Talent retention is an oft discussed topic. A lot is being said about the scarcity of talent and the need to retain and engage top talent. The current economic scenario is going to make employee retention all the more important as global economic growth is predicted to recover by 2014 end and 2015 start, driven largely by emerging markets. And as growth returns, job markets and staff turnover will pick up.
smart strategy
Thrive in hard times
Do you want to turn entrepreneur to become your own boss or because you do not relish working under others? Entrepreneurship can be very fulfilling and exciting, but there are certain problems associated with entrepreneurship that may not be apparent to you. When you face hard times as an entrepreneur, there are certain things you have still to take care of.
Book shelf
With entrepreneurship becoming the latest buzzword in business corridors, the number of youngster venturing out on their own has been increasing steadily over the past few years. Each one of them has a passion and each one has dreams of making it big, but the measure of success is not the same for all. Why some people fail while others are able to brave all the storms and succeed in spite of so many failures"?
cubicle trends
One in six employees falls asleep at desk
Tired at work and desperately looking for a corner to take a quick nap? You are not alone — as a new research reveals that one in six workers falls asleep at the desk at least once a week.
Happiness @ work
Gems of ancient wisdom
Leave at your own risk
While the employer wants to utilise his staff to the fullest, the employee wants to strike a balance among work, play, family and rest. Such divergence in views makes leave-taking a tricky business. The auspicious hour for Amar Singh Rathor, a commander in the Mughal army, to bring his bride home had been fixed. Emperor Shah Jahan only granted leave for seven days.