M A I N N E W S
Big battle: 89 seats, all eyes on Punjab, Gujarat
High-voltage contests in Amritsar and Bathinda
Sarbjit Dhaliwal
Tribune News Service
Amritsar


Capt
Amarinder Singh (Congress)


Arun Jaitley (BJP)
Bathinda


Harsimrat
Kaur (SAD)


Manpreet S Badal (Cong-PPP
-CPI)
Gurdaspur


Partap Singh Bajwa (Congress)


Vinod Khanna (BJP)
Chandigarh, April 29
After slogging of more than four weeks, the big day has arrived for 253 politicians who are trying their luck for the 13 Lok Sabha seats in Punjab. Their fate will be sealed tomorrow. The big guns among them include Capt Amarinder Singh, Arun Jaitley, Harsimrat Kaur Badal, Manpreet Singh Badal, Preneet Kaur, Ambika Soni, Partap Singh Bajwa, Vinod Khanna, Sukhdev Singh Dhindsa, Sunil Jakhar and HS Phoolka.
Patiala


Preneet Kaur (Congress)


Deepinder Singh Dhillon (SAD)
Anandpur Sahib

Ambika Soni (Congress)


Prem Singh Chandumajra (SAD)
The initial thought was that it would be a straight contest between the SAD-BJP coalition and the Congress in all 13 constituencies. However, the late entry of the Aam Aadmi Party (AAP) into the poll arena seems to have made the contest triangular in 11 constituencies.
In fact, the emergence of AAP has made the electoral battle so complex that it has become difficult to prejudge the outcome now.
The Opposition parties are banking on issues like black marketing of sand and gravel, drug addiction, property tax, unemployment and stateís shaky economy to target the SAD-BJP government, while the ruling coalition has been publicising its development agenda in its attempt to emerge victorious.
The national leaders who campaigned in the state for these elections included BJP prime ministerial candidate Narendra Modi, Congress president Sonia Gandhi and Congress vice-president Rahul Gandhi. Many film stars also campaigned for various candidates.
The state, which has around 1.95 crore voters, witnessed war of words among various contestants, especially former Congress Chief Minister Capt Amarinder Singh and BJP top shot Arun Jaitley. They are contesting for the Amritsar seat.
Bathinda is witnessing another big fight. Chief Minister Parkash Singh Badalís daughter-in-law Harsimrat Kaur is pitted against his nephew Manpreet Singh Badal for this seat.
Popular comedian and AAP candidate from Sangrur Bhagwant Mann took potshots on his opponents, especially Sukhdev Singh Dhindsa of the SAD and Vijay Inder Singla of the Congress.
In Anandpur Sahib, senior Congress leader Ambika Soni is contesting against SAD leader Prem Singh Chandumajra and AAP candidate Himmat Singh Shergill.
In Gurdaspur, film star and BJP candidate Vinod Khanna is pitted against Punjab Pradesh Congress president Partap Singh Bajwa and AAP candidate Sucha Singh Chhotepur.



D-Day for Sonia, Modi, Rajnath
Tribune News Service


MM Joshi
Kanpur


Uma Bharti
Jhansi


Asaduddin Owaisi
Hyderabad


Kirti Azad
Darbhanga


Rajnath Singh
Lucknow


Sharad Yadav
Madhepura
New Delhi, April 29
The electoral fate of some of the biggest names on the Indian political scene will be sealed on Tuesday as 13.9 crore voters will vote in seven states and two union territories to elect 89 MPs in the seventh phase of polling in the ongoing nine-phase General Election.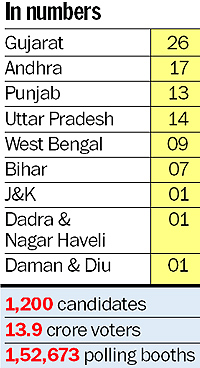 The whole of Gujarat and Punjab goes to the polls tomorrow along with some seats in Uttar Pradesh and Bihar that will decide the fate of top guns, including BJP prime ministerial candidate Narendra Modi, Congress president Sonia Gandhi, BJP president Rajnath Singh, BJP senior leaders LK Advani, Murli Manohar Joshi, Arun Jaitely and Uma Bharati, Farooq Abdullah (National Conference), cricketer-turned-politician Kirti Azad (BJP), Sharad Yadav, Telagana movement spearhead K. Chandrasekhar Rao, S. Jaipal Reddy and MIM president Asaduddin Owaisi.

In Punjab, the Election Commission has asked for sealing for borders to stop the flow of liquor and drugs. Jaitley and Amarinder will battle it out in the holy city of

Amritsar in is one of the most keenly watched contests in the country with high stakes on either side. Actor Vinod Khanna of the BJP and Punjab Congress president Partap Bajwa are locked in a tight contest. Harsimrat Kaur Badal faces her estranged brother-in-law Manpreet Singh Badal while comedian Bhagwant Mann is making waves in rural Sangrur.

In Uttar Pradesh, Congress president Sonia Gandhi is seeking her third consecutive term from Rae Bareli, while BJP president Rajnath Singh is pitted against Congressí Rita Bahuguna Joshi. Modi is seeking to be elected from Vadodra and Advani from Gandhinagar.

The battle for Vadodra will see Modi in a high-voltage contest against the Congressí Madhusudan Mistri. BJP leader Murli Manohar Joshi, who, having been eased out of Varanasi by Modi, will face three-time sitting Congress MP and Union Minister Shriprakash Jaiswal in Kanpur, Sawajwadi Partyís Surendra Mohan Agrawal, Bahujan Samaj Partyís Salim Ahmed and AAPís Dr Mehmood Husain Rahman.

Telangana, the new state-to-be, will also elect its first assembly along with representatives to Parliament when elections will be held in 119 Assembly constituencies and 17 Lok Sabha seats in that part of Andhra Pradesh. Key contestants include Union Minister S. Jaipal Reddy, TRS chief K. Chandrasekhara Rao and his daughter K. Kavitha. Bihar will decide the fate of Sharad Yadav, Hukum Deo Narain Yadav, Kirti Azad, Pappu Yadav, and NRI doctor Prabhat Ranjan Das.

In West Bengal, the ruling Trinamool Congress and the main opposition CPM are the main contenders in the poll battle. The BJP has, meanwhile, fielded celebrities such as famed music composer Bappi Lahiri (Sreerampur), Bengali actor George Baker (Howrah) and journalist-turned-party spokesperson Chandan Mitra (Hooghly).

Elections are already over in 349 constituencies in the first six phases. Yet again, Congress and BJP have big stakes in tomorrow's elections with 35 and 23 seats in their bag, respectively, which were won in the last elections.