A man of many words
There isn't a need to read between the lines; he says what he means and means exactly what he says! There is no mincing of words despite the fact that he is one of the most reverred Urdu poets, someone who translates emotions into poetry and weaves magic with words. For Pakistani lyricist and poet SM Sadiq, stating the facts and speaking the truth is important, as that he believes only prevails. He doesn't enjoy the food in India, "because it lacks the flavour of Lahore", appreciates that art is valued more in India than in Pakistan and hopes his country amends the flawed copyright laws. It was the premiere of Jatt James Bond, for which he has written four songs, which brought him to Chandigarh a week ago and he has stayed on to contribute to more Punjabi films.






LINE UP: SM Sadiq

The perfect act

Post nine films and nine years in Bollywood, not much has changed for Vikram Singh. Neither in terms of work, nor in the form of recognition; he is still a struggling actor, taking auditions for all roles coming his way. Well-versed with the fact, Vikram is hoping it would all change with his next film, Heropanti, in which he plays the role of an anti-hero. "A lesson I have learnt after spending all these years in Bollywood is that a flop, big-budget film with bigger cast is better than doing a small-budget, hit film." Heropanti, he says, falls in the first category, for it is being produced by Sajid Nadiadwala and marks the debut of Tiger Shroff.
Vikram Singh

Date to remember
Twenty-two-year-old Rohan Malhotra is looking forward to the peak of summer to dive into a swimming pool. His reason is not to beat the blistering heat, but interact with others of his ilk as swimming pools are the new hotspots being preferred by youngsters for meeting up and forming relations!
The 'in' side


Plum share
Plum is a colour that's on the mind of every interior designer today. It's a purple with a lot of red in it, somewhere between purple and magenta. It's a vibrant colour that's warm, classic and regal. It can make any room look super glam! Even the name itself implies superiority and begs you to give it attention.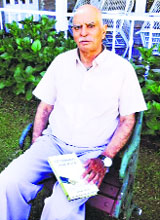 The middle path
It is more than the fact that they broke the monotony of editorials and opinions. His middles reached out for their sheer simplicity and everybody connected with the little incidents of life they had not even led. "We are all ordinary human beings and even ordinary life needs to be celebrated in some way… The middles connected with a large number of people because they pointed the extraordinary factor in little incidents of life we generally overlook," academician and author Harish Dhillon shares of his recent book that puts most of his middles together before briefing on how his affair with middles began.


Word power: Harish Dhillon

Different mood, different expression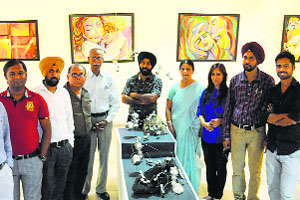 When art originates from the emotional reserves of an artist, it elaborates on the expression of the enigmatic, which is often honest and raw. In most of the paintings exhibited at the Sobha Singh Art Gallery, Punjab Kala Bhawan, it's not very easy to sift the aesthetics from the thoughtfulness, which blend so seamlessly in every painting that stares right back at you, rather poignantly.

Expressions 2014 showcases works of 30 artists Photo: Manoj Mahajan

Master Chef


I see red!
I saw red velvet cake for the first time in a quaint little shop in Windsor. I was a young student then, constantly ready to sample anything, so long as it was appealing to the eye and mind. For the same reason, I couldn't bring myself to munch on fried cockroaches on sticks, displayed in a food joint in Soho. Getting back to red velvet, I promptly bought a cupcake from a weathered looking man who tried to sell me a few more. Trust me, I did buy a half a dozen as soon as the first vanished down mygob! Rich, moist, and delicious, that's three words that describe it, though I can think of countless others. Red velvet is invariably topped with the iconic cream cheese frosting which is slathered on generously on the surface and can also be used between sliced layers of the cake. You can also frost it with vanilla flavoured sweetened cream.

TROUBLE SHOOTER
Take it easy
I just go along with people all the time. I can disagree with what someone tells me yet all I do is nod my head and don't say a word. I want to put forward my own views but I can't. I can't stand up for myself at all.
star track
Being Lakshmi
Singer-turned-actress Monali Thakur plays the role of a victim of child prostitution in Nagesh Kukunoor's latest film, Lakshmi. In a candid chat, she talks about her role and more...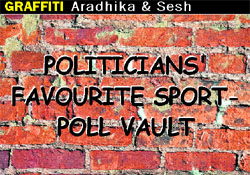 Katrina injured


Fan mail


Will she, won't she?


Bond over giggle


Competitive spirit


Time for love


Strip tease


Akshay blings


Gujarati act


Kriti in demand
chatter box
The last breath
Buzz is that Pankhuri (Disha Parmar) will soon die in Star Plus' Pyaar Ka Dard Hai…Meetha Meetha Pyaara Pyaara. After being left defeated by Aditya (Nakuul Mehta), Vikram (Apoorva Agnihotri) will plan to kill him. With Aditya in Pune and Pankhuri in Kullu, the plan would be to kill Aditya when his dear wife is not around to save him as always. But this time too, Pankhuri will get a whiff of the plan and call up Aditya in the nick of time and save him from his impending death.



Fit & fine


Hands full!


Time to quit


Break time


Moving on


Vote for Gangs of Hasseepur!