M A I N N E W S
Jat, Dalit youths clash at Rohtak village
Tribune News Service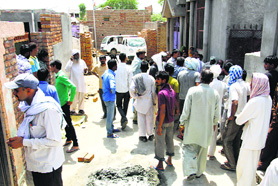 People at the scene of a clash between two groups at Sisar Khas village in Rohtak on Thursday. A Tribune photograph

Sisar Khas, May 1
Tension gripped Sisar Khas village on the Bhiwani road in Rohtak district after nearly 50 armed youth stormed a Dalit locality, assaulted residents and damaged their property over a trivial matter on Wednesday evening.
The clash erupted after youths from Jat and Dalit communities picked up a fight over a small issue. "The Jat youths called their supporters and nearly 50 of them, including some from nearby villages, attacked the Dalit locality," said Pritam Singh, the village schoolteacher.
Six persons were injured and a few vehicles parked in the locality were damaged in the clash. The police registered an FIR against 15 villagers. Local administrative and police authorities defused the situation today by effecting a truce between the two sides.