CENTRESPREAD
Hair sparklers
Flowers like mogra and roses have always been used in the hair to add zing to one's look. Designer accessories made with precious metals and gems are replacing these natural flowers
Surekha Kadapa Bose
"Hair brings one's self-image into focus; it is vanity's proving ground. Hair is terribly personal, a tangle of mysterious prejudices."
— Shana Alexander.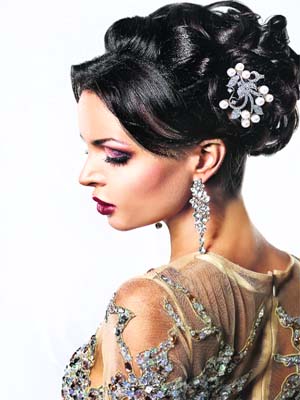 Hair is the most striking feature of a person. So it becomes even more important to make it appear the most beautiful 'organ' and hence, needs good accessorising. While the hair can look good even when left free flowing, adorning the hair with an accessory will increase the enchantment value.
For ages women in India, Greece, Japan, China, Hawaii, Africa and several other places have always depended on flowers like mogra, roses, hibiscus, orchids and whatever else is locally available to add that zing to their look by strategically placing these flowers in hair.
Now high-profile designers have stepped in and precious metals and gems are replacing natural flowers. A hair accessory has become a status symbol. For example, an Anna Khouri hand-crafted gold clip, Miu Miu crystal and pearl hair band, Tara's white diamond and ruby hair clips, Mirari's gold and diamond hair clip or any other designer hair accessory that will give you the royal touch?
And none of these come cheap! An Anna Khouri's hand-beaten 18k gold hair clip costs $27, 771 (Rs 17,04,000), Dolce and Gabbana's embellished head band costs $ 2054 (Rs 1,26,000), or back home Tara Jewellers, Mirari diamond hair clips or Annu Chadha, Alpana Gujaral's maang tikka cost more than Rs 5,00,000!
Talking about the high-priced branded hair accessories, jewellery designer Annu Chadha says, "These are very limited edition or collector's items. In the West, hair accessory is a big trend. Hair adorned with tiny clips, hair bands or even a small tiara increase the glam quotient. In India, the trend of hair accessories is catching up, especially among young girls. They are willing to experiment with their looks and accessories".
Jewellery designer Prakshi Sharma says, "It is a trendy option and young women use them. We can't say a handful of women but most of them use it. If we talk about New Delhi and Punjab, the crowd here uses hair accessories to beautify their hair."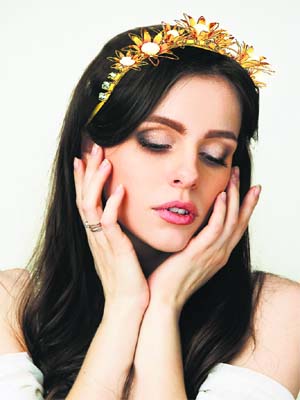 In India, the traditional hair accessory was maang tikka, which was used especially by north Indian married women. Today this piece has got pan-India recognition especially after several Hindi films and TV actors started flaunting it at all big fat Indian weddings on screen. From a traditional and religious ornament, it has become a fashion statement among young brides. Maang tikkas come in all pocket sizes — from simple gold to diamond or polka-studded tikkas.
Besides a bunch of white mogra venis, South Indian girls also adorn their hair with accessories made of gold studded with red precious stones covering the entire length of the braid. A typical Bharatnatyam dancer is usually seen with this accessory, albeit not made of precious metal. Unlike olden times, today very few designers create these in precious metals and stones. And also there are not many takers as it can be adorned only with traditional clothes like a sari or a half-sari worn over a long skirt, the way Deepika Padukone wears in Chennai Express.
But these are for traditional jaunts. Women today are opting for unique hair accessories, especially when they have role models in actors like Deepika Padukone, Katrina Kaif, Alia Bhatt, Anushka Sharma and others who trendily tie up their hair either with a side clip, barrette, bobby pins or a band. And there is absolutely no rule which says that you need flowy mane to sport these accessories or that these should be used only to keep your hair in check. Sometimes just to get that different look or different mood, one can accessorise hair.
The most popular international trend is the head band. And it is not only the schoolgirls who wear these. Head bands look extremely elegant when you wear your hair in a lose bun with few lose wisps of hair touching your forehead, or of course, when you want to leave your hair lose. And it can be worn with both formal as well as casual attire. You can get silver head bands with crystals attachments, gold-toned bands with gold or other flowery motifs, embellished velvet bands, or even ones in leather and ,of course, we have cheaper varieties in plastic.
Designer Sonal Sahrawat of Bijoux says, "Even brooches, single large danglers, hoop earrings can be clipped on one side of the head, just above an ear, like a Kathak dancer uses to adorn her hair. These are very trendy, and at the same time, add an aesthetic touch to an outfit. Precious metal or gems ornament can be replaced by costume jewellery for an informal occasion."
Many girls love to flaunt a tiara. A tiara is a small crown which sits back on top of the head. Designers know that the tiara is for a very special occasion and so prefer to make it into a convertible jewellery piece. A cuff with a flexible central hinge becomes easier to convert into a small tiara.
But a tiara has its limitations. Unless you are attending a fancy dress competition, walking the ramp, getting married, celebrating your 25th, 50th or 60th wedding anniversary or are a real queen, using a tiara is a complete no. Exchange the tiara with cluster of simple bobby pins made in coloured gold, white or black silver worn in five or six numbers. These make a lovely hair accessory. The best part of these modern hair accessories is that these can be worn with any attire — Indian or western. These look great on jeans T-shirts, dresses, gowns, salwar kameez or saris!
Taki de!
Sarah Painell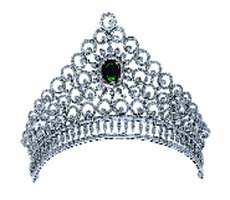 Royal touch
A real royal touch is added when a small tiara designed by Prakshi Sharma in white gold, white diamond and a centre large emerald sits pertly on the middle of your head. The hairpiece will make sure that you will be the all-important person of a get together.
Price: Rs 6,21,000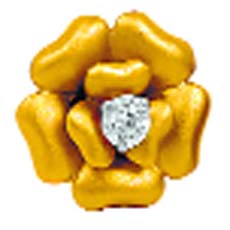 Pin point
Available in single pins, these roses in 18k gold and a white central diamond by R. K. Jewellers will add their own beauty to your hair. These pins can be placed anywhere on the jura (bun), on braids or all over the head. Wear it in cluster for special occasion or in singles for casual wear.
Price: Rs 25,000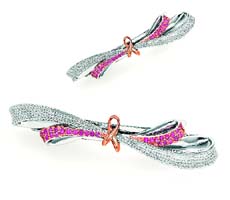 Clip for a cause
The dainty hair clip is crafted out of pristinium with pave and prong set pink sapphires and milgrain work with white and pink rhodium. The novelty about this hair clip from Tara Jewellers is that it is specially designed to help patients of breast cancer. Incorporating the Pink Ribbon, 20 per cent of the proceeds from the sale of these clips will be donated to the Ogaan Cancer Foundation.
Price: Rs 1,999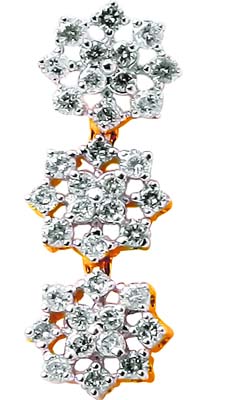 Classy clip
A larger hair clip by R. K. Jewellers made of 18-karat gold and diamonds looks great even when you clip your hair in a simple pony style at the back, pin up and let your hair lose on one shoulder or use it as a centrepiece in a large old-fashioned jura. The clip can be worn both on western or Indian wear.
Price: Rs 50,000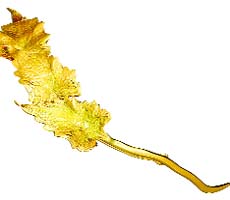 Leaf beauty
One of the costliest hairpins, the leaf has been exquisitely handcrafted by designer Ana Khouri from 18 k gold. Wear this enchanting adornment and you wouldn't need anything else to adorn you. To enhance the beauty of the clip, wear a monochrome silk gown in red or turquoise and watch other envy you. Of course, it is limited edition item, so try your luck to procure it.
Price: Rs 17,00,000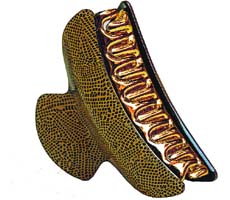 Clasp it tight
On a lunch date with colleagues or classmates, the casual black hair grasp, with golden-coloured teeth to hold hair tight adds a slight glamour to an otherwise casual outing. The easy to handle hair grasp by Ayesha accessories, comes in handy for an easy clipping of hair.
Price: Rs 248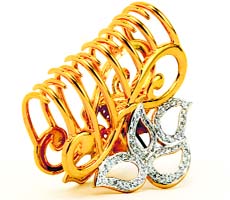 Diamond clasp
Imagine flaunting a gold-diamond hair grasp. Crafted beautifully by jewellery designer Alka Kumar, the 18k gold teeth with white diamond clasp is a classy adornment for a formal party. Long tresses cascading either on an off shoulder gown or a brocade-bordered sari, will look graceful.
Price: Rs 1,20,000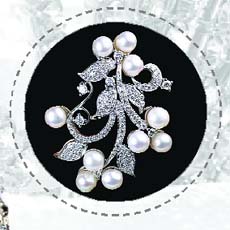 Cabochon hair grasp
A romantic night out needs an equally alluring hair accessory of the right kind. A diamond and ruby cabochon hair grasp from Mirari, set in yellow gold will highlight not only the hair but also give a classy touch to your overall appearance.
Price: Rs 2,48,000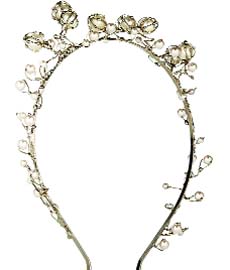 Pearl splash
There is something elfin when one wears a headband to restrict the flying mane. Rosantica's silver-dipped headband has been carefully crafted by hand. The pearls are secured on to delicate branches, creating a beautiful 3D effect. Wear it everyday or save yours for a special occasion.
Price: Rs 20,500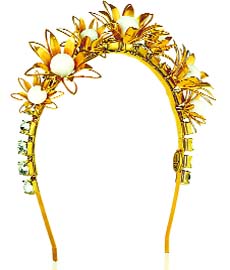 Daisy headband
Adorn your tresses with Eugenia Kim's romantic gold-plated 'Daisy' headband. This charming boho-chic piece is embellished with white beads and clear crystals and boasts a secure fit. Any college outing —be it films, concert, or a pizza binge will suit this headband. Looks great on jeans T-shirt also jeans and kurti.
Price: Rs 19,000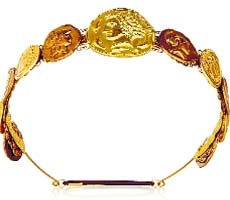 Trendy accessory
Ancient coins were a major motif at Dolce & Gabbana's Spring show. This gold-tone headpiece features an elastic band at the back for a flexible fit. The metallic twill lining ensures it feels comfortable to wear, too. A trendy accessory for a western outfit, it's great to let your hair lose.
Price: Rs 75,000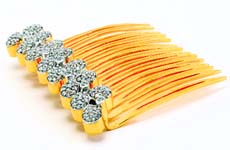 Gold comb
The hair loom or small gold comb by jewellery designer Alka Kumar is for beautiful Indian hair. Insert it on a typical classical hair chignon on your nape. Sparkling white diamonds forming the wide bridge on the long gold teeth will add lustre and style to your attire. This will look great on any western, Indian, ethnic or formal dress.
Price: Rs 1,30,000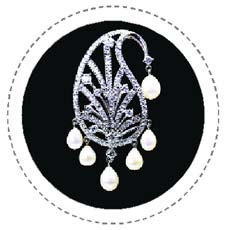 Get bejewelled
Indian women are blessed with black tresses. A small pert hair clip from Mirari designed in white gold set with diamonds and pearls twinkling at a night out will add mystery to your date. And the clip suits any attire.
Price: Rs 2,44,000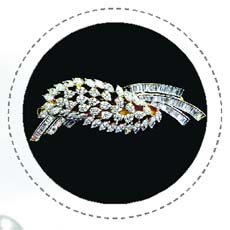 Royal clasp
Pull your hair back and clasp it horizontally with this exquisite gold with white diamond hair clasp. The clasp by designer Alka Kumar is fitted in marquise-shaped diamonds studded in 18 k gold. This will not only make you look graceful but also make you feel like a royalty.
Price: Rs 2,00,000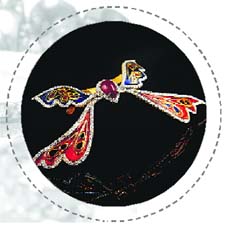 Clip brooch
Anything designed with a motif of nature always appears ethereal and captivating. This hair clip from Mirari, which can be converted as a brooch is set in white gold, diamonds and pearls. A black Kanjeevaram silk sari with this clip on a dinner date will change the ambience of the event.
Price: Rs 2,22,000