Music zone
Saurabh & Gaurav
An art pop album that balances the beautiful with the ugly
St Vincent — St Vincent (Universal)

St. Vincent's new self-titled album is her most advanced experiment to date. The album follows Annie Clark's celebrated musical partnership with Talking Heads founder and veteran collaborator David Byrne. St. Vincent showcases Annie Clark as a fiercely accomplished musician, a relentlessly original artist, and an innovator of pop. Opening track Rattlesnake sets the album's tone. Under a deceptively simple pattern of synthesiser tones, Clark narrates her lived experience of going for a walk on a Texas ranch and encountering a rattlesnake. The aura of her recent collaboration with David Byrne on Love This Giant lingers throughout the brassy Digital Witness, the lavish art-punk anthem Psychopath, and the robotic menace of Bring Me Your Loves. Birth in Reverse feels like a cry from Clark to people everywhere to not be afraid to venture out into the unknown and try new things. Huey Newton sees Clark trade her high-hitting vocal range for a lower-pitched grimace, which she uses to make her impossible stories sound real. Severed Crossed Fingers, the album's crescendo and most affecting number, contains the line "The truth is ugly, and I feel ugly, too," sung in a clarity that is rare for a St. Vincent album. With each album tangibly improving on the last, it's intriguing to imagine how St. Vincent is going to refine her unconventional sound in the future.
Best track: Bring Me your Loves
Worst track: Every Tear Disappears
A pleasant reminder of effective mainstream rock music
Drive-by Truckers — English Oceans (ATO)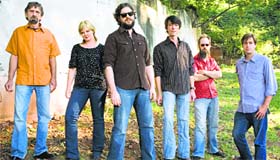 English Oceans is a welcome addition to the Drive-By Truckers discography as well as their best since 2008's Brighter Than Creation's Dark. The band's 12th LP is the first to present Hood and Cooley as equal vocal and songwriting partners, and the results are muscular and more experimental than you might expect. The album is a return to their roots; a leaner, more focused, take on their country infused rock'n'roll.
Album opener Shit Shots Count is a bright, mid-tempo rocker filled with witticisms. "Put your cigarette out and put your hat back on / Don't mix up which is which" begins the song, and is quickly followed by "Boss ain't as smart as he'd like to be / But he ain't nearly as dumb as you think." Cooley's deeper vocals bring the party while Hood's reedier voice paints vivid character pictures on When He's Gone.
Case in point is the Pauline Hawkins, an atmospheric song inspired by an oppressed character in a novel by author Willy Vlautin, which paints an evocative picture of a small-town struggle.
Primer Coat is mid-tempo melancholy, a song about endurance and struggling through incomplete lives. Highlight of this album is Made up English Oceans which changes the dynamics of the record with a different flow. The album closes on an emotional note, with Grand Canyon, written for the band's close friend and longtime tourmate Craig Lieske. A dirge in the classic sense, the song touches on God and fate and the wondrous and mysterious beauty of life.
Best track: Made up English Oceans
Worst track: When Walter Went Crazy
Rating***
Gorgeous music, nostalgia and longing
Real Estate — Atlas (Domino)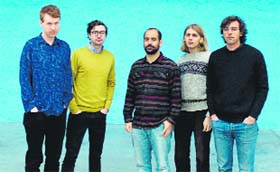 After a fantastic self-titled debut Days, Atlas further establish their talent for building tight and near-perfect tunes out of delicate guitar melodies, swaying vocals, and agile bass lines. The record starts with the promising Had to Hear, an aching track featuring interweaving guitars by Martin Courtney and Matt Mondanile. Talking Backwards is a song lamenting the perils of long-distance relationships, while Past Lives expresses how out of place it feels in old hometown. Real Estate's soaring ambitions are perhaps more obviously apparent on mid-album anchor The Bend. The track immediately recalls their earliest work, from the ambient rhythm to the metaphor of the lyrics. Primitive is among the best songs the band has written, relying on a unique blend of sturdy, country-rock melodies and delicate guitar arrangements. Horizon breaks free of the established groove of the record, but while this change of pace shows a commendable effort to diversify, the song never quite takes off. Positive, with its rattling chord progression and expressive lyrics, is a potent combination of disarming and straightforward instrumentation. Though their influences may be numerous and obvious, Real Estate still sound like themselves and everything is done at their own pace.
Best track: Talking Backwards
Worst track: Horizon
Rating **
A musical empathy over 24 years of togetherness
Elbow — The Take Off and Landing of Everything (Concord)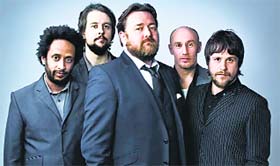 The Take Off and Landing of Everything sees the band re-embrace the intimate production values they displayed with such poise on their remarkably mature debut, Asleep in the Back. Garvey's resonant baritone remains as refreshingly distinctive as when it first appeared on the scene fourteen years ago. Opening track This Blue World is a slow-burning beautiful introduction to the album with staggeringly poetic lines like "While three chambers of my heart beat true and strong with love for another, the fourth is yours forever," confirming Garvey's top lyrical form. Fly Boy Blue has a sense of melancholy and re-visits the layered, minor-key openings of Asleep in the Back's striking opener Any Day Now. The centerpiece of the album remains Sad Captains, yet the wonderfully ornery Charge and the dreamy, subtle resignation of Honey Sun are equally as notable. On the lengthened Real Life/Angel, Garvey advises you to "Go straight back to the place where you first lost your balance and find your feet with the people that you love." The most immediately accessible track, New York Morning starts off simply with just vocals and piano before gradually building in intensity. Garvey and the band members of Elbow have always been craftsmen, focused more on finer details than instant fulfillment.
Best track: This Blue World
Worst track: Colour Fields
Rating***
Top 10 Singles
Happy..........................................Pharrell Williams (NM)
All Of Me..............................................John Legend (CU)
Dark Horse ........................Katy Perry feat. Juicy J (FD)
Let It Go.............................................Idina Menzel (NM)
Team..............................................................Lorde (FD)
The Man..................................................Aloe Blacc (CU)
Pompeii.......................................................Bastille (FD)
Loyal.............................Chris Brown feat. Lil Wayne (CU)
Hey Brother....................................................Avicii (CU)
Timber........................................Pitbull feat. Ke$ha (FD)
Legend: CU): Climbing Up (FD): Falling own (NM): Non-mover (NE): New Entry