M A I N N E W S
Ahead of polls, Chinese copters intrude into Ladakh
Arteev Sharma
Tribune News Service
Leh, May 5
Ahead of polling for the lone Ladakh Lok Sabha seat — the country's largest (area-wise) parliamentary segment — the Chinese Army made a major incursion in the Chumur area, close to the Line of Actual Control (LAC) in Leh district.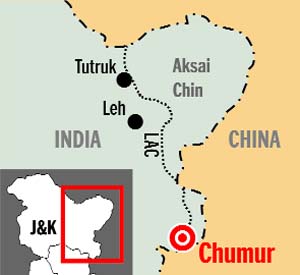 The incident occurred on May 3 when three of its helicopters entered the Chumur area and conducted a recce for some time. Chumur is one of the farthest areas in the Ladakh Parliamentary segment were the Election Commission (EC) has set up a polling station for voting on May 7. The polling station there has been set up for around 80 voters. Sources told The Tribune that three helicopters of the Chinese Army entered the Chumur belt and conducted an "aerial survey" of the area on May 3, four days before voting.
Jammu and Kashmir has a 198-km-long international border (IB), 744-km-long LoC, 121-km-long Actual Ground Position Line (AGPL) with Pakistan on one side and 804-km-long LAC/IB with China. "It is not yet clear why these helicopters entered the Chumur area. Three helicopters stayed in the area for a short period and returned to the Chinese side," a source said.
It is feared that Peoples Liberation Army (PLA) troops deployed along the LAC could make attempts to disrupt the election process in the polling stations close to the China border, sources said. "At least 16 polling stations of the Ladakh seat are located close to the border with China. Seven polling stations — Chumur, Demchok, Mann, Merak, Khaktad, Korjok and Chusul -- are located very close to the LAC. Chusul is the area were Indian and Chinese Army Commanders generally hold flag meetings," sources said. Sources said that the authorities were concerned that PLA troops could enter Indian territory on May 7 and disrupt voting at these polling stations.
Sources said that Returning officer, Ladakh parliamentary constituency, Simrandeep Singh, who is also the Deputy Commissioner of Leh district, recently had a meeting with Army Commanders here.
He sought their help for the smooth conduct of elections at all polling stations of Ladakh located close to the Pakistani and Chinese borders in case any 'nefarious attempt' was made to disrupt elections by the troops of these countries.
At least nine polling stations have been set up close to the border between India and Pakistan in Ladakh, sources said. There was a possibility of some "misadventure" from the other side during voting at these nine places. "These polling stations are Dha, Beima, Hanu, Turtuk, Tyaksh, Thang, Bojhdag, Chalunkha and Tonysted. Tonysted polling station is located at the Siachen base," sources said.
The Election Commission has set up 531 polling stations -- 274 in Leh district and 257 in Kargil district -- for nearly 1.6 lakh voters in Ladakh parliamentary segment.
Under threat
The EC has set up 531 polling stations -- 274 in Leh district and 257 in Kargil district -- for nearly 1.6 lakh voters in the Ladakh parliamentary segment
Seven polling stations -- Chumur, Demchok, Mann, Merak, Khaktad, Korjok and Chusul -- are located close to the LAC with China
Nine polling stations -- Dha, Beima, Hanu, Turtuk, Tyaksh, Thang, Bojhdag, Chalunkha and Tonysted -- lie close to the border between India and Pakistan in Ladakh