Chest…at best!
Hey Arnie, are you listening? Someone just boasted of a 56-inch chest, just an inch lesser than yours and that too without toiling with the 450-pound weights. He is even thumping it loud and claiming that it will help the country progress, while you just managed one US state. Maybe it's a wake-up call for Arnold Schwarzenegger!
Flip side of the coin
It is an honest attempt to scare the living daylights out of the audience, frighten the viewers enough to register a social message, touch a new high in Punjabi cinema; initiate a wave and hopefully the one that will have a ripple effect. At the end of the day, it is an endeavour to offer meaningful entertainment that qualifies for timeless cinema.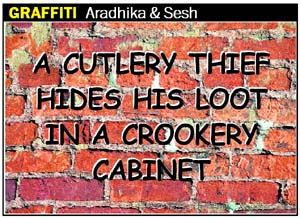 Verse by verse
Gaining from interaction with learned people and learning from life is Varun Garg's motto in life. He has hardly wasted any time on unfruitful pursuits. Having completed an engineering course, pursuing business along and wanting to pursue law, Varun remains a poet at heart.
gyan zone
Tension no more
Perhaps it is the humility of his disposition, which reflects in the tranquillity of his composed expressions. Dr Sarvinder Gandhok is a Chandigarh-based consultant physician and child specialist and practices at his clinic, Lifeline Care and Diagnostics.
Spice Route
If rich traditional food finds favour with you, Awadhi Food Festival at Regenta Central Ashok Chandigarh is a must check out.
Fresh import
Oregano at JW Marriott, known for its exotic mix of traditional style cooking infused with fresh herbs and spices, now expands its boundaries to bring to its patrons the all-new Italian dishes and signature recipes from different parts of Italy.
star track


Anu Malik turns Tarzan!


Aditya is a momma's boy!


Kick-ing in full swing


Simply elegant


On sick leave
chatter box


Timely action


B-day bash


Child's play!