M A I N N E W S
103 captive workers freed in Jhajjar
Ravinder Saini
Tribune News Service
Jhajjar, May 8
A team of National Human Rights Commission (NHRC) with the help of Bahadurgarh police got 103 bonded labourers, including women and children, freed from the captivity of a brick-kiln owner in Mukundpur village in this district last night.
All the labourers belong to Bihar. Most of them were working with their families. They wanted to go back to their villages but were allegedly not being allowed to go by the brick-kiln owner.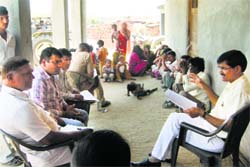 Assandh SDM Vir Singh talks to the people during a search operation at a village in Karnal's Rahra on Thursday. Tribune photo
The Bahadurgarh police have started investigations after registering a case against Hawa Singh, owner of Suman Brick-kiln, under Section 342 (wrongful confinement) and 34 of the Indian Penal Code (IPC) on the complaint of a labourer, Chandan.
Earlier, following a complaint about bonded labourers working in various brick-kilns in the district, the NHRC team reached Bahadurgarh last evening and raided Suman Brick-kiln at Mukundpur village.
During the raid, Chandan allegedly informed the NHRC team that most labourers had been held captive just because they had borrowed petty sums from the brick-kiln owner.
"I had borrowed Rs 6,000 from the owner some months ago. Though I have been working along with my wife at the kiln, the owner has refused to clear our dues and is not letting us return to our village," alleged Chandan.
Refuting the allegations, Hawa Singh said no one was held captive and all were working as per their wish.
Jhajjar SP Balwan Singh said a case had been registered against the brick-kiln owner.
More rescued in Karnal
Karnal: A case of exploitation of migrant labourers from UP at a brick-kiln at Rahra village of Assandh block has come to light. As many as 17 labourers and 10 children, residents of Kurana Nanota village in Sharanpur district of Uttar Pardesh, were rescued by Assandh SDM Bir Singh and other officials. Acting on the order of the Punjab and Haryana High Court, officials of various departments led by the SDM raided the brick kiln in Rahra village, 52 km from the district headquarters, and rescued the labourers. - Parveen Arora