M A I N N E W S
WHO shocker: Indian cities have dirtiest air, Delhi leads
Vibha Sharma
Tribune News Service
New Delhi, May 8
The World Health Organisation (WHO) has pegged air quality in most cities worldwide below its guidelines for safe levels, but India appears among the worst.
According to the UN agency's latest pollution data, Delhi (not Beijing) tops the list of most polluted cities. Among the world's 20 most polluted cities in the world, 13 are in India. Of the 13, three are in Punjab: Amritsar (no. 14), Ludhiana (no. 15) and Khanna (no. 20).
India is in the group of countries that has the highest particulate matter (PM) levels. Its cities have the highest levels of PM10 and PM2.5 (particles with diameter of 10 microns and 2.5 microns) when compared to other cities, reconfirming "that most Indian cities are becoming death traps because of very high air pollution levels", says environmental NGO Centre for Science and Environment (CSE).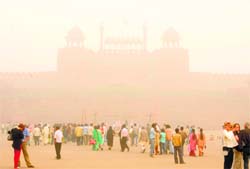 SMOGGED: Red Fort in Delhi (file photo)

At 153 micrograms, Delhi has the highest level of airborne particulate matter PM2.5, considered most harmful. These figures are six times more than the WHO "safe" limit of 25 micrograms. Untamed vehicular traffic seems to be the primary reason.

Other cities with high pollution levels are in Pakistan and Bangladesh while those with the lowest levels of pollution are in Canada, the US, Finland, Iceland and Sweden.

"Indian cities are witnessing rapid increase in air pollution and untamed motorisation. Cities need to curb pollution from all sources, but vehicles need special attention as they emit toxic fumes within our breathing zone," explains CSE's Anumita Roychowdhury.

So far as three Punjab cities are concerned, she attributes the high pollution to "local" issues. While Ludhiana is an industrial hub, Khanna is Asia's biggest grain market.

CSE director Sunita Narain said the database

only confirmed the worst fears on air pollution in the region. "Last year, the Global Burden of Disease study pinned outdoor air pollution as the fifth largest killer in India after high blood pressure, indoor air pollution, tobacco smoking, and poor nutrition. About 6.2 lakh early deaths occurred in India from air pollution-related diseases in 2010. A whopping 18 million years of healthy lives are lost due to illness burden that enhances the economic cost of pollution. Half of these deaths have been caused by ischemic heart disease triggered by exposure to air pollution and the rest due to stroke, chronic obstructive pulmonary disease, lower respiratory tract infection and lung cancer," she said.

The Auto Fuel Policy Committee is set to announce its recommendations for emissions standards for vehicles and fuels and the CSE says the government must respond to the public health crisis and give an effectively stringent roadmap to cut toxic risk from increasing number of vehicles. "India is awaiting a significant decision on the emissions standards roadmap for vehicles and fuel quality from the Auto Fuel Policy Committee led by Planning Commission member Saumitra Chaudhury. This is expected to be announced soon before dissolution of the UPA-II government.

"The committee must respond effectively to mounting evidence on worsening air quality and health damages associated with vehicular fumes. It will be criminal if the committee buckles under pressure from the automobile industry and dismisses health evidences of air pollution as 'insufficient and inconclusive' and downplays the role of vehicles," says Roychowdhury.

Air pollution fifth-largest killer

* Air pollution is the fifth largest killer in India, according to Global Burden of Disease estimates

* In 2010, about 6.2 lakh early deaths occurred in the country from air pollution-related illnesses

* Tiny particles go deep inside the lungs and trigger respiratory and cardiac problems as well as lung cancer

* India rejected the WHO findings for New Delhi, with government scientists saying the UN agency had overestimated levels in the capital

Three Punjab cities among notorious 20

Thirteen of the world's 20 most-polluted cities are in India. Of these, three are in Punjab: Amritsar (rank 14), Ludhiana (15) and Khanna (20). Experts attribute the high pollution to "local" issues. While Ludhiana is an industrial hub, Khanna is Asia's biggest grain market.