By invitation only
Vaishali Singh Chadha
The invitation card has come in for a dramatic makeover. From box invites to those shaped like scrolls or beach balls, each 'card' smacks of style and exclusivity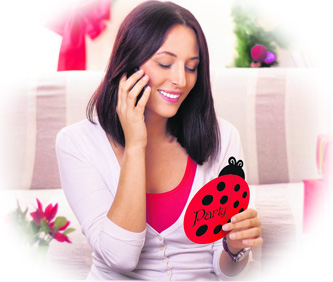 What is it that distinguishes a stylish marriage from a run-of-the-mill one? Though the list of answers can be long but the one that is trending the most is the invitation card. Gone are the days when just a plain wedding card would do. Today invites come in fanciful and myriad ways — from meticulously attractive boxes decorated with gems or Swarovski crystals, hand-painted by celebrity artists and packed either with exotic dry fruits like hazelnuts, pecans, pitted prunes and dried cranberries or tempting chocolates made by maîtres chocolatiers or even rare sweetmeats like the Turkish baklava or the Jewish rugelach.
All that glitters
There is nothing run-of-the-mill about inviting friends and family for a special event. For many well-heeled people, everything has to be stylish and out-of-the-ordinary. Time was when a card contained the basic information about the event — date, time, venue and, sometimes, the dress code. Though these facts are still there, what has come in for dramatic change is the packaging. And with the look has changed the cost of these exclusive invitations. However, many old-timers say that there is nothing new about the invitation that comes in a box. People have traditionally been giving a printed card, along with a box of sweets or in older times a card with a basket of home-made mithai. The modern fancy-looking cards are just a decked up — and very expensive — version of the old ones.
From an invitation card costing around a few rupees a couple of decades ago, the price of these creative and extravagant wedding and other special occasion announcements has virtually gone through the roof. The reason for this is not far to seek. Take the box card, for example. It requires the creative inputs of both a designer and a graphic artist and also various combinations of card materials ranging from gold and silver threads to Swarovski and other blingy stuff like silk ribbons and special lettering. That some of these limited edition invitations can cost upwards of Rs 3,000 each is of little consequence to the high rollers who get them handmade for their very special guests.
Creative designs
Box invites are just one way of showing class and wealth. There is a virtual revolution happening in the rich circles. Be it for a wedding or a birthday, anniversary or even a cocktail party, the concept, design and presentation of cards have come in for a colourful, and sometimes an outlandish makeover. These are no longer confined to spiritual die-cuts of Lord Ganesha or motifs of flowers and hearts. Today these vary from the creative to the cerebral and from those that are overstated and exaggerated to the ones that are downright wacky and daft.
Each of these cards reflects individual styles and sets the trend for the wedding. Many over-the-top invitations are intended as a statement of wealth, the creative ones show the sender's artistic inclination and those that induce a smile are usually from people with a sense of fun. Smelling success, a number of companies have mushroomed that are specialising in high-end cards. In Delhi, for example, the hub is Chawri Bazar, which is swarming with small shops and big showrooms. Companies like Regal Cards, Variety Cards, Sumegha Cards, Wedding Cards for You and many more offer exclusive invitations, using techniques like digital laser printing, silk screen printing, foil printing on various materials like shimmer paper, silk, satin, tissue, velvet and brocade.
Cards for every occasion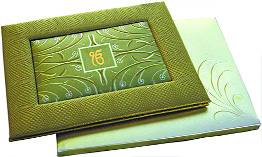 Apart from the material, one can also see samples of cards that are embellished with materials like gems, semi-precious stones and decorative gold and silver brooches as also Swarovski crystals. Matching these colourful cards are a variety of elegantly decorated boxes for sweets, chocolates and dry fruits. Interestingly, these card showrooms also offer special cards for Hindu, Sikh, Christian and Muslim weddings. There is also an array of cards for other occasions like birthdays, anniversaries and cocktail parties. Not surprisingly, a number of their orders come from Indians settled in countries like the UK, the USA, Canada, South Africa, Malaysia, Singapore, Germany, Mauritius and other Asian and Gulf countries.
"People have started spending on cards the way they spend on trousseau," says Vinod Ranjan, whose Variety Cards gets clients from India as well as abroad. However, there are people who sound a discordant note when it comes to such extravagant cards. They say that such elaborate cards are out of sync in this age of e-vites. Whether it is a new way of displaying affluence or just a passing fad, the fact is that invitations are getting as trendy as the big fat Indian wedding.
Metal & leather
This attractive card meant for a Sikh wedding is a unique combination of metallic gold and soft padded artificial leather. The design has two inserts with matching envelope of the same quality. Available at www.myshadicards.com, the card provides the first elegant glimpse of the impending marriage.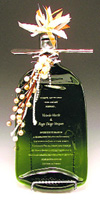 Price: Rs 225 per card
Bottled-up
Give the invitation a magical touch with this wine bottle. The bottle card doubles up as a one-of-a-kind gift that the receiver can treasure and display as a decoration piece. The ribbon and flare can be matched to the colour of the bottle. It comes with a hook to hang it on a wall or to be displayed on a shelf.
Price: Rs 500 each
Butterfly motifs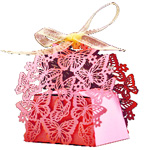 This beautiful wedding invitation box with die-cut butterfly motifs will set a refreshing and romantic tone to the wedding. The box can hold chocolates, sweet meats or dry fruits. A ribbon on top gives an enchanted affect. The box can be customised in different colours for butterfly patterns and ribbon.
Price: Rs 500 per box
Time for pool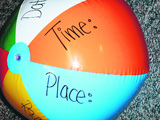 The colourful play ball makes a very imaginative and innovative way to invite people for a fancy pool party or even a birthday party. The 'card' can also be used to invite people to a beach party. It conveys the spirit of fun and enjoyment usually attached to such fun-filled watery events.
Price: Rs 200
Ladybug effect
Ideal for a little girl's birthday party, the Ladybug party invitation card in tri-fold style comes with coordinating envelopes. The eye-popping design will delight the receiver with its design and presentation. The red-coloured card is die-cut to precision and the polka dots make the ladybug effect very authentic.
Price: Rs 350 for 25
Tea time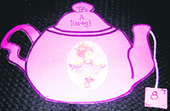 The card in the shape of a pink teapot is an ideal invite for a tea party or a birthday. The die-cut flat card comes in two formats. Either as a standalone card with the text in front of the teapot or as a fold-out double card with the party information in the inside page. Both formats look attractive.
Price: Between Rs 200 and Rs 400 for a set of 10
Bride's day out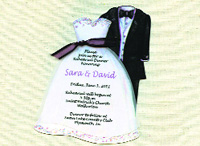 A favourite in many western weddings, the hand-cut bridal dress invitation card conveys the happy mood of a wedding. It comes with a coordinating envelope and information about the event is printed on the wedding dress. The card is finished with glitter and a fancy ribbon.
Price: Rs 450 for a set of 10
Polka-dots pattern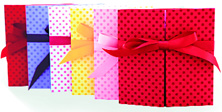 The simple yet elegant polka dot pattern invitation card is ideal for any event like a wedding anniversary or cocktail party. The card is available in a choice of 12 colours, including pistachio, amethyst, fuchsia, crimson, and violet. The hand-finished card is folded in shutter style with a satin ribbon.
Price: Rs 400 for a set of 10
Golden scroll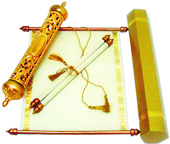 This beautifully designed wedding card in a gold-coloured scroll not just looks elegant but also adds a majestic touch to the presentation. The crisp white paper has stylish calligraphic text which is rolled and tied with a golden string with tassels and slipped into the scroll to give the effect of a royal firman.
Price: Between Rs 300 and Rs 800 depending on the material
Die-cut silhouette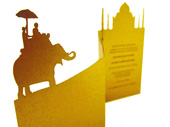 Surprise and delight friends and family with this unique wedding or any other event card with a silhouette die-cut design depicting a man and the mahout atop an elephant moving towards what looks like the Taj Mahal. The design can be changed to any other die-cut silhouette depending on the buyer's preference.
Price: Between Rs 25 and Rs 50 each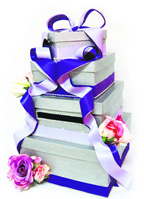 Four-tier silver box
This wedding card box has bling written all over it what with double ribbon, Swarovski crystal accents and rope trim and flowers. Just as the wedding dress isn't 'just' a dress, this ornate card box isn't 'just' a box. It is a great way of sending out the invitation and is guaranteed to wow friends and relatives.
Price: Between Rs 750 and Rs 3,000 each depending on the material used
Customised for you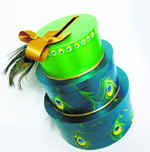 This attractively creative custom card box can be made from one to three tiers. The price of the box changes based upon embellishments and number of tiers. It can be customised to suit individual needs and can include more options like multiple colours, Swarovski crystals and sumptuous fabrics and ribbons.
Price: Between Rs 1,000 and Rs 1,500 each
All for a theme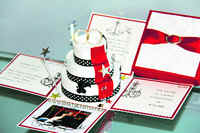 This party-themed invitation opens out into four panels. In the centre is a three-tier wedding paper cake, which is the focal point with beautiful inter-twined rings as the cake topper. The panels are adorned with party invitation wordings and one pane can have a picture of the bride and groom.
Price: Rs 400 onwards
On a traditional note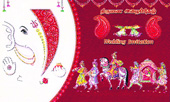 One of the most popular Indian wedding invitations, this card depicts a scene from a traditional marriage with the groom on horseback and the bride in a palanquin. Lord Ganesha is also given a special place on the card and there is depiction of other things associated with a wedding like mehndi and jewellery.
Price: Starting onwards of Rs 500 for 25