An assorted platter
Reviewed by Angad Sodhi
Taste: 7 Michelin Star and Celebrity Chefs
Compiled & Edited by Anand Kapoor, Om Books, Pages 192, Rs 1,500.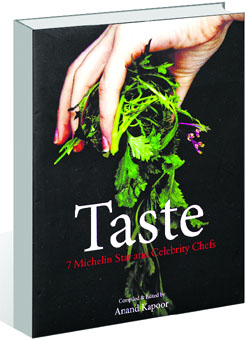 If one happened to see Anand Kapoor's book Taste: 7 Michelin Star and Celebrity Chefs on a shelf in a bookstore, one would definitely stop and pick it up. After all, what's not to like? The cover entices you in with that striking photograph of fresh green herbs ready to infuse the senses with a smorgasbord of flavours. Add to this a mouthwatering promise of glossy pages, offering pearls of culinary wisdom from some of the biggest names in the food business.
Compiled and edited by Anand Kapoor, an amateur chef and president of the Creative Services Support Group (CSSG), a charity for underprivileged youth in the creative sector, the book features recipes from a star-studded line-up of the who's who of the culinary world — from the likes of Vineet Bhatia, the world's first Indian chef to be awarded a Michelin star, to Vineet Khanna, another Indian Michelin star-holder chef. There are even more Michelin-starred chefs like Frances Atkins, and Marcello Tully, TV chef Anjum Anand along with Laurie Gear and Ian Curley.
Taste... has all the right ingredients for something spectacular. The book also has the noblest of intentions, as proceeds from it are all to go to Kapoor's charity the Creative Services Support Group (CSSG).
Yet, when you take all these exquisite ingredients and throw them all into a pan together, the dish that Kapoor serves the reader is, well, a bit of a khichdi.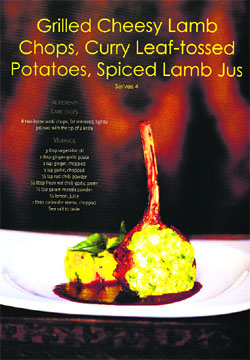 The book is a mixture of some inspiring dishes and some difficult recipes
Random. That is the word one would choose to describe Taste… in just one word. But there's something refreshing in the randomness of going from a plate of courgette, basil and goat's cheese carbonara to a hot bowl of spinach koftas in a creamy tomato curry (something you'll do when you're going through Anjum Anand's recipes in the book) at the turn of a page.
A large part of a reviewer's job is to determine whether or not a book set out to do what the author intended it to. And to recommend to an audience the kind of reader the book may hold appeal for. This is where the randomness of Kapoor's compilation starts to become a negative thing.
What seems to have started out with the intention of offering something for everyone (thus the randomness), may have ended up as a book that leaves everyone a tad disappointed.
The book would definitely excite, then disappoint the ever growing community of food enthusiasts, who devour travel and food shows, read the food blogs and any nugget of food-related trivia/recipes that may come their way. One only wishes, the reader could have got a feel for the chefs a little bit like snippets of an interview, or even the odd quote or tip for the lay-chef would have added a wonderful dimension to the book.
Cooking enthusiasts looking to spice things up a little in the kitchen will also find things a little disappointing. For much as one would like to rustle up that beef Wellington with petit pois and foie gras in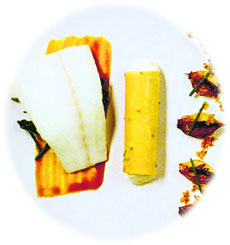 the kitchen at home, how on earth do you source it from local markets. There are far too many recipes that warrant ingredients that are impossible to source in India.
So we end up with a book of random recipes by some of the most famous chefs in the world, which leaves you wishing you could know just a little bit more about the chefs and their seemingly delicious recipes. And a collection of recipes which oscillate in levels of difficulty from something as simple as Anjum Anand's coconut French toast, to things as complicated (to get ingredients for. Or pronounce.) as Laurie Gear's stokenchurch duck breast with duck leg boudin, pomme maxime, duck liver parfait, pea puree and duck sherry sauce. However, look hard enough and you'll find some pretty inspiring dishes, like Vineet Bhatia's grilled cheesy lamb chops, which is definitely one dish that can be cooked in an Indian kitchen. The ingredients are all pretty common.