Soul music goes hep
From dargahs to modern-day studios, Sufi music is becoming the toast of the young generation
Jasmine Singh
He smiles like a child who has taken to the stage for the first time, a child who has rehearsed well before his mother. With that childlike smile still on his lips, Sufi singer Kanwar Grewal closes his eyes. He has a quick communication to make with the Almighty. Then he opens his eyes and notes begin to spill from the lips of this malang(wanderer), "Na jaaye mastaan dey veydey mast bana daingey biba."
And before you know, this wanderer has reached a place where he would only return when 'he' wills.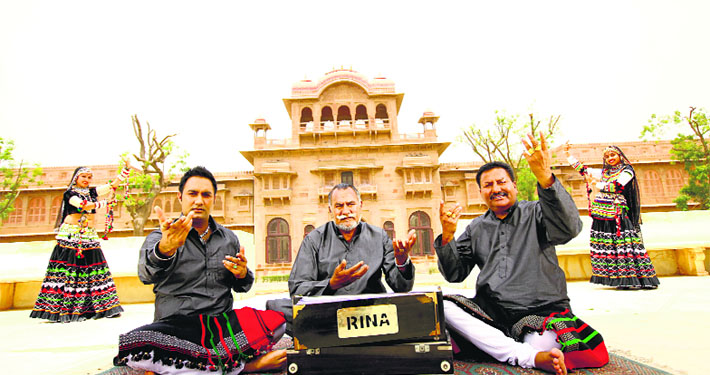 From left:

Lakhwinder Wadali (Puran Chand Wadali's son), Puran Chand Wadali, Pyarelal Wadali
Kanwar Grewal has struck a chord with the audiences from all age groups. His performances are attended by young girls as well as mature women, by young men carrying flashy phones and older men who think music is the new form of mediation. From the alleys that reached a dargah to the modern-day setups, Sufi music has cut across boundaries.From being appreciated by only-those-who-understand-soul music, it is now being savoured by one and all. Contemporary Sufi music seems to be a new dimension of this tradition. If one was to trace the origin of the genre, most classical Sufi scholars have gone on to define Sufism as "a science whose objective is the reparation of the heart and turning it away from all else but God".
According to Darqali Sufi teacher Ahmad Ibn Ajiba, "Sufi music is a science through which one can know how to travel into the presence of the Divine, and purify one's inner self from filth, and beautify it with a variety of praiseworthy traits."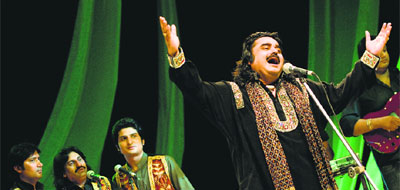 Arif Lohar
Practitioners of Sufi music like Abida Parveen, Rahat Fateh Ali Khan, Alam Lohar, Shafqkat Amanat Ali Khan, Nusrat Fateh Ali Khan, Hans Raj Hans to the more recent ones like Nooran sisters, Kanwar Grewal, Lakhwinder Wadali or Rabbi Sheirgill, all have made the genre popular and easily understandable. They have added contemporary rhythms and tunes to the Sufi genre while retaining the mysticism attached to it. Kanwar Grewal sings at a dargah for his bebe (mother as he calls her), his murshid (Almighty) and for all others who have a wandering soul in them. Others like Nooran sisters and Rabbi Sheirgill experiment with Sufi style, reaching out to youngsters in a big way.
Here it stands
¯Nooran sisters, Jyoti and Sultana, who recently sang the hit number "Pataka Guddi" in Imtiaz Ali's Highway, have managed to garner a lot of listeners who swing and sway with their music.
"Sufi music is nothing but a way to connect to God, where a singer sings for the Divine. As a result, this genre had its own select audience. Now, with singers from Pakistan like Abida Parveen, Shafqkat Amanat Ali and many being heard in India, people have started taking more interest in it. In addition to this, nowadays Sufi singers sing qalaams (couplets) that everyone can understand, thus taking Sufi singing to everyone," says the duo. Even in this modern avatar, Sufi music retains its form.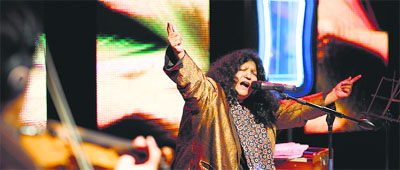 Abida Parveen
Kanwar Grewal is known to dance, cry and even talk to his listeners when he is singing for the Divine. "I don't know if youngsters can understand the literal meaning of Sufi qalaams, but when they see the singer singing with eyes closed, absolutely lost in another world, they are bound to swing along. When a Sufi singer sings, it establishes a direct contact with God, something that the audience can see. This music is infectious, it can make you leave your 'basi basai' (well-established) life," he laughs.
On a new note
¯Sufi music, which was ideally related to dervish fakirs, is now also sung in state-of-the art studios. The success of Pakistani singer Arif Lohar's "Jugni" in film Cocktail and Rabbi Shergill's "Challa" in Jab Tak Hai Jaan has brought many people to look out for Sufi music on YouTube.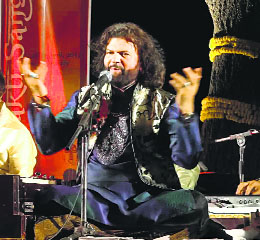 Hans Raj Hans
Lakhwinder Wadali, a Sufi singer from Amritsar, is carrying forward the baton of his family legacy. Son of an illustrious Sufi singer Puran Chand Wadali, Lakhwinder sings Sufi music in his own style. "Sufi music has become a popular genre, people across all age groups have listened to it at some time or the other. Indeed, this music is different from any other that you hear, which is why I think it attracts many," he adds
New platform
¯Sufi singer Abida Parveen is known to cry endlessly when she is singing "Dama dam mast qalandar". Nusrat Fateh Ali Khan could never make an eye contact with the audience because he would never open his eyes when he was singing. With a few accomplices and basic instruments, Sufi singing was performed as a prayer while sitting down. With shows like Coke Studio Pakistan and Coke Studio India becoming a big hit with youngsters, Sufi music has also become commercial.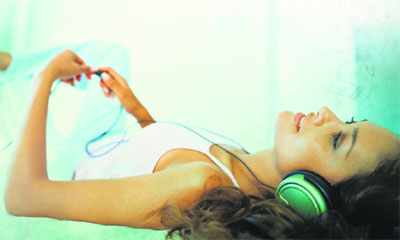 The new generation of Sufi singers are reaching out to youngsters in a big way
Thinkstock
There are more acoustics and a lot of experimentation. Collaborations between a Sufi form of music and some other music is the new formula which has made this music 'in'. Sufi singer Rabbi Sheirgill, who shot to fame with "Bulla Ki Jaana" sings in his own style. "Sufi music doesn't mean 'you have to do it in a particular way', it is music that is sung in His praise, in His love and in His longing. So, it can be sung in any way. It goes without saying that music has now become popular with the youngsters who like to take it in their own way."
On the other hand, Sufi singer Hans Raj Hans believes there is only one way of ibaadat (prayer). "This is what Sufi music is. No matter how commercial it becomes, this music can never be tweaked for your convenience. No amount of shows, or jam sessions can take away its original flavour. The music will automatically make you dance and cry with or without the use of modern instruments."