Travel
Where history meets Skype
Said to be the best and most well-preserved medieval town in northern Europe, Tallinn in Estonia has also been listed among the top 10 digital cities in the world
Ranjita Biswas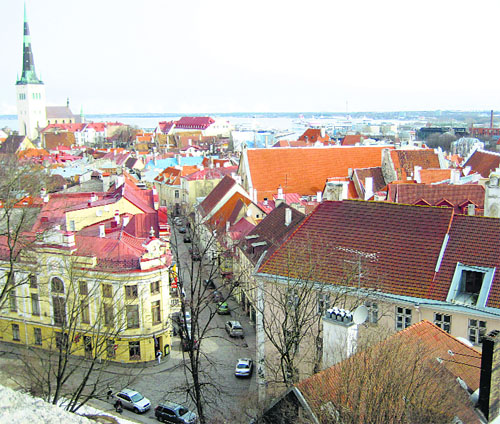 The well-preserved Old Town has been a Unesco World Heritage Site since 1997 Photos by the writer
A song can evoke a sense of self-determination and yearning for independence. Across the seas in Estonia it was the same. The very essence of protest against foreign rule in Estonia is rooted in the Estonian Song Festival. It goes back to 1869 when Johann Voldemar Jannsen composed his famous My Fatherland, My Happiness and Joy which became Estonia's national anthem. The country at that time was under Russian rule. Estonians gathered at "Lauluväljak" — the famous song festival ground in Tallinn, capital of the country, every five years and sang this national song defiantly. After a brief spell of freedom, Estonia again went under Soviet Russia. But people continued to sing this song at the conclusion of the annual festival nonetheless. So in 1991, when the country became free, people said it was due to the 'Song Revolution'.
In Tallinn, however, the Russian influence is unmistakable even today. At the leafy neighbourhood of the museum circle, the elegant Kadriorg palace, built Italian villa-style, stands out. This is the palace Tsar Peter I built for his beloved wife Catherine. Kadriorg actually means 'Catherine's Valley'. Today it is an art museum with priceless collections. Or take the magnificent Alexander Nevsky Cathedral of the Russian Orthodox order.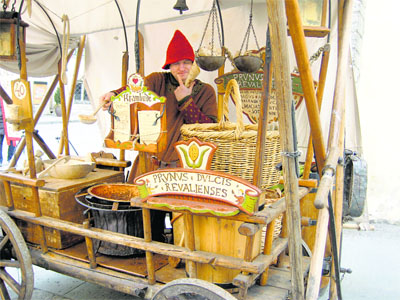 A salesman in Tallinn selling cane and wood products
Going deeper into the city's past, Tallinn was coveted by various European powers due to its strategic position as a port on the Gulf of Finland connecting the East and the West. Tallinn became a particularly vibrant town in the 13th century during the hanseatic period. People then called it a 'city built on salt' as it amassed great wealth by transporting salt from Spain to Russia.
Along with their love of music, the Estonians are also reputed to have a quirky sense of humour. They have named a forest of pine trees 'drunken forest' as the trees tilt sideways by the sea wind! Estonia, by the way, is the birthplace of Skype.
The capital's well-preserved Old Town has been a Unesco World Heritage Site since 1997. It is said to be the best well-preserved medieval town in northern Europe. The remnants of the old 14th century wall of the fortified town with its towers remind of times when the town needed protection from the invaders. Some of them have funny names, Fat Margaret's Tower, for example. Apparently the name was given to a sturdy cannon housed there. And the Maiden's Tower next to the Danish King's garden was a prison for prostitutes! Estonian humour! Locals say it is haunted. To add to the romance, the Old Town has even a Ghost Street (Vaimu) where figures of nuns and monks are said show up on dark nights! People even claim to hear sounds of partying in a haunted house at Rataskaevu 16.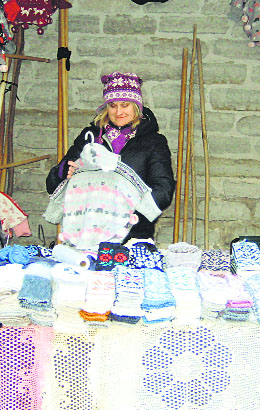 A woman selling local wares in Old Town, Tallinn
Tallinn's huge Town Square has a tall Town Hall surrounded by shops and restaurants. There waits a medieval figure in blue and white togs. A huge moustache, a crossbow in hand, he epitomises 'Vana Toomas' or Old Thomas, Tallinn's iconic symbol. As the story goes, Thomas was a poor country boy who upstaged snooty noblemen at an annual spring festival competition where a wooden parrot had to be nailed with a crossbow. He became an instant hero and the king recruited him; he later became a famous soldier. Today, a weathervane put up in 1530 on the spire of the Town Hall salutes him. You can follow 'Vana Toomas's instruction to hit a target with the wooden weapon. Good luck! There could be prize if successful.
Tallinn takes the job of keeping the medieval aura seriously, a boon to tourists getting tired of automation. On the streets around the square would suddenly pop up vendors attired in old- era clothes selling 'Prunus Dulcis', Tallinn's favourite roasted almonds coated with sugar and spice; or a lady selling local herbs and concoctions, perhaps ethnically designed hats and woollens.
The streets are also full of boutiques, cafes and wine shops selling Vana Tallinn liquor. Each door is painted bright, even the Parliament building is coated in pink. From the high point of the town you get a 'million-dollar view' of the town below, roofs in tones of autumn, and the cobalt blue of the sea. Colour is definitely at a premium here, somewhat like back in India.
Choices for food at lunchtime are many. For those on the lookout for authentic Estonian food, a good bet is Old Hansa with its recreation of an aura when people sat on wooden benches and tables at taverns to eat and talk after a hard day's work. Being a cold country, meat dishes dominate but cuisine researchers are digging up old recipes or fusing some to create vegetarian meals too. Food in different courses arrive in authentic bowls - reindeer meat, sauerkraut (a pickled cabbage dish with or without meat or fish), wild mushroom, salmon, vegetables accompanied by a thick soup, smoked pork, all served with yummy home-made bread.
Tallinn's other reputation for the sweet tooth is handmade marzipan. The Kalev outlet, off the main square, is famous for this delicacy. Apparently in the old days the marzipan emerged from a pharmaceutical experiment. Kalev is supposed to be the oldest continuing pharmacy in Europe since 1806. It even has a section called marzipan museum. The Tsars, as well as Soviet era leaders at Kremlin, were fans of this confectionery. Rightly so; they are delicious.
Songs and sweets, and ghosts, make Tallinn worth a visit.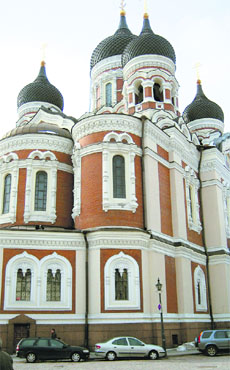 FACT FILE
How to get there: Major airlines have direct or connecting flights to Tallinn. From Helsinki ships ply (2 hours).
Where to stay: Hotels to suit all budgets from luxury to youth hostels.
What to do: Explore the Old Town, walk by the promenade, visit museums and the beautiful Nevsky cathedral.
What to eat: Authentic, mainly non-vegetarian meals. Traditional roasted almonds and marzipan.
What to buy: Artefacts from the Old Town, Kalev marzipans, woollen hand-made knitted garments.
Built between 1894 and 1900, Alexander Nevsky Cathedral is Tallinn's largest and grandest orthodox cupola cathedral