Entertainment
Tale of two states
There is nothing new in the theme of movies based on inter-regional and inter-linguistic marriages in India
Shoma A. Chatterji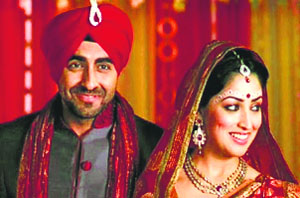 Vicky Donor
The hyped promos and high-end marketing strategies of Chetan Bhagatís 2 States and A Marriage turned 2 States, a full-length feature film is practically coming out of our ears. It suggests that this is a unique film on inter-regional and inter-linguistic marriages in India. But is 2 States about the love between the Punjabi Krish Malhotra and the South Indian Ananya Swaminathan the first film on cultural symphony through marriage? Not really. Director Abhishek Verman has given us nothing new or original to shout across the rooftops about. It began with New Delhi (1956) starring Kishore Kumar and Vyjayanthimala and was a boxoffice hit. Then there is Ek Duje Ke Liye (1981), another film called Ragini (1958) with Kishore Kumar, Ashok Kumar, Ragini and Padmini. So, whatís new?
New Delhi directed by Mohan Segal co-starred Kishore Kumar as a Punjabi young man and Vyjayanthimala as a Tamilian young dance teacher. The director adds a comic touch with satire punched in. Anand (Kishore Kumar) comes to New Delhi to look for a room on rent. He is both surprised and amused when people from various linguistic groups refuse to rent him a room because he does not belong to their group. The saraikhana is filled with all groups. He pretends to be a Madrasi. A Madrasi landlord agrees to let out a room. But he meets the Madrasi beauty Janaki (Vyjayanthimala) again with whom he had a spat with earlier. The two fall in love, and then, all hell breaks loose.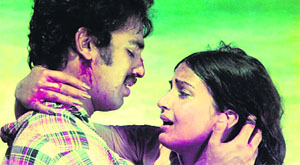 Ek Duje Ke Liye
Music and songs are converted almost into a character in the film. Vyjayanthimala performs several dances ranging from Bharatnatyam, kathak, Odissi, pure filmy, to a small bhangra. In 1956, the plot of inter-regional marriage was revolutionary which Segal managed do bring across through song, dance, music, humour and dialogue. Ragini (1958) starring Ashok Kumar, Padmini and Kishore Kumar had inter-linguistic love as a sub-text and not as the main story. The 12 song numbers by O.P. Nayyar are gems. One particular song-dance number on lyrics penned by Quamar Jalalabadi brought out the linguistic-cultural differences sharply yet imaginatively. It shows Kishore and Padmini in a stage performance where Kishore is dressed in traditional Bengali attire and Padmini is doing a Bharatnatyam number. It brings out the differences between the two ethnic groups. "Main Bangali chhokra karu pyaar ko namaskaram" a duet by Kishore Kumar and Asha Bhonsle is hilarious. The rest of the songs were penned by Jaan Nisar Akhtar, among which was a classical-based number "Mann mora baawran" lip-synced by Kishore on the voice of Mohammed Rafi.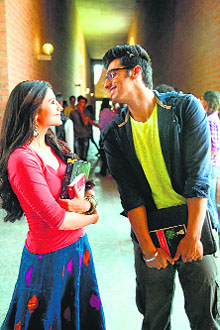 2 States
Twenty five years after New Delhi, the social crisis triggered by inter-regional love had consolidated if Ek Duje Ke Liye (1981) is an example. It became a cult film that, despite its tragic end that wove everything from violence to rape to suicide, remains one of the biggest commercial hits in Hindi cinema. It even led to suicides by young lovers when they saw their families would never allow them to marry.
Directed by K. Balachander and starring Kamalahassan and Rati Agnihotri, it was a remake of the directorís own Telugu film Maro Charitra. It not only raked in a total of Rs 100 million, but also won a National Award and 13 Filmfare nominations eventually winning three. The music by Laxmikant-Pyarelal on lyrics by Anand Bakshi was a big hit and the number "Kaisa Hai Ye Bandhan Anjana" is still a hit on online music channels.
Ek Duje Ke Liye was a pan-India film because the story was set against the picturesque Goa backdrop showing Vasu (Kamalahassan), a South Indian boy, falling in love with their Punjabi neighbourís daughter Sapna (Rati Agnihotri). "Language is no bar to love" is one of the several messages the film spouts forth. Vasu and Sapna cannot speak a word of each otherís language and are yet ready to die for each other. They jump off the loverís point cliff when they realise that Sapnaís parents have betrayed their trust.
Vicky Donor (2012) declared a superhit by trade journals wove in a delicate and tender story of love between Vicky Arora (Ayushmann Khuranna) a Punjabi boy and Ashima Roy (Yami Gautam) a Bengali girl. The subject was sperm donation and infertility but this inter-ethnic touch added a new dimension.
Though the film is said to have been loosely adapted from a Canadian-French film Starbuck, producer John Abraham and director Shoojit Sircar gave it such a wonderful ĎIndianí touch that the original was completely erased. The film traces the change in family attitudes towards their children marrying into a different linguistic community that seems hesitant initially but can be won over to actively participate in the wedding and teach each other the fun that goes with their respective rituals, song, dance, fun and bonhomie.
Even in Gangs of Wasseypur (2012), Anurag Kashyap shows Sardar Khan (Manoj Bajpai), a Bihari Muslim taking on Durga, a sexy and seductive Bengali Hindu beauty (Rima Sen) as his second wife and the first one Nagma, can do nothing about it. If we cast a look around us and take a random survey, we might find every second or third person married to a partner from another state.