M A I N N E W S
At 'victory rally', Modi says will make development a people's programme
Manas Dasgupta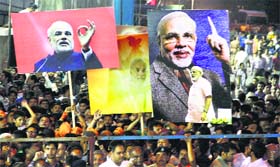 People attend BJP's Prime Minister designate Narendra Modi's public meeting after the LS election results in Ahmedabad on Friday. PTI
Ahmedabad, May 16
Prime Minister designate Narendra Modi described the Lok Sabha elections as the "foundation of a modern India" and said he would make "development" a people's programme for a true forward march of the nation. He said he had a vision that India would become one of the most powerful countries in the world in the next 10 years.
At a "victory rally" in Ahmedabad tonight, Modi castigated the Congress governments since Independence and said the biggest mistake the leaders of the country had made was that they had kept development only as a "government programme" never associating the people with it.
Giving example of Mahatma Gandhi who had converted the freedom movement into a "jan andolan", Modi said it was because of the people's involvement that the then British government was forced to accept defeat.
"If the leaders of the governments after the Independence had involved people in the task of development of the country, India would have become a powerful country amidst the comity of nations at least 40 years before," he said.
He said there was no further time to lose and that he would make 125 crore people of the country a partner in its march of progress. "If 125 crore people take one step forward, that will mean the country has moved 125 crore steps ahead," he said amidst loud cheers from the crowd.
Modi assured the leaders of other political parties, including smaller regional parties that had failed to even open their accounts in the election, of not discriminate against them.
"I know those who had been serving the nation for all these years have many good qualities in them and can contribute for the development of the nation. This country is not of the BJP's or of Modi's alone. The nation belonged to 125 crore people and every party and every individual, my endeavour will be to take everyone together in the path of progress to ensure that the 21st century belonged to India," he said.