Style in your clutches
Neha Dhedia
From being a mere accessory to making a fashion statement, clutch bags have come a long way. These have become a much-favoured choice of style divas

Anaya, an upcoming fashion designer, worked hard to carve a name for herself in the glamour world. She was very enthusiastic when she landed a high-profile assignment of doing up the bridal attire of a regional celebrity's daughter. Talented and creative, she wanted to give it her best shot and handpicked the fabrics and embellishments. To add that extra bling to the overall look, she conceptualised a hand-painted clutch purse with kalamkari work using the hues on the outfit and voila, she got rave reviews for her stunning creation! Tastefully designed, it was destined to become the focal point of the bride's ensemble.
Clutch bags have evolved as the quintessential accessory that lends a finishing touch to the outfit. While a clutch is usually a stylish addition and has a strong element of fashion attached to it, one cannot ignore its functional use. Despite the compact size, it can be used to carry those bare minimum essentials when one sets out for a day or night out. Depending on the nature of the event or occasion, there is a mind-boggling variety to choose from. From a range of plush fabrics, textures and materials to the silhouettes and adornments, clutches can indeed stretch any enterprising designer's imagination really far.
Little history
Clutches date back to 1800 when women sported reticules, the forerunner of handbags and the ancient version of the clutches we see today. These compact versions were used to keep a handkerchief, smelling salts and a pack of rice papers to mute a shiny spot on the face. Then came a period in the early part of the 19th century when the clutch purses lost their touch and were not in vogue. During World War II, they saw mass popularity once again and have been in demand ever since; the embellished ones for evening wear and the casual for running small errands when one does not require to carry much stuff along.
Pricey tales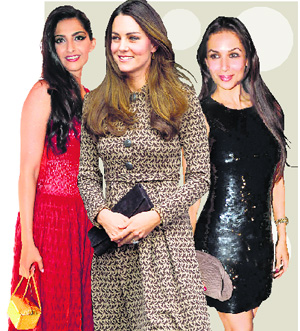 Fashionistas favourite

: Clutches are a favoured choice of celebrities like Sonam Kapoor, Kate Middleton and Malaika Arora Khan

Premium handbags and accessories are among the fastest-growing segment in the overall market of luxury items. The flourishing handbags market has an ever-growing number of dynamic players and expanding customer base with the increasing demand from upcoming markets and noteworthy performances from the international luxury brands. Asian markets like China and India have been experiencing a surge of new consumers thanks to the e-commerce channel that has gained wide acceptance from the net-savvy people here. High-end luxury bags market sees a lot of competition with big names like Prada, Hermes, Gucci, Burberry, Chanel, Louis Vuitton and others vying for attention of the elite-looking for exclusive creations.
According to a recent survey by Euromonitor International, the personal accessories market in India is gearing up to witness double digit growth rates in the years that come. For serious shoppers looking for the ultimate status symbol, price can never really be a hindrance. In the international scene, a Luxury Goods Worldwide market study estimated a growth between $ 314 billion and $ 327 billion in 2015 from $ 251 billion in 2011.
Without doubt, the world has been witnessing fashion inflation with the high-end labels increasing their prices at a sharp pace. Each one of the exorbitantly priced clutches tries to justify the price tag it carries. One of the Judith Leiber clutch purses is priced at $3,695 because it exhibits hand-glued Australian crystals. Yet, no other piece can defy the price of Mouawad's 1001 Diamond Purse which is priced at a whopping $3.8m. Exemplary effort went into its creation with 10 skilled artisans working on it for a total of 8,000 hours to create this impressive heart-shaped clutch bag. Officially certified by the Guinness World Records as the most expensive handbag in the world, it uses 18K gold and 4,517 diamonds. Sold for $1.9m in an auction, Hermes Birkin is a distant second and features diamonds and platinum. The next most expensive bag, the Chanel 'Diamond Forever' bag has only 13 pieces available worldwide with five of those available in the US.
Size matters
From small and compact box styles to supersized envelope clutches, there is a mind-boggling variety for everyone. With a minimalist and clean design, the box kind is small enough to fit a cellphone, a lipstick and a handkerchief while the chic and suave envelope flaunts a flatter look. Available in amazing colours and prints, it is great for casual wear during the day or for a nightout in the town. Pouch clutches are medium-sized and the heavily embellished ones in brocade and silk team up beautifully with bridal outfits and lehengas. Cross body clutches are available in different sizes and what's best about them is that they double as cross-body bag as well as a clutch.
Online frenzy
There is a clutch style for everyone. From animal prints and hand-painted ethnic ones to those studded with tourmalines, pearls, beads or diamonds, the buyer is spoilt for choice. The leather, fabric or silk-screened ones carry exclusive appeal while the box clutches are usually built sturdy from metal.
Several e-stores sell premium luxury brands to the budget-friendly ones catering to all those varieties. There has been an upswing in online buying owing to the ease of access to international designs, great bargains and a wide range available for purchase.
Eccentric appeal
In these times of doing things extraordinary, designers love to bring out their eccentric side in their clutch creations. They are bold, quirky, off-beat and destined to catch the eye of the onlooker — you can find skeletal designs, animal figures and all other kinds of weird and wacky designs that challenge creativity to the extreme limit.
Infusing eccentricity and emotion into their creations, some Asian designers are acclaimed globally. Designer Bea Valdes hails from a family of jewellers in the Philippines. An artist and a writer herself, each of her clutches have a story to tell. Each of her bags has a heroic feminine character. Tina Ocampo's label Celestina exhibits a keen eye for fashion. She uses materials native to her country the Philippines, besides also using a lot of crocodile leather in her clutches.
Fiona Kotur started out with designing some lovely clutches and has now also diversified her line to home collection. She is known to have revived the minaudière, a bejewelled evening clutch bag, which has found its way into the social circuit and the red carpet. Acclaimed for her couture clutches crafted from vintage obi and kimonos, Michelle Lai continues to experiment with fabrics, textures and the fashion savvy mindset of her feminine clientele for designing her handbags that she sells under the label Mischa.
Celeb following
Clutches have been a favoured choice among the glitterati walking on the red carpet in India and abroad. Kate Middleton, the Duchess of Cambridge, has a penchant for miniature clutches and has often been on the fashion radar owing to her impeccable style. She been seen flaunting some of the prized ones as she finds them more delicate and feminine. Bollywood fashionistas like Malaika Arora Khan and Sonam Kapoor have been often been spotted toting compact and elegant clutches in matching or contrasting hues.
Bottega Veneta
Metal Cage Knot

Introduced by Italian designers Vittorio and Laura Moltedo, the Bottega Veneta brand features a luxurious collection of handbags. Perfect for evening wear, this Bottega Veneta clutch bag is a petite creation with a cage style design with intricate knotting. It features a clasp closure highlighted by a rope knot to add to the sophistication. Price: Rs 1.8 lakh ($3,000)

Handmade
Green Gold Box Clutch

With its handcrafted appeal, the silk fabric clutch bag boasts tones of green and gold creating a batik print effect. The floral crystal brooch in the centre sits pretty and gives it a rich and luxurious feel. With a removable gold chain, it can be slung on the shoulders or clutched in the hand.
Price: Rs 9,006 – Rs 24,016
($150 - $400)

Tan Degrade
Crocodile Box Clutch

This celeb favourite Bottega Veneta clutch is undoubtedly a classic, bringing together two very different textures - degradã© crocodile-leather with intrecciato-woven gold matt metal. The molded clutch has the signature knot. It gives a strong, sleek and elegant look to balance your high-on-bling party looks. Price: Rs 1.8 lakh – Rs 2.6 lakh ($3,000 - $4433)

Leiber Precious
Rose Clutch

Handbag designer Judith Leiber from Hungary created this compact Precious Rose Clutch using 42.56 carats of jewels — 1,016 diamonds, 1,169 sapphires and 800 tourmalines. Shaped like a perfect flower, there is only one original of this rose clutch bag in the world. Price: Rs 55.2 lakh ($92,000)


Charlotte Olympia
Pink Perfume Bottle Clutch Bag

Italian designer Charlotte Olympia has a creative and glamorous side to her which she showcases beautifully in her creations. The translucent perfume bottle shaped clutch made from Perspex and rayon shows off a pink crochet puff with tassel at the magnetic closure.
Price: Rs 77,752 ($1,295)


Alexander McQueen
Knuckle Duster Clutch Bag

This beautiful box clutch is a part of the Spring 2014 collection of eminent designer Alexander McQueen. The hard shell is covered in black silk and the top features two perching butterflies, amber coloured glass stones and multi-colour Swarovski crystals.
Price: Rs 1.43 lakh ($2,395)

Chanel
Diamond Forever Clutch

Featuring 334 diamonds with 3.56 carat weight on 18K white gold, this exquisite Chanel Diamond Forever can be used as a clutch or a shoulder bag. The shoulder strap is also crafted from white gold. Hollywood celebs Keira Knightley, Vanessa Paradis and Nicole Kidman have known to be ardent admirers of the Chanel brand. Price: Rs 1.56 crore ($261,000)

Hard Metal Clutch by
Victoria Beckham

Conceptualised and designed by Posh Spice Victoria Beckham, this hard metal clutch is elegant and shows a minimalist cigarette box design. Being on the pricier side, it features 100 per cent brass, black suede lining, magnetic closure and single slot pocket.
Price: Rs 4.08 lakh ($6,800)


Marchesa Lily
Floral Embroidered Box Clutch

The floral embroidery is extravagant on this sleek gold/green box clutch purse. It is made in Italy and features a crystal push lock with an intricate detailing of green beads and metallic thread embroidery. Price: Rs 1.79 lakh ($2,995)

Prada
Peach Satin Box Bag

The Prada box clutch with peach satin finish became immensely popular when Kate Middleton flaunted it. This Italian made clutch from the house of Prada has a simple and structured design. In tones of peach and gold, it carries with equal poise at any time of the day or night.
Price: Rs 37,765 ($629.99)


Lana
Marks Cleopatra Clutch

Fashion designer Lana Marks owns this eponymously named brand exhibiting more than 150 exclusive clutch designs. Celebs and socialites like Charlize Theron, Angelina Jolie, Jennifer Aniston, Kate Winslet, Elizabeth Taylor, Helen Mirren and Paris Hilton have often been seen patronizing her creations.
Price: Rs 60 lakh -1.5 crore
($1, 00,000 - $250,000)


The Row
Large Wrap

Designed by The Row and made in Italy, this clutch bag suits business meetings and casual outings with equal ease. It has a trendy design and is perfect for those looking to make a supersized style statement. The camel colour wrap clutch is made from high quality calf skin and showcases glossy hardware in rich hues of gold. Price: Rs 1.59 lakh ($2,650)


Hermes
Birkin Clutch Bag

This Hermes clutch bag, conceptualised by Japanese designer Ginza Tanaka, is crafted from platinum and boasts more than 2,000 diamonds. Versatile enough for use as a clutch or a bag, the other highlight of the Hermes Birkin is that the removable diamond strap can be worn as a necklace or bracelet if desired.
Price: Rs 11.4 crore ($1.9m)


Valentino Minaudière
Studded Clutch Bag

The soft tones of the light pink colour are pleasing to the eye and the clutch purse carries the trademark elegance of Valentino. The ultra-feminine creation features a detailing of gold studs and makes a lovely fashion statement. It carries well with heels, pumps and dressy outfits. Price: Rs 2.15 lakh ($3,596)


Mouawad 1001 Nights
Clutch

Mouawad 1001 Nights clutch is the most expensive clutch purse made till date featuring 4,517 colourless, yellow and pink diamonds. Shaped like a heart, it carries a total diamond weight of 381.92 carats. This Mouawad creation is a display of exceptional craftsmanship.
Price: Rs22.8 crore ($3.8m)