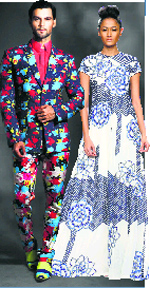 In the print
A popular trend in the West, print on print, where the upper and lower garments have a similar underlying theme, has now caught the fancy of designers in India
Before quirky prints entered the orbit of Indian fashion and partially eclipsed the popularity of floral counterparts, prints in the galaxy of Indian fashion were only limited to running suits found in cloth retail stores. To list the chronology of events, the change set in with psychedelic prints of Manish Arora; then came in table fans, hands, lip-stick, taps by Masaba Gupta and the rest is history. Indian fashion designers took to prints with a brash enthusiasm and this season too, they proudly corresponded to another version of print- print on print-a trend triggered in the West, the effects of which are now reverberating in India as well. The spring summer edition of the New York Fashion Week served as inspiration and Indian designers took no time in taking cues!

DESIGNER TOUCH: (L-R) A dress by Sayantan Sarkar and outfit from the label Khem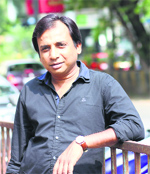 Keen eye, keener sense
While in Duronto Express from Mumbai to Kolkata, Sunanda Shyamal Mitra saw women walking in a file carrying matkas on their heads in the interiors of Maharashtra, making this writer-director think what they would look like on the ramp. Result: Extraordinaari, a film with Rituparna Sengupta, who plays a grooming guru to ten girls from not-so-privileged backgrounds — one house help, another flower seller, a waitress and yet another a victim of casting couch. The film, set and shot in Chandigarh, is largely in its editing stage. It's writer and director, who has three films to his credit — Jihaad, Idiot Box and Ogo Bodhu Sundori — sits down chatting with us and share excerpts from his journey.
A favourable wind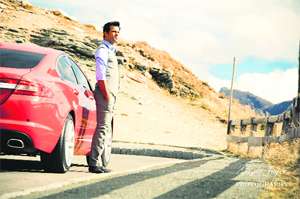 "You liked my role, really. Yes, people have been calling. I am so glad." Anuj Sachdev is thanking someone who has called to say how much they liked his role in the film Hawa Hawai, which was released last week. The actor takes the compliments graciously, but at the same time, tries to keep a check on his emotions lest he looks like a school boy who has won a prize on the sports day.

screen act: Anuj Sachdev

Punjabi scope
Get fool-proof protection
Movie: Romeo Ranjha
Director: Navaniat Singh
Starcast: Jazzy B, Garry Sandhu, Parul Gulati, Rana Ranbir, Yograj Singh, Rana Jung Bahadur, Aman
Rating: *
first-day-first show
Nothing to expose
The Xpose
Directed by Ananth Narayan Mahadevan,
The Xpose stars Himesh Reshmmiya, Yo Yo Honey Singh, Irfan Khan and Zoya Afroz in the lead roles.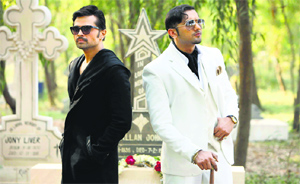 cinema scope
X-factor missing
Film Xposé
Director Ananth Mahadevan
Cast Himesh Reshammiya, Zoya Afroz, Ananth Mahadevan, Yo Yo Honey Singh, Sonali Raut, Irrfan Khan, Adil Hussain, Bharat Dhabolkar, Jesse Randhawa, Rajesh Sharma Rating ** Nonika Singh
Gigantic thriller
Film Godzilla 3D Director Gareth Edwards Cast Aaron Taylor-Johnson, Ken Watanabe, Elizabeth Ojaen & Juliette Binoche Rating *** * Ervell E. Menezes
After the break
Dimpled guy Vishal Karwal is excited about being seen on TV after a gap of almost two years. He talks about his Hindi as well as Punjabi films and why it took so long for him to return.
Yo, it's a secret!
Yo Yo Honey Singh has been on a roll lately. Not only does he have plans of launching his men's fashion line, but he has also recently entered Bollywood as a mainstream singer and is even making an appearance in a movie. The list doesn't end there. To top it all, he is making his debut on the small screen with Star Plus' upcoming offering India's RawStar.
Enemies turn friends
In the upcoming episode of Sony TV's Bharat Ka Veer Putra Maharana Pratap, courageous Pratap will be seen facing his biggest enemy, Akbar, in a deadly fight. While shooting for this particular sequence, Pratap aka Faisal Khan and Akbar aka Vishal Jethwa had to prepare themselves by undergoing rigorous training sessions. Renowned fight master Deepak Das was seen giving them extensive training for performing the stunts in the show.
Losing cool
Sanjeeda Sheikh is angry with her co-star Vatsal Seth these days. Apparently, he takes too much time mulling over scenes and discussing the dialogues, which leads to delay in the shoot. Recently, she lost her cool and went to chill in her van till she was called for the shot, instead of waiting for Seth to finish the discussion.
Shraddha's moment of glory
Shraddha Kapoor will be seen singing in her upcoming film Ek Villian. On an impromptu moment, her director Mohit Suri asked her if she would like to lend her voice for a song in the film.
Undisturbed paradise
At a recent event, UTV head honcho Siddharth Roy Kapur was quizzed about his troubled relationship with Vidya Balan. However, Siddharth rubbished the reports and said, "All is well in our married paradise. Nothing has changed. Owing to our work pressures we are unable to attend certain events together.
Meet the small wonder
Partho Gupte, who made his debut with Stanley Ka Dabba, is getting praised for his performance in his latest film Hawaa Hawaai. He talks about the film, his dad Amol Gupte, and more...
Great pairing, greater expectation
UTV Motion Pictures has announced a scintillating star cast for Fitoor which includes the never-before seen pairing of the gorgeous Katrina Kaif and the handsome Aditya Roy Kapur along with eternal beauty Rekha in the role of a lifetime. Fitoor, an adaptation of Charles Dickens' classic, Great Expectations, is the passionate love saga of a young artist Noor, played by Aditya Roy Kapur, and a beautiful heartbreaker Firdaus, essayed by Katrina Kaif. Rekha plays the role of the mercurial Begum, who is the catalyst in this tempestuous love saga.
Mallika tones down
Mallika Sherawat, who attended the Grace of Monaco screening at the 67th Cannes Film Festival, looked sober this time. She wore a lacy Emilio Pucci gown in a striking shade of blue and went easy on the makeup too.
The year ahead
If your birthday is May 17...
Astro Turf
ARIES: Today love and travel figure prominently. You can put yourself in line for a promotion or salary increase. The accent is on pleasure and entertainment.