Power of the real
With documentaries making it to multiplex screens more regularly than ever before, non-fiction filmmakers in India have reason to look ahead with guarded hope and enthusiasm
Saibal Chatterjee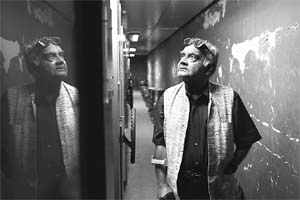 A still from Shivendra Singh Dungarpur's Celluloid Man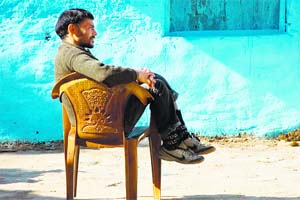 Ritu Sarin's When Hari Got Married is a highly entertaining documentary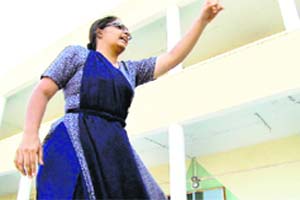 The World Before Her is slated for release on June 6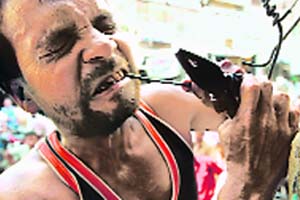 Katiyabaaz is set against the backdrop of the long-standing power crisis in Kanpur
It is not often that a documentary film makes history in India. So when, Mumbai-based and Canadian-born filmmaker Dylan Mohan Gray's Fire in the Blood, released in November last year, ran for five weeks, movie industry observers sat up with a start.
Fire in the Blood became the longest-running non-fiction film ever to be released in this country. Not even Michael Moore's celebrated Fahrenheit 9/11 could hold its ground in an Indian multiplex beyond a couple of weeks.
Now on the cards is a DVD release of Fire in the Blood, which is a no-holds-barred investigation into the conspiracy by western pharmaceutical giants to block access to low-cost AIDS drugs in the Third World after 1996.
Fire in the Blood, shot on four continents and livened up with a narration by veteran Hollywood actor William Hurt, is certainly not a film that lends itself to casual multiplex viewing.
Yet it found takers. Its unrelenting probe into a medical scandal that led to the unnecessary loss of millions of lives around the world was compelling enough for an audience weaned largely on unchallenging escapist cinematic fare.
The success of Fire in the Blood does not, however, suggest that mainstream exhibition avenues have suddenly opened up for India's documentary filmmakers. Documentaries still occupy an alternative programming space in the multiplexes.
But significantly, an increasing number of these non-fiction titles that deliver significant stories are being commercially released in India, if only in a limited way.
In the past two years, several acclaimed documentaries — Faiza Ahmed Khan's Supermen of Malegaon, Shivendra Singh Dungarpur's Celluloid Man, Stevan Riley's Fire in Babylon, Ritu Sarin and Tenzing Sonam's When Hari Got Married and Nishtha Jain's Gulabi Gang — have made it to India's metropolitan multiplexes.
Gulabi Gang, a documentary on the anti-gender violence movement spearheaded by Bundelkhand's Sampat Pal, was released under PVR's Director's Rare a couple of weeks before the Madhuri Dixit- Juhi Chawla starrer Gulaab Gang, a fictional take on a similar campaign run by a band of activist-women.
Nishtha Jain's film not only garnered positive reviews; it also attracted the attention of lay moviegoers. Eventually, it put the commercial Hindi film in the shade, reinforcing the old adage that you cannot keep a good effort down.
In a climate that is clearly more conducive to feature-length documentaries than ever, Toronto-based Indian-origin director Nisha Pahuja's The World Before Her is slated for release in major Indian cities on June 6.
And Katiyabaaz, directed by Deepti Kakkar and Fahad Mustafa, too, is waiting in the wings for a commercial outlet.
The World Before Her offers a unique juxtaposition of two unrelated events — the Miss India pageant and a Durga Vahini training camp — as a means to understanding the position of women in Indian society. Katiyabaaz, set against the backdrop of the long-standing power crisis in Kanpur, delves into the life of a man who helps city's residents get illegal connections and the challenges before a lady bureaucrat who heads the local electric supply corporation.
Time was when it took Faiza Ahmed Khan's Supermen of Malegaon was picked up for commercial release in June 2012, four years after its completion. The film, which showcased the enthusiasm of the people, a small Maharashtra town for moviemaking amid their grim poverty-stricken lives, acquired a cult following.
Today, the makers of Katiyabaaz are in a position to think of commercially releasing their film almost as soon as they have wrapped it up. The film has generated a buzz thanks to the awards and accolades it has won at international film festivals.
What binds The World Before Her and Katiyabaaz (and indeed all the other titles mentioned above) is that, despite addressing solemn social and political issues, they are consistently engaging films that narrate their stories in a manner that is both vibrant and focused.
It not surprising, therefore, that for some sections of discerning moviegoers in the big cities of India, such documentaries are gradually emerging as big draws.
Besides unveiling aspects of India that are rarely sought to be understood in all their complexities, the better documentary filmmakers have a way of putting an intriguing spin on known facts of life.
However, for many of these films, commercial gains are not the principal focus. Says Nisha Pahuja about The World Before Her: "It is not a commercial project. The idea is to engage with people." As part of that strategy, the filmmaker is planning tie-ups with women's groups to take her film across the country.
But Ritu Sarin, co-director of When Hari Got Married, which had a week-long run in the multiplexes sometime last year, feels that her film could have done with greater publicity and a more enthusiastic popular response.
Her lament is not misplaced. When Hari Got Married is a highly entertaining documentary that records the days leading up to the wedding of a Dharamsala cabbie, a sharp-tongued and witty young man, who provides invaluable insights into the culture and the society that he belongs to. One distinct advantage that a documentary film has is that it immortalises moments in history, which, in turn, lends it a far longer shelf life than that of fiction films. So documentary films that have the potential to both inform and entertain enjoy doubly enhanced power. While they can be commercially exploited immediately after completion, they also yield returns over a period of time as they travel around the world.
The mainstreaming of documentaries in India can only be a slow process but there is little doubt that it is well and truly underway.