food talk
The other paneer
Pushpesh Pant

From childhood on, stews have always held an irresistible temptation for us. Slow-cooked delicacies, in their own juices, the stews are flavourful, offering an interesting m`E9lange of colours and textures these delicacies are believed to be light and nourishing at the same time. There is a large range of recipes that cater to the non-vegetarian palate but strangely the vegetable stews are seldom encountered. This is the reason we were absolutely thrilled when at a lunch hosted by a friend at Chinese eatery we were served stewed tofu. Time for another confession — it's only recently that we have discovered the joys of this exotic Chinese/Japanese paneer made with soya milk. It has all the quality of desi paneer but knowledgeable dieticians assure us that it is "even healthier" - lighter in fat content and richer in proteins. Now that tofu is easily available we strongly recommend that our dear readers try it out. This simple recipe is ideal to try your hand. It is simple and can easily be varied to suit your taste. With little imagination and lesser effort, stewed tofu can don any regional garb to pleasantly surprise the family and friends!
Stewed tofu
Ingredients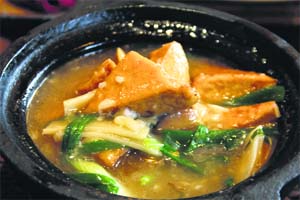 Tofu 250 g
Bamboo shoots (drained of the brine and sliced in halves with a sharp knife) 100 g
Spring onions (chopped including leaves) 2 small
Broccoli (broken into bite-sized pieces, washed well and plunged in boiling water for a minute then refreshed in ice cold water) A small floret
Dried mushrooms (cleaned with moist cloth to remove all grit, soaked in warm water for 30 minutes) 25 g
Soya sauce (dark) 2 tbsp
Sesame/refined oil 1 tbsp
Five-spice powder 1 tsp
Vegetable stock ½ cup
Method
Cut tofu into triangles or any other pleasant shape. Line a non-stick pan with a thin film of oil and pan grill the tofu to lightly brown the tofu. Now add the mushrooms, broccoli and other vegetables, along with Soya sauce. Stir-fry on a high flame for a minute, sprinkle five-spice powder and stir well. Add vegetable stock and simmer for two to three minutes. Serve with steamed rice or phulka.