Teacher in age of social media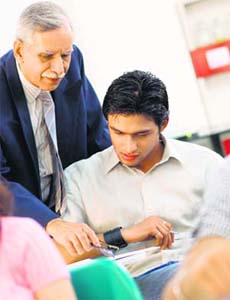 The guru's role in the modern times is not confined to the four walls of the classroom. Given the contemporary technology-driven urge to communicate 24x7, he is also a guide to students on life choices
Nilanjana Gupta
In the Brahmanical tradition the teacher was revered as the guru, the source of all knowledge and therefore to be served and followed with almost the same devotion as the worship due to God. A student or shishya was expected to imbibe not only the learning of the guru but all the god-like qualities he—the guru was invariably male—embodied in his self.

Politics of education
---
Arts
MUSIC ZONE
Fresh, evolved and distinctive pop album
Todd Terje — It's Album Time (Olsen Records)
Norwegian producer-DJ Todd Terje has built his reputation crafting successful disco-leaning remixes and stand-alone dance epics over the past 10 years. Recorded over a three-year period spanning 2012-14, It's Album Time contains a few cuts you may be familiar with already.

BroadBrush
---
Fitness
good health
The dark secret
Premature greying of hair is hereditary or caused by stress. However, a balanced and wholesome diet, rich in nutrients, can prevent it to some extent
Dr Anjali Mukerjee
If you are genetically prone to early balding or greying of hair, you can blame it to your ancestors but largely the health of your hair depends upon your blood circulation and nutrition. Hair colour is the result of pigmentation attributed to the presence of certain specific chemicals known as eumelanin and pheomelanin (broadly referred to as melanin).
Achilles' heel
Prolonged use of high heels often result in chronic injuries like hammer toes, blisters, neuromas and skin breakdown, leading to infections
Dr T Sringari and Dr Satnam Singh Chhabra
Most women, whether young or old, want to look well groomed and fashionable. High heels have been a part of the fashionable look for a long while. However, style statements may sometimes turn sour and your fashion choice may make you a victim of your style. Wearing high heels can make you feel great but it can become painful and have many side-effects.
---
Society
The eternal weight & watch
In their pursuit for the elusive perfect figure, women resort to a multi-pronged approach to keep the pounds away
Aditi Garg
Does looking into the mirror make you cringe? Are you afraid of stepping on the scales? Is shopping an excruciating exercise where nothing seems to fit? If any of this sounds like you, you are probably just a woman! A lot of us are in a permanent duel with weight. Whatever we weigh, only a lucky few are happy with what they look like.

SoulTalk
---
Travel
The beach of mellow happiness
Ganapatipule in Maharashtra has one of the most spectacular beaches along the Konkan coast. It is an idyllic getaway that attracts peace-seekers, beach lovers and pilgrims alike
Hugh & Colleen Gantzer
This is, really, a most unusual destination. Its setting is dramatic. Our road arrowed through a barren, seemingly blasted, plateau of crusty, black, laterite: a cold and unwelcoming place. Further along the coast, however, this rugged terrain produces the famed Alfonso mangoes whose golden flesh is a gourmet's delight. Then, unexpectedly, we were out of this bleak landscape.

Globetrotting
---
Entertainment
Power of the real
With documentaries making it to multiplex screens more regularly than ever before, non-fiction filmmakers in India have reason to look ahead with guarded hope and enthusiasm
Saibal Chatterjee
It is not often that a documentary film makes history in India. So when, Mumbai-based and Canadian-born filmmaker Dylan Mohan Gray's Fire in the Blood, released in November last year, ran for five weeks, movie industry observers sat up with a start.
Brand father is back
Actor, director, theatre personality, advertising guru, Alyque Padamsee returns to the stage with Death of a Salesman
Shoma A. Chatterji
Alyque Padamsee has a nickname — the 'brand father' of advertising in India. He is also one of the pioneers in English theatre in the country. He directed and acted in his own plays but quit acting 40 years ago. He came back in the intriguing role of Willy Lowman in Arthur Miller's Death of a Salesman.
---