On a high pitch
The kings are back in their territory and raring to go. A day before the Indian Premier League match at Mohali, King's XI Punjab players David Miller, Cheteshwar Pujara and Manan Vohra are relaxed as they interact with their enthusiastic fans…
We unnecessarily undermine ourselves, only to be reminded by a jail warden like security personnel that we can be a real threat…this time to the Kings XI Punjab team cricketers! So we are ordered to leave, as he shouts, "Get out." As we jostle to interview David Miller, Cheteshwar Pujara and Manan Vohra. Journalists don't take it kindly and a bit of aggression sets things in order, interviews are arranged, pictures are clicked and the jail warden…oops the security personnel…goes into hiding. Meanwhile, cricketers share interesting tidbits about their life off the field.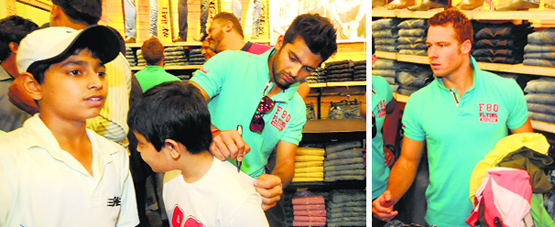 Play full: Manan Vohra signs the t-shirt of his young fan and (R) David Miller. Photos: Pradeep Tewari

Eat, drink…watch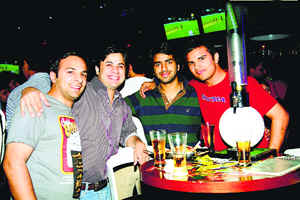 With IPL frenzy reaching the City Beautiful, restaurants and bars are all geared up to dish out the best. The enthusiasm is high and the platter sure is full
It has taken seven seasons of the Indian Premier League to make the boys in red and white mark their dominance in a sea of multi-coloured uniforms and even more colourful crowds. For this once, the cheering fans also got reasons to celebrate.

IPL fans have big plans for the upcoming matches

The show begins…
Famous wedding planner Rahul S announces its launch in Chandigarh with a live show by renowned mentalist and entertainer Lior Suchard

Like the venom, that holds the secret to its antidote, the answer to every question lies in the very existence of that question. With the Chandigarh folks fuming over the city's inadequacy to offer any entertainment, except the gang wars over issues like "why did you stare at me like that" outside some fancy club, there emerged a need for constructive entertainment and drama, which can be enjoyed with family.

Team up: Rahul sardana & Parminder Singh. Photo: Manoj Mahajan

Green thumb
Natural progression
While gardening one should follow ones instinct and scientific guidelines
We apprised you with some of the fads and myths that fail a gardener. Gardening is one subject that is very easy and a gardener has to follow instincts and learning acumen to be successful. The gardeners, the malis are mostly uneducated in gardening and follow whatever they have learnt from their elders. You have to employ them as you don't have any other option.
Get physical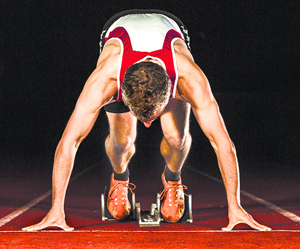 Run towards health
Sprint training is challenging. Better heart and lung health, improved metabolism, improved stamina and the ideal body composition are just a few of the reasons to practice sprint training. A 10-mile jog or a walk on super inclined treadmill or in a neighborhood garden may not help to attain fit, strong and athletic body which sprint training might help to achieve. Short and fast bursts of running have been proven to be more effective than hour-long jogs. Here are few tips on how to improve sprinting technique.

Good posture is important for all runners, especially sprinters
Fit 'n' fine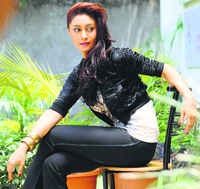 In Ludhiana, model-actress Mahek Chahal, who traces her roots to Punjab, says one should make a stepping stone of each stumbling block in life
Her perfect waistline and high cheek bones more than convey that she follows a strict exercise regimen; model-turned actress Mahek Chahal sure loves to work-out. Each day is different for her, with kickboxing, swimming, running and yoga being a part of her rigorous schedule. In Ludhiana on Monday, Mahek is every bit enchanting and intriguing at the same time.

Cool quotient: Mahek Chahal. Photo: Himanshu Mahajan

CELEB POINT
Making peace with past
Ever since I lost my dad when I was a child, I have lived with a fear all my life. I have this fear of losing people I get attached to. It has its plus and minuses though. Plus is that I cherish each moment I spent with anyone—friends, family or relationships. Absorbing each moment. And I genuinely care for everyone because I do get attached very soon. Even to a moment! A situation would affect me much more than it would a normal person.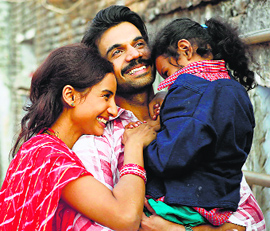 star track
A film for the brave
Citylights is not a film for the faint hearted: Mahesh Bhatt
The successful team of Fox Star Studios and Vishesh Films is now back with a path-breaking movie experience with Citylights this May. Citylights brings back the National Award winning duo Hansal Mehta and Rajkummar Rao, after their earlier venture Shahid wowed the audiences and critics alike. It bagged all major film awards for the year 2013.

A still from Citylights
Astro turf
ARIES: You will win over one enemy or adversary today. Family life is charged with tension. Financially, the first half of the day is rather expensive. Keep cool and maintain a low profile. Tarot message: Follow the path you have chosen. Lucky colour: Mauve. Magic number: 49.
The year ahead
If your birthday is May 21...
Most part of the year 2014 will be spent in travelling for seminars or business deals. Some of you can go on educational or business tours. The changes to your home life will undoubtedly cause you stresses and strains. Your health is not going to be compromised because 2014 is the year when you will focus your energy on exploring deeply spiritual resources to aid healing and restore your equilibrium.
Chatter box
Back with a bang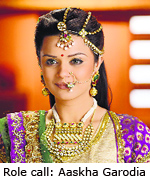 It's good news for all the fans of the gorgeous Aaskha Garodia aka Dheer Bai Bhatiyani, as she will re-enter Sony TV's historical saga Bharat Ka Veer Putra — Maharana Pratap. Aaskha will be back after a gap of almost three months. Udai Singh had punished Dheerbai for unknowingly informing Rao Surtan about his Army's plans. As a punishment she had to live like a widow in prison. But now the story will be taking a new turn where Udai Singh will be seen regretting his decision and ordering her release. A birdie from the sets informed that Aaskha has already started shooting and will be seen on air in the coming days. We hope to see her back really soon too!
Coming soon
Art & strategy
Chandigarh Lalit Kala Akademi is organizing a lecture by Dr Linus von Castelmur, the Ambassador of Switzerland to India and Bhutan. The lecture is titled 'On the tipping point. Balance and precariousness as artistic strategy. Thoughts on the works of Swiss artists Peter Fischli and David Weiss'.