M A I N N E W S
Talks fail, Thai Army seizes power in coup
Bangkok, May 22
Thailand's Army chief General Prayuth Chan-ocha seized control of the government in a coup on Thursday, two days after he declared martial law, saying the military had to restore order and push through reforms after six months of turmoil.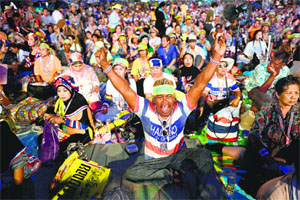 Anti-government protesters raise slogans after Army took control in Bangkok on Thursday. AFP
The military declared a 10 pm until 5 am curfew, suspended the Constitution and told outgoing Cabinet ministers to report to an army base in the north of the capital by the end of the day. Rival protest camps were ordered to disperse.
Thailand is locked in a protracted power struggle between supporters of ousted former premier Thaksin Shinawatra and opponents backed by the royalist establishment that has polarised the country and battered its economy. "In order for the situation to return to normal quickly and for society to love and be at peace again... and to reform the political, economic and social structure, the military needs to take control of power," Prayuth said in the televised address.
The General made his broadcast after a meeting of rival factions to find a compromise to end six months of protests, but no progress was made. — Reuters
India warns citizens
The Indian Embassy in Bangkok has advised all Indian tourists and residents to take "abundant precautions" for their safety and urged them to avoid moving around during the curfew period and also avoid areas where demonstrations, political gatherings and marches were likely to take place. It said public transport, including to and from the airport, could be affected from 8 pm (local time) onwards due to a 10 pm to 5 am curfew.