Complex narration
Reviewed by Harbans Singh

The Red Tin Roof
by Nirmal Verma, translated by Kuldip Singh,
Penguin Books. Pages 241. Rs 299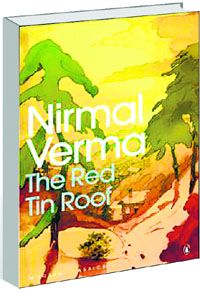 The Red Tin Roof is a much more complex narration of the life of a young girl who is on the verge of attaining adolescence. Set in Shimla, the book is about Kaya, a young girl, living in the company of older people and her younger brother Chhote who tails her all day long and seeks warmth in her company even while asleep. It is a complex family story, set in the Summer Hill, Sanjauli and Jakhu areas of the hill station that leaves much room for the imagination of the reader. Adding to the complexity is the uncle of Kaya, living with his young son after the death of his wife and carrying a liaison with a Pahari woman from Narkanda. Much of the book is a layer of experiences where another opens when the one is touched.
The book, first published in Hindi in 1974, is representative of all that Nai Kahani movement meant to the creative writers of the time and in the process gives all the ammunition to the traditionalists to criticize the movement. Essentially the movement was an exercise in exploring the human consciousness and therefore required considerable knowledge of psychological understanding of human emotions. Critics have argued that the style and definition of the story and the novel was blindly borrowed from the western world that had experienced the horrors and the deprivation of the two great wars and was then subjected to the heartless exploitation by the capitalist world. In sharp contrast, though India suffered from the failed expectations after Independence and also went through the break up of the joint family yet it was never subjected to experiences that questioned the meaning of life. Hence, these critics have found simulated suffering and torment of the soul in the practitioners of the new style. The Red Tin Roof, though not questioning the meaning and purpose of life, leaves much to be desired as a story line. Not only does it lack intensity but the storyline is scratchy and mundane even if elements of mystery and discovery are added to it.
The pioneers of Nai Kahani have always been subjected to severe criticism since a number of them began their journeys from the extreme left and ended close to the right if not outright among the rightists. While one understands the changes that occur during the course of one's life, one expects credible explanations for those changes. In their absence, motives can be easily imputed particularly when it is realised that it was the 1960s that produced spell-binding authors like Tarashankar Bandhopadhaya and Bimal Mitra, one who produced a classic like the Gana Devata and the other that endearing novel Sahib, Bibi Aur Ghulam. The translator Kuldip Singh deserves all the praise for the easy and fluent translation.