ENTERTAINMENT
"The fire in me is still blazing strong"
Lyricist and poet Irshad Kamil has given us memorable songs in films like Love Aaj Kal, Rockstar, Aashiqui 2. The versatile writer says the biggest challenge in the film industry is to keep one's talent intact
Nonika Singh
His songs are on everyone's lips. Only unlike 'here today gone tomorrow', Irshad Kamil's wondrous lyrics stay with you long after these cease to be on the chartbusters list. An average listener might be perplexed — what is this Ph.D in Hindi, essentially and intrinsically a poet, doing in films?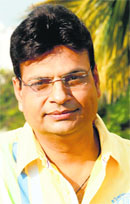 Irshad Kamil
But Irshad always aspired to write songs for Hindi cinema albeit soaked in a new and refreshing vocabulary. Dipping his words in influences ranging from Rumi to Amir Khusrau to Bulle Shah, he unfailingly conveys the beauty of heartfelt emotions and touches the deepest recesses of our hearts. Over to the man whose songs invariably become mirror expressions of our feelings.
From a small boy growing up in Malerkotla to being the toast of Bollywood and on the cover of national magazines, how do you feel?
Elated and satisfied, content in the knowledge that I am going in the right direction. My journey has been enjoyable, full of ups and downs but the fire in me is still blazing strong.
During periods of struggle what kept your sanity intact?
Belief in myself, confidence and faith in my abilities though I must say that one has to learn to delineate between confidence and delusion. Living in a small town can easily instil a false sense of importance but Bollywood is a different ballgame altogether that puts you through a real acid test.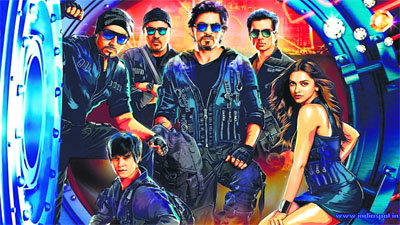 A poster of Happy New Year
In a formula-driven industry, how can a person blessed with fine poetic sensibilities survive?
Indeed, that is the real challenge. The relationship between film industry and talent is like the one between husband and wife where both try their utmost to change each other and then crib that the partner is not the same anymore. Bollywood that first welcomes you for you are not run of the mill tries to cut your sharp edges and dovetails you according to stereotypes and makes sure you become one peg in the hole. And to top it all it, then, it even has the ball to proclaim — he doesn't have it in him anymore.
How are you able to swing from songs like "Maahi ve" to "Dil mein baji ghantiyan"?
Let me be very clear... writing film songs isn't swaant sukhaye. It's not something that I am doing for self-gratification. I have to pen songs in sync with the character. Sure, the poet in me is often at crossroads with the dictates of directors and I try to sneak in some literary content in my songs. But at the end of the day, I have to give in to the demands of the profession.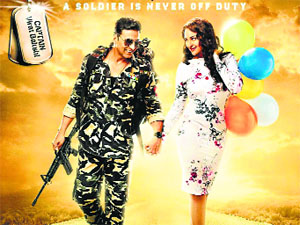 A still from Holiday
You have given us some incredibly romantic numbers like "Ajj Din Chadheya Tere Rang Warga" and "Raanjhna Hua Main Tera", are you a die-hard romantic?
Poets are born with two attributes mohabbat and udaasi. Take away either and a poet would be incomplete.
In your writing, Sufism is a big inspiration. What does it mean to you?
Sufism is a highly misunderstood term. And any song, including some of mine that has a spattering of words like "Maula" and "Allah" is believed to be Sufi song. Only few understand that Sufism is a quest to find your inner self.
Is working with legends like A R Rahman daunting?
On the contrary, we often forget that it's the supreme talent and exceptional qualities that makes them legends. With Rahman sir, I can take the liberty of adding or subtracting words in a metre. Often he tells me. Go ahead, write what you feel like never mind the composition.
Do you hike up your price after your songs become chartbusters?
No. You can't jack up or lower prices on the hit/ flop metre. Remuneration invariably depends on the budget of the film. But yes I do command my price.
Does working in big budget films like Holiday, Prem Ratan Dhan Payo and Happy New Year open new avenues?
It's not about fresh vistas. However, working in a Salman Khan and SRK film does mean more people will watch the film and you end up reaching a wider audience.
Where do you see yourself 10 years down the road?
Right on this highway where I arrived after burning all my boats, firm in my belief that this is my karambhoomi where I have to write songs with a difference. Though I won't reveal my final destination, I am quite pleased with where I am placed in the industry where I had no godfathers.