SPORTS
'We are ready for the challenge'
Amit Kumar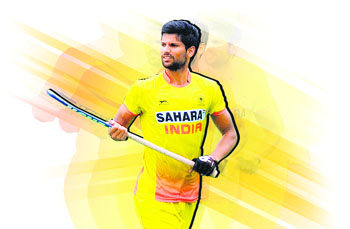 Rupinder Singh is the Vice-Captain of the Indian hockey team for the World Cup (May 31-June 15) to be held in the Netherlands
He is regarded as one of the best drag flickers. India's Vice-Captain for the forthcoming World Cup (May31-June15) to be held in the Netherlands, Rupinder Pal Singh has improved vastly over the last year. Central to the team's plans, his strong tackling and accuracy are his forte. With 83 caps already under his belt, he is confident of a good showing but does not want to be over confident.
What are India's chances?
We have been preparing very hard for the World Cup and we are going to put in our best. Nothing is going to be easy but we are excited and ready for the challenge. Personally, I have set a top-six finish as my target. In the preparation camp, all players have shown significant improvement as a unit and everyone is geared up to take on the challenges at the big stage. It is an honour to be the vice-captain of the national side.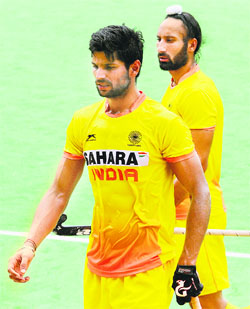 During practice with Captain Sardar Singh
Head coach Terry Walsh had expressed his displeasure over having the preparatory camp in the heat of Delhi?
He was misinterpreted. The camp has been a success and everyone is focusing on the job ahead. Terry has helped us immensely with his focus on psychological aspects of the game and there is visible overall development. There has been special attention on improving the mental strength.
Will adjusting to Holland weather be easy?
I know it has been made out to be an issue, but at this level you are expected to acclimatise fast. And in any case we are reaching there some days in advance. It is expected to be around 20`B0C there but it should not be any problem. We had toured Holland and Belgium last month. The experience will stand us in good stead. It is important for us to start well.
But the European tour was disappointing on the field?
That will be a bit harsh on the players. We fought well. The experience we gathered is definitely going to help us this time. The practice matches against Argentina and South Africa are crucial in start up to the tournament.
How tough is the group?
It is all in numbers

n

India have won the maximum number of Olympic hockey medals - 8 gold, 1 silver and 2 bronze. They are currently ranked eighth in the world. Leading from the bench at the 13th edition of men's World Cup will be head coach Terry Walsh and head of high performance Roel Oltmann. Setting the example from the pitch will be the creative midfielder and captain Sardar Singh.

n

It will be the second time when both the men's and women's World Cups have been held at the same time and at the same location. Last time it happened in 1998 at Netherlands only.

n

Six matches will be played daily in the pool phase running until 10 June, reducing to four during the knock-out phases. Women's final will be played on June 14th.
We are in group A with Australia, Belgium, England, Spain and Malaysia. Defending champions Australia are going to be toughest bet in the group clashes. But we have four matches before we play them. We will take one match at a time as it helps you to soak pressure.
How do you see the composition of the team?
A: It is arguably the best we could have picked. There is enough experience with the likes of Sardar, Gurbaz, Sunil, and Raghunath. All are fit and raring to go.
We have seen a number of coaches in the past few years. From Harendra Sigh, Brasa, Nobbs and now Walsh and Oltmans, how tough is it to adjust?
It depends. Once you have played for three to five years at the national level, you know your strengths and weaknesses very well. You understand your body. The coach only tells you what to do and you know how to do it. We always have had assistant coaches who translate things for us and language or culture has never been an issue.
What does the sport lack in India?
Things have improved now. The infrastructure and facilities are like never before. The exposure is bound to have a domino effect. With Asian Games and Commonwealth Games this year, a good show is bound to get people attracted to hockey once again.
Which other sport you follow?
Soccer. Rooney and Gerrard are my favourites.
How do you de-stress?
I watch soccer and listen to Punjabi songs.
Packing a mean punch
A core group of 42 boxers has been selected ahead of the Commonwealth Games and the Asian Games
Gagan K. Teja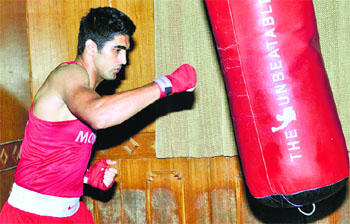 Olympian Vijender Singh and (below) boxer Manoj Kumar photos: Rajesh Sachar
With the Indian Boxing Federation announcing the 42-member core-group probables for the upcoming Commonwealth Games and Asian Games, the stage is set for a fierce battle not only at the international level but in the domestic circle as these probables will now have to fight a tough fight among themselves to make final cut for these tournaments.
The core group is a blend of the experienced boxers like Olympic medallist Vijender Singh, Akhil Kumar, Dinesh Kumar and some other talented youngsters Sukhdeep Singh and Mandeep. Other big names in the list include 2010 Asian Games gold medallist Vikas Krishan, Youth Olympics medallist Shiva Thapa, former junior world champion Nanao Singh and L. Devendro Singh.
The selection trials were held at NIS, Patiala, by the selection committee constituting Rajendra Prasad, Deverajan, Jitendra Kumar, Mohammed Ali Qamar, Mehtaab Singh recently amid much fanfare.
The AIBA's (International Boxing Association (amateur) new rule of doing away with the headgear was in place during the trials that were held as per the fresh changes made by AIBA as far as scoring and refereeship are concerned and witnessed a stiff competition. However, there were hardly any upsets. All main boxers have made their way to the core group and there has not been any major eviction from the core group.
After shortlisting the core group, the coaches are hopeful that the training of the probables is going to pick up pace. Coach Gurbax Singh Sandhu said, "We have fantastic boxers in each weight category and it is really difficult to say as to who is the best. They all have proved their mettle time and again and anyone can defeat the other on any given day. So, we have included all deserving boxers to ensure that everyone gets best sparring partners. Every boxer has a unique fighting style and thus it enables each of them to play different type of a game and learn how to handle different techniques," added Sandhu.
The boxers, on the other hand, are equally thrilled about their selection and are now gearing up for a bigger game. Olympian Vijender Singh has returned to the ring after completing the shooting of his Bollywood debut film Fugly. He says the youngsters are very talented and despite his experience, he has been working really hard to maintain his momentum.
Vikas Krishan, who has been selected along with Dheeraj, Vikas Malik, Rohit Tokas and Anil Kumar in 60-kg weight category, says all boxers are of equal calibre and making to the core group wasn't easy. "However, the real fight begins now as the final trials for the Commonwealth Games will be held shortly. I am working day and night to make the final cut," he added.
Core group

49 kg: L Devendro Singh, Amandeep Singh, Pankaj Saini and Nanao Singh

52 kg: Madan Lal, Santosh Harijan, Gaurav Bidhuri and Sunil

56 kg: Shiva Thapa, Mohammed Husamuddin, Aman Indora and V Durga Rao

60 kg: Dheeraj, Vikas Malik, Rohit Tokas, Anil Kumar and Akhil Kumar

64 kg: Manoj Kumar, Sandeep Kumar, Deepak Tanwar and Narender Singh

69 kg: Mandeep Jangra, Manjit, Dilbagh Singh and Vijay

75 kg: Vikas Krishan, Vijender Singh, Sukhdeep Singh and Jagat Singh

81 kg: Sumit Sangwan, Kuldeep Singh, Jagroop Singh and Harjinder Singh

91 kg: Dinesh Kumar, Amritpreet Singh, Manpreet Singh and Jasveer Singh (+91kg): Satish Kumar, Praveen Kumar, K P Singh, Narender and Manjeet Singh

Reserve: Manish Pawar (69kg); Harpal Singh (75kg); Abhishek Beniwal (81kg).

Return of the fighter


Akhil Kumar

Having mesmerised everybody with his aggressive fighting style and quick moves during the 2008 Beijing Olympics, Akhil Kumar had been forced into oblivion due to his injuries in the past two years. Ahead of the 2012 London Olympics, he sustained a tear in his calf muscle ahead of the final trials and could not recover. His London Olympics dream was shattered.

Akhil then decided to proceed for his one-year police training and join his duty but destiny had different plans for him. During training, he met Commonwealth gold medallist wrestlers Ravinder Singh Sangwan and Amit Dhankar who motivated him to restart his training. Once he was "literally" pushed back into the groove, things started falling in place. However, the biggest motivation came when the International Boxing Association's decided to increase the upper-age limit of boxers for Olympics from 34 to 40 years and that's when the 33-year-old finally decided to get back into the ring.

On completion of his training, instead of joining duty, he headed to NIS Patiala to get back into the ring. After months of hard work, he has finally returned to the 42-member core group for the Commonwealth Games and Asian Games.

Akhil feels that he is ready to put behind his injury woes and fight hard. "I cannot thank my coaches enough. Chief coach GS Sandhu and Cuban coach BI Fernandez have shown immense faith in my ability and backed me up which helped me push my limits further. Coaches Jaidev Bisht and Amrik Singh played a massive role in keeping me fit as did Dr Sanjay Vats from Delhi, who has been working on getting my body back into the shape. He,too, has played a tremendous role in my rehabilitation process," added the veteran boxer.