TRAVEL
Of wanderlust, wilderness and wildlife
With Savannah grasslands stretching endlessly, Masai Mara National Reserve in Kenya is a perfect blend of adventure and escapism
Manpriya Singh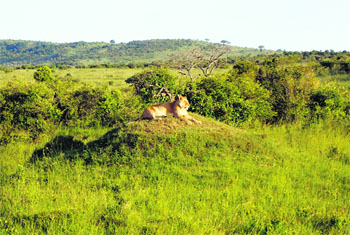 A big cat enjoys the sun at the Masai Mara reserve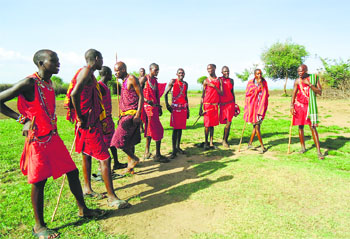 Villagers from the Masai tribe get ready to perform a dance to welcome visitors to the reserve
Where on earth do you experience the high of an adventure and the joy of escapism? An African safari holds every promise that a life far from the madding crowd and maddening routine can possibly offer. The Masai Mara National Reserve in Narok Country, Kenya, is more than mind boggling statistics or countless species of animals and birds.
Where a brush with the wild is the only way of existence, there's wilderness for adventure and wanderlust for entertainment - imagine endless stretch of Savannah grasslands, the Big Five animals ( lion, leopard, African elephant, African buffalo and black rhinoceros), apart from usual zebras, giraffes, thousands of migrating wildebeest, warthogs, hyenas and hippopotamus.
It is only a beginning. Better get started with the spotting game on arrival itself. It also helps to make friends with the guide (usually belonging to the Masai tribe) and the driver. Learn a few beginners' words in the local language (Swahili).
Day one of safari can really set the mood for the rest of the stay. Landcruisers with large window panes and sunroofs ensure that nothing gets in the way while you are on a game drive. It is not uncommon to spot The Big Five within two to three safaris itself. However, it takes some luck to see the ferocious cats in their true element - like watching a lion and a lioness rip the flesh out of a just killed hippopotamus. However, this sight is not for the weak hearted.
There is a world of a difference between the morning safari and the evening safari. The early morning drive lets the visitors experience the lovely African sunrise and gathering of animals. In the evening, the predatory animals begin to get active after the day's heat and slumber. Accordingly, their prey too becomes active as the darkness falls.
Driving through the unending grasslands is never futile. The cell phones and radio communication apparatuses, installed in the vehicles, ensure that all safari cars accumulate around the area of any interesting animal activity.
As the darkness falls, a few minutes of drive away, there is a leopard with a deer in its mouth, both hanging atop a tree. The big cat has retired for the day on the tree branch with its prey tucked safely in the mouth. The sun has gone down on yet another eventful day. Each day unfolds several facts of animal behaviour.
It is time now to come back to the lodge, sip in the black Kenyan coffee (one of the finest in the world) and swap your safari stories with fellow travellers. Keekorok Lodge, one of the oldest in the area, boasts of luxury cottages, an outdoor pool and even a hippo bar. A scenic one-km long wooden walkway on the 80-acre property, takes you to a bar overlooking a permanent watering hole, that is home to over two dozen hippos at any given point of time. The day even ends with a ringside view of the wild life and sounds of the night. Well, it's Kenya.
From left: A pair of lions just up from their afternoon siesta; Keekorok Lodge has a hippo bar overlooking a permanent watering hole, where over two dozen hippos are present at any given point of time; a view of the elephants from the safari car Photos by the writer
QUICK FACTS
n

How to reach: Masai Mara is 45-minutes flight to from Nairobi, the capital of Kenya. The scenic drive by road can take anywhere between five to seven hours, depending on the weather.

n

Places to see: Opt for balloon safaris to get the view of grasslands. Specialised guides can be arranged for birding tours to see over 470 species of birds in the reserve. Nairobi has several places of interest for the travellers. The Carnivore, an open air restaurant, is one of world's top ranking restaurants. It serves a variety of meats including ostrich, crocodile and camel. The meat is roasted over charcoal and carved on your table. Mayfair Casino in Nairobi is frequented by 70 per cent of Indians at any given point of time. Be it blackjack, poker or slot machines; it's not unusual to find at least one Indian on every table.

n

Best time to visit: Although temperate climate and abundant wildlife promises a year round safari, those going for migrant wildebeests, should visit between July and November. April to June are rainy months.

n

Tribal culture: In the Masai village, at a rate of 20 dollar per person, the Masais will let you into their houses, perform a welcome dance, show their ways of living, and answer queries about their customs. Each man is allowed to have up till four wives, give a dowry of five cows to the bride's father. Raw blood from cattle is a part of their diet.

n

Special tip: The villagers may lure into buying things like claws, tooth, trunk and other body parts of animals. All these, if sold without documentation, are illegal. Don't buy them as you might be held back at the airport for possessing them. Kenyans take pride in and also protect their wildlife and nature.

n

Local language: The Kenyans and Masais in general are fluent in English, friendly and hospitable.

n

For a taste of home: It is not uncommon to find to even aloo gobhi, chanas and naan on the buffet menu of most lodges, courtesy Indian diaspora and large number of Indian travellers.