Fortress Delhi: Team Modi checks in today
* Prez to administer oath in front of SAARC heads, 4,000 guests
* Unprecedented security for biggest such event
Girja Shankar Kaura
Tribune News Service & Agencies
New Delhi, May 25
The entire world has its eyes fixed on the Indian capital. A man who once helped his family make ends meet by vending tea at a railway station in between his classes will take oath as India's 15th Prime Minister on Monday.
In the presence of government heads and leaders of eight countries, Narendrabhai Damodardas Modi (63), will be sworn in by President Pranab Mukherjee at a grand, open air ceremony, attended by about 4,000 guests, including foreign diplomats, on the forecourts of Rashtrapati Bhavan.
Elaborate arrangements have been made for the event with the Delhi police putting in place multi-layered security around the venue. The Indian Air Force will be on high alert with an "impregnable" air defence system as the event is in the open. Nearly 10,000 security personnel will keep vigil.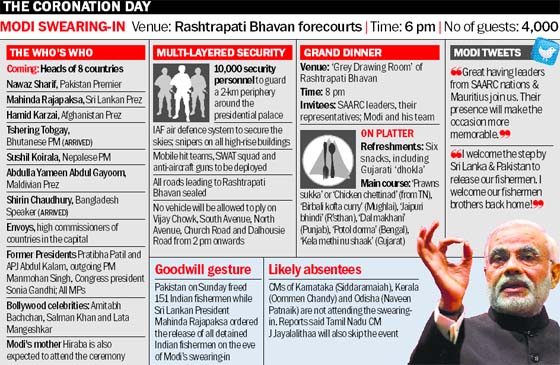 The heads of government of all SAARC countries except Bangladesh are attending the event. Pakistan Premier Nawaz Sharif on Saturday confirmed he will, too, attend the ceremony. Apart from Sharif, the dignitaries who would be present include Sri Lankan President Mahinda Rajapaksa, Afghanistan President Hamid Karzai, Bhutanese Prime Minister Tshering Tobgay, Nepalese Prime Minister Sushil Koirala and Maldivian President Abdulla Yameen Abdul Gayoom.
Bangladesh will be represented by Speaker Shirin Chaudhury, as Sheikh Hasina will be away on an official visit to Japan, while Mauritius Prime Minister Navinchandra Ramgoolam will also be present.
This is the first time that the heads of states of SAARC nations have been invited to attend the swearing-in ceremony of an Indian Prime Minister. Ambassadors and high commissioners of countries present in the capital are being invited, again in a first, for an oath-taking.
Former presidents Pratibha Patil and APJ Abdul Kalam, outgoing Prime Minister Manmohan Singh and Congress president Sonia Gandhi, and Bollywood celebrities, including Amitabh Bachchan, Salman Khan and Lata Mangeshkar are among those invited. All MPs are also on the guest list, the sources said. Modi's mother Hiraba is also expected to attend the ceremony.
As security has been beefed up, all roads leading to the Presidential Palace, have been closed down for the general public.
The police have requested all government offices in the South and North blocks, including those of the armed forces, to announce a half-day for employees on Monday.
A ground-to-air security cover on par with the Republic Day parade is being put in place for the swearing-in. The Delhi police said a multi-layered security ring is being thrown around Raisina Hill and the IAF will put in place an air defence system to secure the skies and snipers will be deployed on all high-rise buildings in the area.
Mobile hit teams, anti-aircraft guns and sharpshooters of NSG will also be deployed, besides paramilitary personnel and Delhi Police commandos. Reports said the Delhi Police also conducted mock security drills on Saturday and Sunday.
Heavy deployment of traffic personnel has been ensured at every intersection in central Delhi on Monday. As a part of the security measures, no vehicle will be allowed to ply on Vijay Chowk, South Avenue, North Avenue, Church Road and Dalhousie Road from 4 pm. No parking will be allowed in these areas as well.
Delhi Police Joint Commissioner MK Meena said prohibitory orders banning any assembly of five or more people have been imposed around Rashtrapati Bhawan. The orders will be in place till Tuesday, he said.
The Delhi Police will be in charge of security of the hotels where the visiting dignitaries, including from Pakistan and Sri Lanka, will be staying, as well as along their travel routes.
All major five-star hotels - including Taj Mansingh, ITC Maurya, Taj Palace, Oberoi, The Leela Palace - where the heads of state or government are to stay have also been kept under multi-layered security and vigil.
Following in the footsteps of former PM Atal Bihari Vajpayee, Modi had expressed his desire to be sworn in on the forecourts so that a large number of visitors can be accommodated for the ceremony. The historic Durbar Hall of the Rashtrapati Bhawan is the usual venue for such ceremonies. But since it can accommodate about 500 people, the forecourts were decided as the suitable venue.
The sprawling lawns of Rashtrapati Bhavan are ready for the gala swearing-in ceremony. The lawns have been filled with chairs and arrangements are being made for visitors to brave the summer heat in the national capital.
With the weather of Delhi playing a spoiler for the past few days, the event managers have put up a huge water-proof shamiana on the forecourts of the Rashtrapati Bhavan.
Official sources said the event managers have been asked to keep the setting on the forecourt as simple but it should be elegance. The theme, sources said would follow "simplicity with eloquence".
This would also be possibly for the first time that the Rashtrapati Bhawan would be lit up after any swearing-in. Reports said that since the swearing-in is scheduled for 6 pm, the Rashtrapati Bhawan will be lit up at dusk like it is done during the Independence Day and Republic Day celebrations.