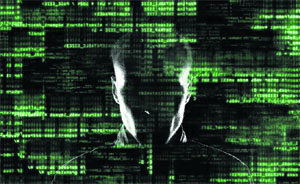 ethical hacking
The white hats
Have you ever gravitated towards viruses, or wondered how your friend could get hold of your password and smuggle into your mails or got interested in Distributed Denial of Service attacks? If yes, you might consider ethical hacking as a career option. The term ethical hacking may sound like an oxymoron. How can hacking be ethical?
Career Hotline


Is it mandatory to join an airhostess training academy?
Q. Although I'm from a small town in Punjab, I have studied in an English medium boarding school. Is it still necessary for me to join an airhostess training academy if I want to become an air hostess?
Cool Counsel


Never lose grip on commitment
Many innovators and aspiring achievers wonder what made the American Supreme Court decide that Alexander Graham Bell had invented the telephone while many had worked prior to him and had the patents too. The court found out that Bell was the one who not only added something more but made it click also. The addition was comparatively very small and simple but that alone made the invention work. The latter had the commitment to succeed which superseded the comfort that kept even his immediate rival Phillip Reis far behind. Reis failed to transmit speech telegraphically, but Bell did that. The court declared: "The difference between the two is the just the difference between failure and success. If Reis had persisted he might have found out the way to succeed, but he stopped and failed. Bell took up his work and carried it to a successful result."
field in focus: sales & marketing courses
Boost your market value
Can you sell a comb to a bald man, or persuade your friend to see a film that he dislikes? Are you super-confident, very articulate and love meeting new people? In other words do you have persuasive skills and winning ways that can make a simple detergent or face cream a simply-must-buy product? The most attractive dress and the fanciest phone is valueless until a customer knows about it and understands its use. Sales and marketing does just that. By assessing people's needs and then fulfilling them, it brings products and consumers together. So whether it is the latest designer dress or software, tasty snacks or microwaves, housing loans or holiday plans, effective sales and marketing is vital to the success of any commercial venture.
smart strategy: developing customer centric approach
Focus on clients to stay ahead
The modern business world is less about coming up with a better quality product and more about staying in the good books of your customers and clients. This is also the reason why managers want their team members to be more consistent with their customer communications. From initiating a new launch to the end marketing strategy revolves around the customer preferences, demands and expectations. According to Marketing Metrics, the probability that an existing customer will be a regular buyer is around 60-70 per cent but the probability of earning a new customer is as low as 5-15 per cent. Satisfied customers will spread the positive brand image of a company to an average of 4-6 acquaintances. However, a dissatisfied one will make sure that at least 9-15 non-customers know about the trouble they have been through. It is easy to keep a customer happy but it is easier to lose one.
cubicle trends
Reach office early to get that promotion
Have you received a less favourable appraisal from your boss this year? It is likely that the reason is that you were coming to office late. A study has found bosses to be favouring employees who, even though on flexible timings, arrived early. Researchers decided to see if workers were, as it has been claimed, being penalised for working flexi-hours. "Perhaps, we hypothesised, it matters in which direction an employee shifts hours," said lead researchers Christopher Barnes from the University of Washington.
Men also seek flexi work hours
As opposed to the popular belief that women, especially working mothers, prefer workplace with flexible work hours, a study has revealed that men too are increasingly opting for such options. According to a survey by job portal TimesJobs.com, over 62 per cent of the men stated that flexibility is indeed an important factor for them in a job. About 45 per cent of organisations said that men are largely using this option for child/family care, while 31 per cent use it to study/upskill themselves.
salary scale
Analytics professionals make big bucks
Analytics professionals in India obtain a 250 per cent hike in their salaries from entry level analysts to manager; the average entry level salaries have increased by 27 per cent since 2013, from Rs 5.2 lakh to Rs 6.6 lakh per annum, according to the Annual Analytics Salary Report — 2014, shared by Jigsaw Academy — The Online School of Analytics.


CareerCature sANDEEP jOSHI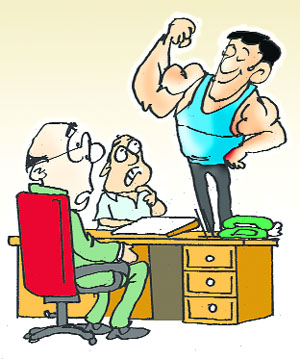 Is this the strength that you forgot to mention in your resume?
Happiness @ work
Gems of ancient wisdom
Accept a challenge
Many of us have hidden talents and it is only sustained effort and hardwork that make us achieve our full potential . The fear of failure and unwillingness to put in a sustained effort are the biggest roadblocks in realising our true potential and become successful.
course cruising
Online exam for design courses
LISAA School of Design will be conducting an online entrance examination for selecting candidates for its undergraduate courses in textile design, interior design, product design, graphic design and web design for the current academic session. The institute is recognised by the ministry of Culture and Communication in France and UGC in India and has branches in France at Paris, Rennes, Nantes, Strasbourg and in India in Gurgaon.
course chat
Entrepreneurship course
The Entrepreneurship School, (TES), Gurgaon, has introduced a new bachelor's programme — BCom+BBA — from the current session. This new course combines management studies with commerce and entrepreneurship studies, and is aimed at encouraging the spirit of innovation and entrepreneurship education in India.
scholarship roundup
Stanford Reliance Dhirubhai Fellowships
Applications are invited for Stanford Reliance Dhirubhai Fellowship for Indian students. Up to 50 Reliance Dhirubhai Fellowships are available for pursuing MBA programme at Stanford University.
news board
CEO Hunt
Online shopping community DesiDime.com has launched the campaign "Desidime.com Next CEO hunt" — an opportunity for young college students to experience the first taste of entrepreneurship by working as the CEO of Desidime.com for a period of 15 days starting June 16, 2014. The campaign is powered by Twenty19-India's largest student opportunity portal. The selected candidates will be working along with the CEO of Desidime.com and will be involved in day- to-day decision making process. The remaining 15 days of the tenure he/she would be working in the capacity of Management trainee in Marketing Department. The opportunity is for a period of one month at the end of which the candidate will receive a stipend of Rs 7000 along with a recommendation letter and a work experience certificate.