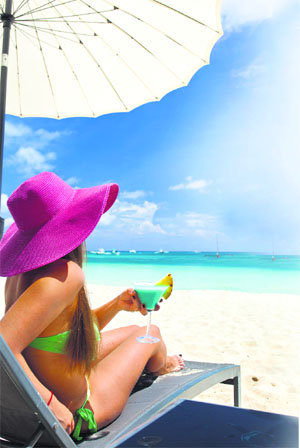 Seychelles, Maldives and Langkawi may offer some of the best beaches in the world. But when it comes to a seaside holiday India, too, is not far behind. With its 7,000-km coastline, it offers some of the most breathtaking beaches like Candolim and Baga in Goa, Rishkanda in Visakhapatnam, Lighthouse Beach in Kovallam, Varkala in south Kerala and the golden sands of the Lakshadweep and the Andamans and Nicobar islands, to name a few.
For lovers of the white sands and blue skies, the sea holds its own charm not just in summers but also in winter for hardcore enthusiasts. The sandy beaches of Bangaram, for example, offer excellent holiday opportunity with the prospects of indulging in deep-sea adventures like scuba diving and snorkelling, both for professionals and amateur fun-seekers.
Marine life
Nothing can beat the fun of going scuba diving or snorkelling in the Lakshadweep or the Andaman and Nicobar Islands. The sea here offers some exotic views of marine life and coral sea beds. The surf on the beach can be rough, so it is advisable to go with a well-trained tour operator, who provides full gear for the sport and a professional is at hand, who will be nearby for any support you may need.
However, despite such lush beaches, Indians till the recent past have not been overly enthusiastic about a seaside holiday and have largely preferred hill stations and other touristic destinations. But now, with air connectivity and better infrastructure, most of these leading beaches in different parts of the country are attracting Indians in hordes who visit them with families in tow for a wind-sun-and-sand vacation.
But before you start packing your bags and taking off for that dream destination, there are a few things to consider when planning a beach holiday. First of all, make sure that the place you are going to has something for every member of the family. This would include fun activities for children as also recreational options for adults.
Planning is essential because a seaside trip is different from say, a vacation to a hill resort or any other touristic destination. For a fun-filled beach holiday, you would require different kinds of clothes and accessories, things that will keep the family entertained and some special paraphernalia to make sure that you are well-protected from the elements.
Essentials and accessories
There is a wide range of beach essentials and accessories, including the must- have holiday extras people usually forget... hats, sunglasses, sun cream, flip-flops and many more things. So make a list and tick-mark each box before embarking on your holiday.
First, the attire. A seaside holiday would be incomplete without swimwear, which would include bikinis for the ladies and swimming trunks for the men. Since there is a wide variety to choose from in the market, go for the best swimwear that makes you look hip and trendy.
Once you've selected the swimwear, the next essential on your list should be the accessories. The first thing you'd need is comfortable footwear to walk on the sand. Flip-flops are the footwear of choice for the beach. If you're a girl, you can also bring a pair of flat sandals or wedge heels in case you decide to go to a restaurant in the evening. But avoid any kind of high heels. These are a disaster on a beach holiday.
Sunglasses are another beach requirement. These not just look stylish but also protect your eyes from the glare of the sun which can at times be very harsh on the beach. In case you plan to make a splash in the sea, you would also require swimming goggles and a cap to safeguard your eyes and hair from the sand and mud in the water. Another accessory you'd require is a hat made of straw or cotton to guard against the sun and also to shield your hair from becoming a mess in the strong beach winds.
Beachcomber's towel
Regular beachcombers will advise you to carry a good quality towel. This is different from an ordinary towel as far as the length goes. Since a number of vacationers also use it as a sheet on the sand to lie upon, it has to be at least six feet in length. You would require a cool beach bag to carry all the stuff.
Those who frequent beaches regularly must also invest in comfortable chair-come-lounger and a seaside umbrella. The first one, as the name suggests, is to relax and spend a lazy afternoon on the beach and the second is to protect you from direct sunlight that could lead to sun burn.
But do not balk at the idea of lugging the chairs and umbrella. There are plenty of foldable ones available in the market that easily fit into your luggage. But in case you still get a rash of sunburn, don't forget to carry a good quality skin cream with you.
If you are travelling with kids to carry loads of beach toys like sandboxes, beach wagons, brightly coloured buckets, miniature shovels, hand rakes, watering cans, beach balls and a shell-collecting bag which will keep the little hands busy for hours.
And finally, the most important beach essential is a camera. It could be a professional camcorder or a high-end gizmo fitted with complex lenses or just a point-and-shoot one. The idea is not just to click pictures but to carry back loads of memories of an unforgettable holiday!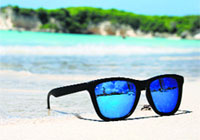 STYLISH EYEWEAR
If you have water sports and swimming on your mind when on a seaside holiday, you must carry a pair of good quality water goggles. These protect your eyes from the impurities of the sea water which can sometimes contain muck. Make sure the goggles are secured tightly around your eyes for best results.
Price: Ranging between Rs 200 and Rs 2,500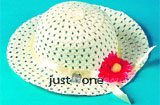 HEAD FOR STYLE
The beach hat serves two purposes on a holiday. First it protects you from the sun, and secondly, it ups your style quotient. So break from the heat without losing out on smartness by buying yourself a trendy hat. Whether you go in for designer hat or an unbranded one, make sure it looks great on you.
Price: From Rs 250 to Rs 2,500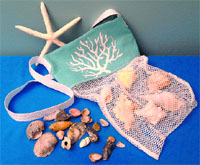 SEA SHELL HUNTING
One of the enduring pleasures of a seaside holiday both for children and adults is to collect sea shells of different shapes, colours and sizes. It will be a good idea to get yourself a trendy mesh material shell-collecting bag with a shoulder strap and a zip fastener to carry back your beachy treasures securely.
Price: Around Rs 200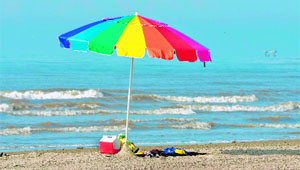 UNDER THE SHADE
Hardcore beach vacationers usually carry with them a beach umbrella to deflect direct sunlight and reduce their risk of sunburn. However, when buying the umbrella, make sure it is lightweight and can be folded in a way, it fits into your luggage. It must also be stable in the face of strong winds on the beach.
Price: Between Rs 1,200 and Rs 4,500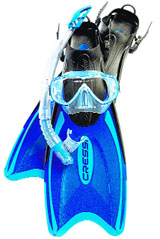 PLUMBING THE DEPTHS
The sea holds its own charm in summers. One of the pleasures of a beach holiday is snorkelling. This is an exciting water sport offered at many leading seaside resorts to view marine life and coral sea beds. Go with a tour operator who provides the full gear and a professional to accompany you underwater.
Price: Between
Rs 500 and Rs 750 per dive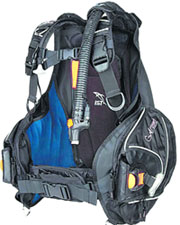 INSIDE THE WATER WORLD
This one may not be for the faint-hearted holiday-makers but for those willing to brave the crashing surfs. Scuba diving is a very popular aqua sport. There are professional guides, who will take you to a shallow spot on the beach from where you can enter the water to view marine life from close quarters.
Price: Around Rs 5,000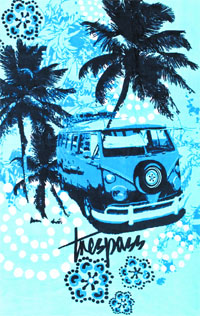 BEACH THEME TOWELS
Those who go for seaside holidays frequently will tell you that the towels you take to a beach are different from the ordinary day-to-day ones. These come in bright and intense colours with playful designs of swaying palms and marine life. These are longer so that you can spread them like a sheet to lie on the beach.
Price: Ranging between Rs 300 and Rs 1,200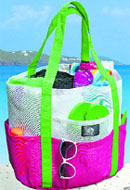 HIP BEACH BAG
A beach bag is an essential for a seaside holiday. Whether you are buying super exclusive brands like Hermes, Jimmy Choo or Chloe or lugging, along an unbranded one, the bag is very handy for packing your beach stuff like flip-flops, sunglasses, sun creams, towels, beverages and any other stuff you'd need.
Price: From Rs 200 for unbranded one to Rs 78,000 for a Hermès beach bag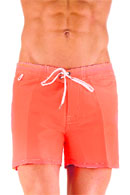 SWIMSUIT YOURSELF
The most essential part of a beach holiday is swimsuits both for men and women. Men can choose from briefs to trunks and board shorts. For women, there is an amazing variety of one piece and two piece bikinis as also wet suits and tri suits available in the market to flaunt on the beach.
Price: From Rs 700 to Rs 12,000 for branded ones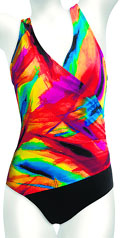 LOUNGING ON THE BEACH
One of the eternal pleasures of a seaside holiday is to lounge on the beach and see the waves come crashing in. This is possible only if you have a comfortable chair-come-lounger. Buy yourself a lightweight folding beach chair that is easy to carry around and comfortable enough to lounge upon for the whole day.
Price: From Rs 400 to Rs 2,500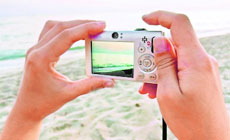 SHOOT LIKE A PRO
A sun-and-sand holiday means memories and will be incomplete without a good camera. Many companies like Canon, Nikon, Samsung, Sony and others make beach-ready cameras in that these are waterproof and easy-to-shoot. Choose from brands like the Canon Powershot, Nikon Coolpix and Sony Cybershot.
Price: Between Rs 4,500 to Rs 15,000
SUN-SAFE YOUR SKIN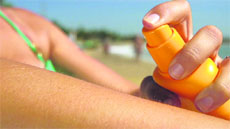 It is very important to protect your face from the damaging effect of the sunrays with a good quality sun block cream. There are plenty of good creams to choose from though experts say that it would be best to stick to established brands like L'Oreal, Lakme, Kaya, Garnier, Neutrogena, Coppertone and other top names.
Price: From Rs 75 to Rs 500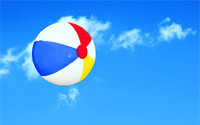 PLAYING BALL
Add an element of fun on the beach with an inflatable beach ball. Not only can you play innumerable games with it but this lightweight ball with six rainbow colours will give you plenty of exercise and is an excellent way of keeping fit while on a vacation. Take more than one ball for loads of entertainment.
Price: From Rs 50 to Rs 200
TRENDY FLIP-FLOPS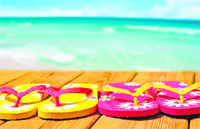 Proper footwear is extremely important for a beach vacation. Get yourself a pair of good quality pair of beach-ready flip-flops that are made from water-resistant material and have a quick-dry lining. When buying the flip-flops, make sure these cushion your feet well and are comfortable to walk on the wet sand.
Price: From Rs 250 to Rs 22,000 (for Gucci SL73 beach flip-flops)